Summer's over, but we all still need to get out of the house! What's for fun this fall?
Looking for something fun to do with the whole family? See below for a NJ Kids compilation list of what's open, reopened, and things to do this Fall 2020. Visit each website for social distancing and ticket schedules. These are all in-person activities that kids and adults can participate in throughout New Jersey and surrounding areas.
Here are 45 places to go this Fall ... many outdoor and in-person fun!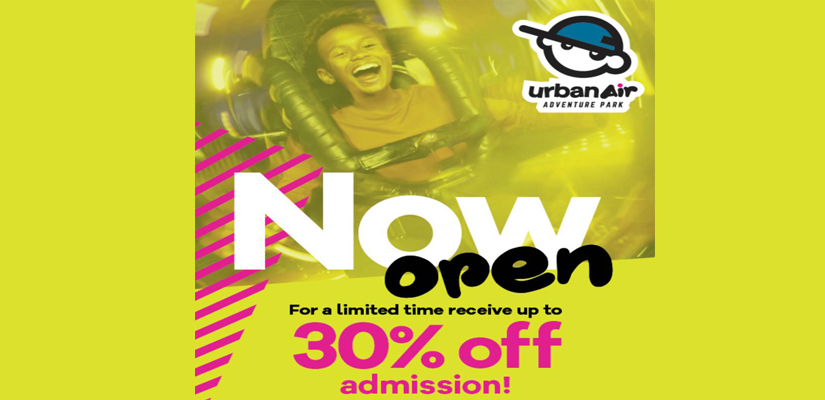 1. Play safely at Urban Air Trampoline & Adventure Park. With enhanced cleaning and safety procedures, explore their Open Play and ask about their Learn & Fly program. Receive 30% off an Ultimate Pass for a limited time (just mention ad above). 3 Locations: Ryders Crossing Shopping Center, 396 Ryders Lane, Milltown NJ; 1600 Saint Georges Avenue, Avenel NJ; and 69 Wesley Street, South Hackensack NJ. Call 201-212-6454 or email info@urbanairsh.com.
2. Take Statue Cruises to Statue of Liberty Grounds & Ellis Island, departures available from either NJ or NYC sides. Ticket provides access to the grounds of the Statue of Liberty National Monument and Ellis Island Immigration Museum (audio tours included). Reserve tickets online.
3. Smell the flowers at the New York Botanical Garden (Bronx NY). Now open with safety in mind! Buy your tickets online. Walk through outdoor & indoor nature trails, gardens, blooming flowers and more!
4. Welcome back to the Zoo! See animals live and in-person at the Bronx Zoo. Gorillas, tigers, baboons, bison, birds, reptiles, sea lions and more! All visitors must buy a specific date ticket and follow COVID-19 rules, wear face masks, and social distancing.
5. Ski Indoors at Big SNOW American Dream Mall. Now open daily with COVID-19 safety protocols, go skiing and snowboarding indoors in nearby East Rutherford NJ. Why wait, everyday is a snow day so BOOK your Snow Day now.
6. Lay out and bring your chair, blanket or towel to Imagine That's!!! Outdoor events for kids and adults. Their fall entertainment includes: 9/11-12 - Songs for Seeds performs followed by Mickey Mouse! 9/12- Outdoor Adult Comedy Night, 9/18-19 - Jam with Tony followed by Music Bingo! 9/25-26 - Outdoor Magic Show Followed by Dancing with Spiderman and Peppa Pig!, 10/2-3 Zumbini with Allie followed by Dancing with Skye, 10/11-11 - The Circus is Coming to Town, 10/17-18 - Rockness Music followed by dancing with Marshall…
7. Watch Friday Night Movie Under the Stars throughout September 2020 at Westfield Garden State Plaza (Paramus NJ). Fun family movie night @ $20 per car, watch from your car or bring chairs for the parking lot. Food, drinks, and music starts at 7pm. Order your tickets online.
8. Go to the Somerset Patriots Ballpark and watch the remaining summer movie series on the field! Jurassic Park, Sept 11, 2020 @7pm, The Sandlot, Sept 12, 2020 @7pm.
9. Chow down at Long Beach Island's Chowder Month, an outdoor dining and takeout event. Through Oct 4, 2020. Go directly to 25 competing restaurants and enjoy chowder at your own pace, then cast in your vote for the best chowder.
10. Participate in the Virtual 2020 Chowder Run + Bike Challenge during Chowder Month. Challenger's own pace and set the course to walk, run or bike. Virtual means you can ride your Peloton, run your treadmill, or head to your favorite park to reach your goal. Complete your challenge by Oct 4th. Register for 5 or 10 or 20 mile challenge options.
11. Take a weekend excursion. We've listed resorts that reopened and are offering lots of family friendly things to do.
12. Go horseback riding at Seaton Hackney Stables in Morristown NJ for the day.
13. Go Apple Picking at a local NJ or NY farm.
14. Drive-in Family Moonlight Movies at iPlay America (Freehold NJ). Thursday & Friday evenings: Sept 10, 2020 Jumanji, Sept 11, 2020 Sing, Sept 17, 2020 Jurassic Park, Sept 18, 2020 How to Train Your Dragon, Sept 24, 2020 Despicable Me 3. Must buy tickets online.
15. Follow the live music at festivals. Lewis Morris County Park is hosting an outdoor festival, The Morris Arts Fest with artists, crafters and live music on Sept 12.
16. Enjoy family fun at Storybook Land in Egg Harbor Township NJ. Timeless childhood rides and attractions based on nursery rhymes. Coronavirus policies followed with face masks required. Reservations strongly suggested, buy tickets online.
17. Hop in the car and take drive to see the Fall leaves change colors. Visit Palisades Interstate Park in New Jersey, Bear Mountain State Park in NY, and many others!
18. Color at Crayola Experience (Easton, PA) - explore the magic of colors at Crayola - red, blue, green, yellow and more! A fun day trip and short drive from NJ. Buy your tickets now. Open Wednesdays to Sundays with guest protocols in place.
19. Learn military history at the Old Barracks Museum. Open for in-person tours. Popular military history museum depicting 1758 French and Indian War military barracks. Galleries, exhibits, photos, and more! Advance tickets required. Buy online here, time slots with 2 hour limit to visit museum.
20. Play arcade games at Chuck E. Cheese. Most NJ locations are re-opened for in-person family games, fun, and parties with health & safety guidelines in place.
21. Fascinating prison tours at Eastern State Penitentiary (Philadelphia, PA). Currently open for in-person prison tours Friday through Sunday. All tickets must be purchased in advance. Explore one-way paths that feature audio stops and exhibits. All Philadelphia and PA health guidelines will be followed.
22. Run around the Grounds of Sculpture, a perfect day trip outing for family. Scavenger hunt for the 270 sculptures that are positioned among the exotic trees and flowers on 42 acres. Buy timed admission tickets online only (availability time on a 2 week basis).
23. Explore the National Park Service as part of the NPS and the great outdoors, discover hiking trails and fantastic museums in New Jersey, New York, Pennsylvania.
24. Make Glass Keepsakes at Glassworks Studios (Morristown NJ). In-person appointment only, make your own fused glass creations. At 25% capacity, each guest group has the studio to themselves with an instructor. Safety protocols strictly followed.
25. Go to a dude ranch for the weekend at Pine Ridge Dude Ranch. Great Fall fun with lots of outdoor activities.
26. Kids fun & games are back at iPlay America in Freehold NJ, with cleaning and sanitation policies and procedures. Arcade games, laser tag, amusement rides, and speedway are open. Outdoor and indoor dining seating available.
27. Squeeze in a day trip to Sesame Place amusement park to experience Elmo, Big Bird and all your favorite Sesame Street characters. Face mask covering strictly enforced. Save over 40% on single tickets now.
28. Take a family getaway to these nearby destinations. Sneak in a camping trip or go resort style.
29. Take a walk along Dingmans Falls Boardwalk (about 1.5 mile long) to view Dingmans Falls, located in the Delaware Water Gap National Recreation Area. A nice outdoor day trip.
30. Explore BRICKLIVE Ocean Center at DaVinci Science Center (Allentown PA), an entirely outdoor, socially distanced, contact free special exhibition featuring 25 awe-inspiring sculptures of marine life, including life-sized sharks, dolphins, seals and sea lions built from 1MM interlocking construction toy bricks.
31. Say hi to the animals at Turtle Back Zoo. Reserve for timed admissions.
32. Go biking along the many bike trails throughout New Jersey.
33. Wave to the fish at the Camden Aquarium. Book your next visit, reservations required and can be made 45 days in advance. NJ COVID-19 rules apply to all guests with daily capacity, face mask requirements, and more.
34. Explore and walk around a garden. Longwood Gardens, Frelinghuysen Arboretum, Reeves-Reed Arboretum are some that have reopened. Check out their outdoor events.
35. Stay on the beach as long as possible before it's too cold. It makes a perfect fall day trip. Many Shore towns are extending their season into September. At some beaches, badges will be required, and there will be daily staffing, or weekend. Asbury Park, Ocean Grove, Ortley Beach, Bradley Beach, Seaside are a few beaches that have extended. You may love the beach in the fall!
36. Go on a long weekend excursion. Here are some ideas in PA, CT or NY with both indoor and outdoor attractions.
37. Eat chocolate at Hershey's Chocolate World. Take a ride and see how they make it! Reserve your FREE timed ticket. 4D movie, Hershey Trolley Works, Hershey's Chocolate Tour Ride, and create your own candy bar are reopened.
38. 500 acre outdoor art museum experience at Storm King Art Center, located in the town of Cornwall NY. Seasonal exhibits with large scale sculptures, discover art, nature, and people. Reserve timed advance online tickets here.
39. Visit Paterson Great Falls National Historical Park (part of National Park Service), grounds are open for you and the kids to see the great falls of the Passaic River. The falls is located in Paterson NJ. Great photo op.
40. Walk around the malls, many are reopened for business. Shop back to school since for many, in-person school will start a bit later.
41. Dine out and help the restaurants. Safe dining outdoors and indoors, or takeout. Fort Lee is kicking off it's restaurant week on Sept 14 - 27. Try some new dishes!
42. Visit the galleries at the museums as more are reopening. View art and history up-close. Old Barracks Museum is opened, Montclair Museum reopening Sept 12, Center for Contemporary Art reopening Sept 14, NJ Visual Arts Center reopening Oct 3, The Newark Museum of Art reopening Oct 8,
43. Discover science, space, and technology at Liberty Science Center in Jersey City NJ. Now open on Thursdays, Fridays, Saturdays and Sundays with safety protocols in place. Buy tickets online in advance. New attraction: Boom Time Show - watch controlled liquid nitrogen explosions (watermelons, pumpkins, etc).
44. Go hiking! Pick a trail - See our list The Great Outdoors - Guide to parks, nature, trails and gardens.
45. Put on your walking shoes and take a scenic walk around beautiful Verona Park in Essex County NJ. Each loop around the park lake is approximately 1 mile. Kids can play on the new and updated playground.