Updated March 2021.
Looking for a great park for a stroll, walk, or hike? This is a great time to explore the outdoors now that we have the official word that State Parks can once again open up to the public. New Jersey has more trails than you can imagine and more ways to get close to nature. Pictured above is a boardwalk trail at The Great Swamp (read about it below).
We share with you some of our readers' favorite outdoor destinations. Go for an hour or two, or make a day of it. Combine a scavenger hunt, hike, walk and absorb all it has to offer! Sure beats staying indoors. If we've left out any hidden gems, please email us .Keep in mind, there will be limited facilities and parking due to COVID. Our list combines State Parks, some county parks, gardens and nature centers.
You'll find some of the area's best hiking trails, best parks nearby, and best nature spots. Time to get outside!
NORTHERN JERSEY

This park is one of the finest hiking destinations in NJ, perfect for recreational hikers as well as more experienced hikers who are looking for amore challenging climb. There are several trails. The Bearfort Ridge hike is a great moderate hike with numerous rocks and rock scrambles, a nice lake, stream and mountain views. You can hike a loop so you don't have to retrace your steps. Overall the trail is well marked and great for recreational hikers. The Hewitt Butler trail along with the Quail Trail is a 8 mile loop. You can extend it by taking the Appalachain Trail north into NY. For a much shorter hike, take The State Line Trail, which has an outstanding overlook. It's only about a mile long with a great view at the end that's totally worth it. BONUS: Nearby is the Skylands New Jersey Botanical Gardens. 885 Warwick Turnpike, Hewitt, NJ. West Milford Township.
If you love flowers, wander through The Garden of the Garden State, with 96 acres of formal gardens, and gentle paths winding through the woods. Each month, you can enjoy new blooms and hundreds of varieties. Incorporate a hike and explore miles of marked trails among the 1000 acres of woodlands. Find out about structured walks that's right for the season. Morris Rd, Ringwood, NJ

High Point offers superb trails for hikers and skiers and quiet spots for campers and anglers. The view from High Point Monument, at 1,803 feet above sea level, is the highest point in NJ. It offers really nice unobstructed views of the Pocono Mountains toward the West, the Catskill Mountains to the north and the Wallkill River Valley in the Southeast. You'll get a spectacular panorama of rich farmland and forest, soft hills and lush valleys in three states. You can drive to the high point in a car. There are lots of hiking trails in the park, including a section of the Appalachian Trail (pictured below). Directions: Take Route 23 approximately 7 miles north of the town of Sussex, NJ or 4 miles south of Port Jervis, NY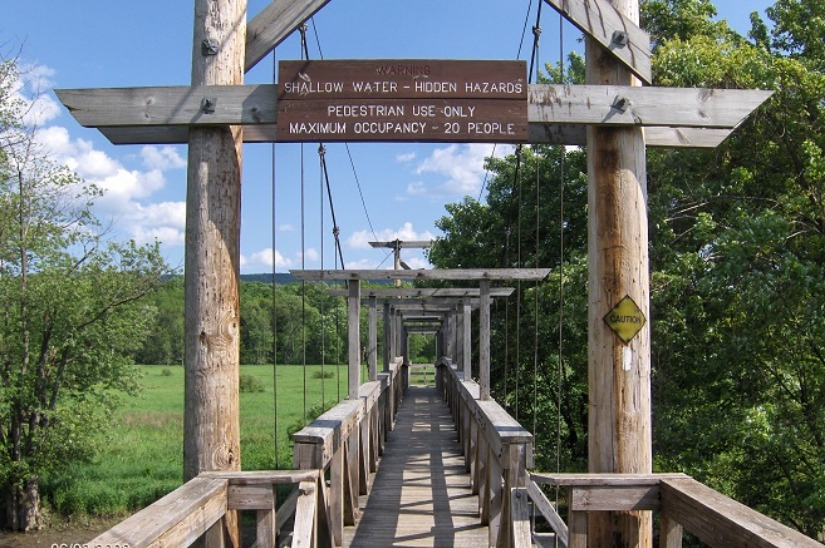 Hiking the Appalachian Trail - there are 3 popular hikes on the Appalachian Trail. The Stairway to Heaven hike runs from Pochunk Valley to Pinwheel Vista - a 7.3 mile hike. Pochuck Boardwalk (picture above) - an easy 2 mile hike through a scenic marshy area on a long level wooden boardwalk and over the Pochuck Suspension Bridge. The Stairway to Heaven - a 2.6 mile hike.
The park offers some of the best biking trails. With over 9,000 acres and 34 miles of trails, 14 miles are marked trails and 20 miles of unmarked trails. You can hike, mountain bike or go horseback riding in the Northern Section of Allamuchy Mountain State Park. A 3 mile section of the Sussex Branch Trail starts at Waterloo Road and goes northwest to Cranberry Lake. The park has a 3 mile water trail for boating or floating on the Musconetcong River. BONUS: Inside the park is Waterloo Village, a restoration of Andover Forge and once a busy port long the Morris Canal. Directions: State Park is located three miles north of Hackettstown between Willow Grove/ Waterloo Road
(Route 604) on the east, Route 517 on the west, and Cranberry Lake (Route 206) on the north.
You can drive or hike to the top and catch a stunning view of New York City on a clear day. High Mountain Park Preserve has nearly 1300 acres located in the Preakness Range. The Preserve includes the High Mountain, while the rest of the Range is occupied by William Patterson University, a golf course and private homes. Get to the summit of High Mountain by following the Red Trail to the Yellow Trail. The Preserve features many miles of scenic and interesting trails. There are 5 trails that range from 1.80 to 2.59 miles, plus a short Waterfall Spur. You can do a 4 mile hike by combining the Woodland and Summit trails. It's a nice moderate hike and dogs on leashes are allowed. Public parking and access to High Mountain's extensive trail system are provided by Parking Lot #6 at William Paterson University on College Road about a mile from Hamburg Turnpike. GPS: Red Trail Parking Lot, University Dr, Wayne, NJ 07470

Liberty State Park is a 1,200 acred state park offering miles and miles of trails and pathways for biking, running and walking. Walk along the 2-mile waterside walkway Liberty Walk and take in panoramic views of the NYC skyline, linking the picnic area, Interpretive Center and the NJ Terminal. There is a ferry service to State of Liberty and Ellis Island. Go see the historic Central Railroad of NJ Terminal and "Empty Sky" 9/11 memorial. Nearby: Liberty Science Center.
Loantaka Brook Reservation encompasses more than 570 acres and is adjacent to one of the more populated urbanized areas of the county. There are nearly five miles of trails in the park that provide biking, jogging, hiking, horseback riding and cross-country skiing opportunities. Morristown, NJ.
This county park has 1154 acres, which includes a lake recreation area, Parcourse Exercise Circuit, three ballfields, a group camping area and six distinct picnic areas. Lewis Morris Park, one of the first parks to benefit from the Interpretive Signage program, is also one of the sites where equestrian trails are designated and implemented. Things To Do: Biking, Boating, Camping, Fishing, Hiking, Horseback Ridging, Ice Skating, Sledding, Snowshoeing, X-Country Skiing. 270 Mendham Rd, Morris Township
Two main trails each cover most of the approximately 13-mile length of the Park. Both have been designated National Recreation Trails. The Shore Trial begins at the southern park entrance at the Edgewater–Fort Lee border, descends to the Hudson River, then follows along the Hudson's shore, eventually crossing the Giant Stairs and on to Peanut Leap Cascade, where it steeply ascends back to the cliff top just north of the New York–New Jersey state line, ending at its junction with the Long Path. Except for the Giant Stairs and the northern terminus, the trail covers easy to moderate terrain. The Long Path follows the top of the cliffs from just outside the Visitor Center at Fort Lee Historic Park to the state line on U.S. Route 9W. (It then continues into New York State.) The trail covers easy to moderate terrain throughout. Cycling is permitted on Henry Hudson Drive from River Road in Edgewater up to and including Alpine Approach Road. Bicycles must have wheels of at least 24 inches and riders must be over 14 years old, wear helmets, and obey all traffic and park regulations. Bicycles are also allowed on Old Route 9W (closed to automobile traffic) from U.S. Route 9W to State Line Lookout. Directions.
Trails for hiking (many of which are moderate to difficult), horseback riding, mountain biking, cross country skiing and snowmobiling. Boat Rental and canoe rentals available. Ringwood, NJ. Take Route 287 to exit 57, follow signs to Ringwood State Park.
This 577-acre linear park that meanders with the Saddle River and its tributary brooks consists of five park areas that are linked by a multi-use path, including circular paths around some ponds. This is a great place to bike and walk. Multi-use pathway/bicycle-pedestrian path: This bike and pedestrian path travels from Ridgewood to Rochelle Park and is approximately 6 miles in length. This continuous path runs through Ridgewood, Glen Rock, Fair Lawn, Paramus, Saddle Brook and Rochelle Park and under Route 4. This path also follows the Saddle River and Ho-Ho-Kus Brook and passes by the Historic Easton Tower at Route 4. The path features a scenic waterfall at Dunkerhook Park, and there are three ponds, tree shaded picnic areas, pavilions, playgrounds, tennis courts and athletic fields accessible along the path.

If you haven't seen this prominent waterfall, it's a stunning and soothing 77-foot waterfall on the Passaic River. "It's a beautiful destination in an unlikely place." It's also surrounded by the Paterson Great Falls Historical National Park. Explore the grounds, admire the waterfall and partake in seasonal events. The area around the Great Falls has a rich history that traces back to the early industrial hubs of the country. Interesting fact: The river had once offered enough to generate power and sustain a large number of industries in the region. Go, sit and listen to the soothing sound of the great fall. 72 McBride Ave, Paterson, NJ.
This public park overlooks the Hudson River and offers two playgrounds, gardens, and beautiful views of NYC. Linear Park is exclusive to toddlers. There is a walking path that traverses the edge of the park. Admire the views from the numerous benches along the walking path. The Recreation facilities include a multi-purpose turf soccer field, softball fields, a track, tennis courts and a work out area. 1 Port Imperial Blvd, Weehawken, NJ 07086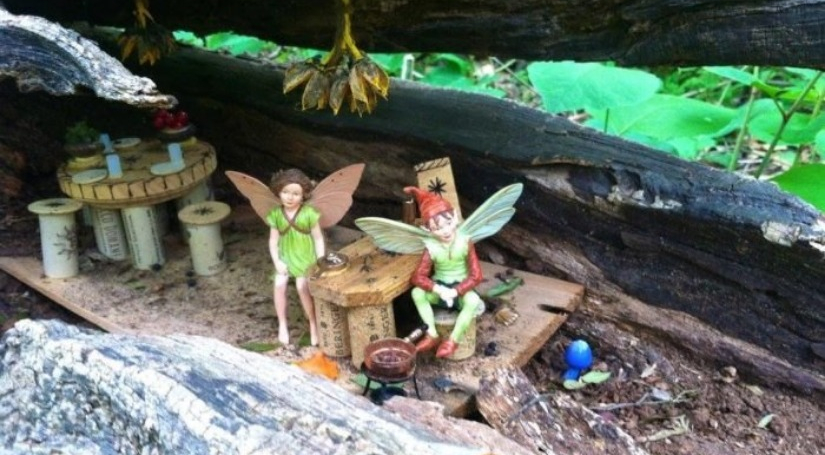 This is the largest parkland in Essex County with 2,112 acres of nature reserve. There are 19 miles of hiking and walking trails, 27 miles of carriage roads for jogging, horseback riding, & cross-country skiing, fishing at Diamond Mill Pond, Hemlock Falls and various wildlife. Trails range from half a mile to 6 miles. For families with young kids, try the Rahway Fairy Trail (picture above), a half mile trail inhabited by fairies! It's a whimsical family friendly hike dotted with delicate fairy structures. NEARBY: Turtle Back Zoo, Learning Center, Ziplining, and Codey Arena Complex with 2 ice skating rinks. So. Orange Ave. & Cherry Lane, West Orange.
Central Park of Morris County is the county's first fully accessible outdoor athletic facility. The multi-faceted sports complex comprises of 420 acres. Enjoy 11 miles of paved and natural trails, as well as an all access play area, picnic area, and a 5-acre dog park. Print out the digital park/trail maps online. The athletic complex includes two regulation-size in-line hockey rinks, a fully accessible Challenger League ball field, two sand volleyball courts, softball field, four multiuse artificial turf fields with sports lighting, a 5K cross-country course, natural amphitheater, disc golf course. 1 Governor Chris Christie Dr, Parsippany-Troy Hills, NJ

The center covers 7,768 acres of varied habitats and is an important resting and feeding area for more than 244 species of birds; Fox, deer, muskrat, turtles, fish, frogs and a wide variety of wildflowers and plants can be found on the refuge. BONUS: Visitor Center and miles of trails and boardwalks to explore. The boardwalk trail is 1 1/2 miles allowing visitors to see a variety of habitats and many different species. It's an easy level terrain. You can also drive or walk along the 2 mile auto tour on Pleasant Plains Road, which offers open vista opportunities for wildlife viewing. The Red Trail is a 2.7 mile moderate loop trail featuring a lake and good for all skill levels. The Orange and Green trails in the Wilderness Area is 4.5 miles, also level and easy. NEARBY: The Raptor Trust.
Close to the Great Swamp, this is one of the premier wild bird rehabilitation centers located in central NJ. Open to the public 7 days a week. You can view at close range the many hawks, eagles, falcons and owls that are permanent residents at the facility. 1390 Whitebridge Rd, Millington, NJ

This 465 acre park is a favorite destination for hiking. Take in the breathtaking views of the Black River and the two brooks, the Rinehart and Trout Brooks. The waterways offer fishing (well stocked with trout), while the rest of the park is ideal for birdwatching, picnicking or just spending the afternoon outside. The red route gives you the best pathway along the Black River. Trails are well marked, most are paved while there are several trails that take you off the pavement. The hiking is relatively easy. It's a hidden gem and a great place to enjoy nature. Located between Long Valley and Chester. 119 Hacklebarney Rd, Long Valley.


CENTRAL JERSEY PARKS
A 1,600 acre park with trails that range from 1.5 to 3.5 miles, mainly easy to moderate. You'll bump into open fields, saltwater and freshwater marshes, cedar swamp and forest. Enjoy the Davidson Mill Pond Park. Activities include: nature center, fishing, picnicing, boating/canoeing, camping. Accessible from exit 120 off the Garden State Parkway and from Route 34.
You can spend hours in this great escape in Bridgewater, NJ. Truly an "island" park, it is traversed by the historic Raritan Power Canal. The Park provides a wide variety of active and passive recreational opportunities. Enjoy paved trails for biking and walking (suitable for families), walk to water falls and the mini dams, and take in the scenic beauty. Catch wildlife along the river, large pond and wooded areas. Although trails are easy, you can do a 5K run and trail biking. Kids can enjoy the ball fields and playground. Lots of picnic tables with bathrooms. 189 Old York Rd, Bridgewater, NJ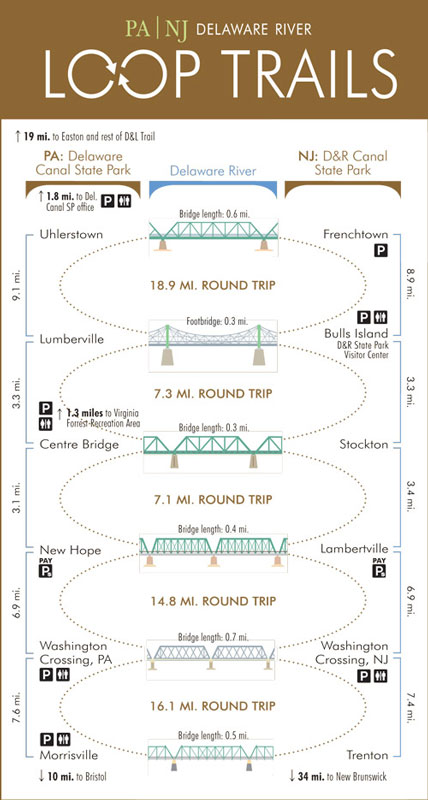 This is one of central Jersey's most popular recreational destinations for canoeing, jogging, hiking, biking, fishing and horseback riding. Enjoy over 70 miles of level multi-use paths along the historic canal. You'll find so many ways to explore with the additional trail networks connecting forests and fields across several counties. The scenic tow path (picture above), running for many miles both north and south of Princeton is one of the best bike rides in central Jersey. Nearby is Princeton, Sculpture Park and Washington Crossing State Park.
For nature lovers, this arboretum is an amazing gem hidden away; a great location to come take a stroll, sit down for a picnic, or watch the wildlife. With 130 acres of rolling farm land, a public park, there are about 3,500 kinds of native and exotic plants, many of them rare. Spring is most interesting when lilacs bloom. Directions
Botanical gardens and municipal park for all nature lovers to enjoy and appreciate gorgeous gardens at no cost. Dogs are allowed on a leash and cyclists may ride with caution. Hamilton Township, NJ
This 3,500 acre park features 15 miles of trails for hiking, biking (including mountain biking), and horseback riding. This is the spot where George Washington and the Continental Army landed after crossing the Delaware. It's known for it's trails and wildlife habitat. Great place for bird watching since many species use the stream and ravine as a resting place and for nesting.
SOUTH JERSEY PARKS
This is a 227-acre park perfect for walking, bird-watching, admiring coastal marine life and fishing every day from 7am to 8pm. Also home to the Waterfront Park Activity Center, dating back to the 1700s, this building is open on Sundays from 1pm – 4pm, April through October and offers free shows and educational programs like Seashell Sunday. 719 Port Monmouth Rd, Port Monmouth, NJ

This park is best known for its historic 19th-century iron making town, Allaire Village, and its antique steam trains on the Pine Creek Railroad. With over 3,000 acres, the Manasquan River winds through the park, providing habitat for over 200 species of wildflowers, trees and plants as well as a habitat for birds and other wildlife. Hikers, mountain bikers and horseback riders enjoy the many trails in the park. The river attracts canoeists and fishermen. Bonus: Close to beaches, so it makes a nice quick day trip. Allaire Village is a cute historic village. It's an interactive museum where you can experience early industrial America through hands on activities. Take the train ride with the kids, plus they host many events. Allaire State Park can be reached from exit 98 off the Garden State Parkway or exit 31B off Interstate 195. Farmingdale, NJ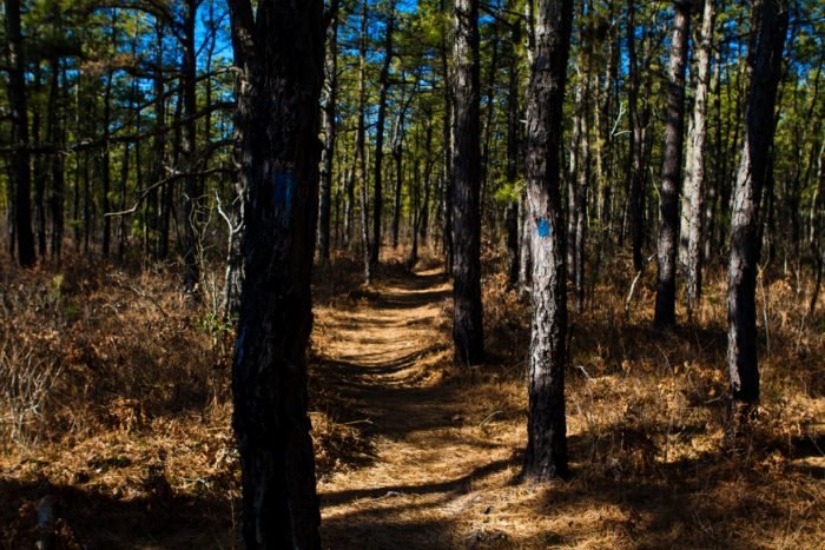 Belleplain State Forest ((Cape May and Cumberland Counties) picture above
Belleplain State Forest is the perfect place to hike through a picturesque Pinelands. There are 2 dozen trails of varying difficulties, which ill lead you through a variety of natural landscapes including ponds, lakes, bogs, wetlands and forests. Lake Nummy is a popular swimming, boating, and fishing area.
Cattus Island Park and the Cooper Environmental Center has recently been renovated. It is located along the Barnegat Bay. The park spans 350 acres and has 7 miles of walking trails and gorgeous, natural grounds for photography, hiking, playing, picnic and relaxing. Visitors of all ages can enjoy hands-on educational displays, a children's activity corner and a vast collection of reptiles and fish. There is also a children's playground and education center. Enjoy the butterfly garden and picnic area. 1170 Cattus Island Blvd, Toms River, NJ
Enjoy 450-acres of rolling farmland, beautiful nature trails for hiking, biking, and horseback-riding. Open sunrise to sunset. 202 Davis Station Rd, Upper Freehold, NJ
Island Beach State Park is a 3,000 acre state park with 10 miles of coastal dunes between the restless Atlantic Ocean and the historic Barnegat Bay. This is a good beach hike in a stunning natural area offering 8 different trails, all under a mile long. Island Beach is one of New Jersey's last significant remnants of a barrier island ecosystem that once existed along much of the coast and is also one of the few remaining undeveloped barrier beaches on the north Atlantic coast. Known as a unique resource with over 400 plants identified, and where the state's largest osprey colony lives along with a wide variety of visiting birds including peregrine falcons, wading birds, shorebirds, waterfowl and migrating songbirds.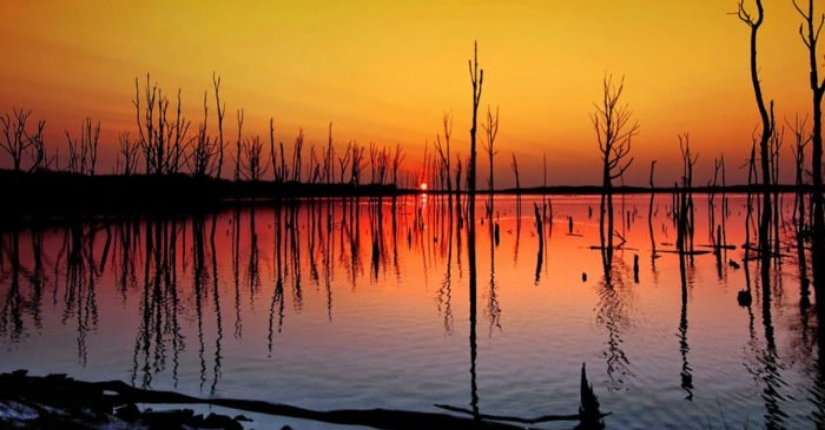 Perfect access to the Manasquan River for boating, canoeing and fishing. Open around 7am and closes around dusk year-round. 331 Georgia Tavern Rd, Howell, NJ
This is a 9 mile rail trail that runs between Hornerstown and Assunpink Wildlife Management Area. Perfect for walkers, joggers, cyclists and horseback-riding, and these trails are well-kept. Enjoy natural beauty as well as some remnants of an old railroad. 70 Herbert Road Upper Freehold, NJ

Wharton State Forest (Atlantic, Burlington and Camden Counties) picture above
Wharton State Forest is the largest single tract of land within the New Jersey State Park System. Throughout Wharton are rivers and streams for canoeing, hiking trails (including a major section of the Batona Trail), miles of unpaved roads for mountain biking and horseback riding and numerous lakes, ponds and fields ideal for wildlife observation. The Batsto Lake Trail is one of many magnificent trails in Wharton State Forest, an easy 4.2-mile loop around the lake. Bonus: Visit the historic Batsto Village, a former bog iron and glassmaking industrial center from 1766 to 1867 that currently reflects the agricultural and commercial enterprises that existed here during the late 19th century.
Woodford Cedar Run is located on 171 acres surrounding Cedar Run Lake. There is an outdoor animal housing area with over 40 animals as well as nature trails and a rehabilitation hospital. They care for over 4,600 injured, orphaned or displaced wild animals each year and host over 20,000 students each year through outreach and on-site programs. 4 Saw Mill Rd, Medford, NJ
The Rancocas Nature Center features 3 miles of hiking trails through varied habitats. It encompasses 210 acres of the Rancocas State Park The Center offers environmental education on and off-site. 794 Rancocas Rd, Westampton, NJ
The Wetlands Institute in Stone Harbor has 6,000 acres of coastal wetlands. Walk the nature trails, check out the observation tower, or sit and enjoy the peaceful surroundings. Wetlands Institute is host to many educational programs in research, conservation and education, providing fun and interactive educational experiences for families, school groups and more. 1075 Stone Harbor Blvd, Stone Harbor, NJ
Scotland Run Park is the largest park in Gloucester County covering over 1000 acres. Wilson Lake offers fishing, boating and nature observation. The nature center offers a variety of environmental programs for all ages. Nearby the nature center, there are walking trails, a playground and picnic areas. 980 E Academy St, Clayton, NJ
---
For more Fun ideas, click to our Fun NJ pages.