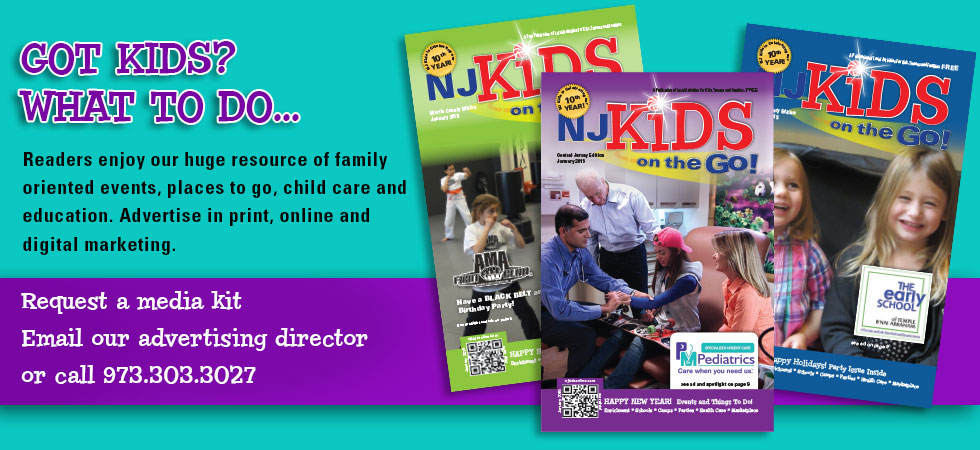 Advertise With Us
PRINT
ADVERTISING
NJ Kids will extend your marketing reach to reach thousands of families looking for kids programs and services. They look for our publication every month for things to do. Our print media kit includes reader demographics and statistics, ad specs and editorial highlights. Bonus: All print ads receive free ad placement in the digital e-book.
ONLINE
ADVERTISING
NJKidsOnline.com is a valued resource for families throughout NJ. Our site attracts highly qualified and engaged readers who are actively looking for things to do, programs, products and services. Our online media kit includes statistics, ad specs and multiple ways of getting your content on our site.
DIGITAL
MARKETING
NJ Kids has fully embraced the delivery of content via our multiple channels of marketing. With NJ Kids' enewsletters, dedicated client eblasts, social media networks and our digital publications, we can effectively and efficiently reach your target audience and deliver your message.
Business Directory - Target Your Message

Classes / Activities

Camps

Sports Guide

Party Guide

School Guide

Field Trip Guide

Attractions

Travel

Healthcare Guide

Special Needs

Child Care Guide

Shopping

Seasonal Attractions

Things To Do

Calendar
NJ Kids Banner / Newsletter Specifications