Biking is a Great Fun Family Activity
Biking is a leisure sport that adults and kids can do together. Great exercise for getting those lungs moving and breathing in fresh air. Depending on your riding experience, sticking to paved bike trails or pathways is a good option.

Always use caution when riding your bicycle and be aware of your surroundings. Just like driving, pedal your bike on the right except when passing. Be on the lookout for people, dogs, road obstacles, and especially other bike riders. New Jersey law requires all children under 17 to wear a bike helmet to protect their heads.

Here are some family friendly biking trails in New Jersey and surrounding areas. They are good day trips. These selected bike trails are wide enough and long enough to provide a good biking experience for kids of all ages. For some trails you may have to drive some distance but they are all worth it.
Saddle River County Park Bike Path
Located in Bergen County New Jersey, the Saddle River County Park bike path is a multi-use pathway and is approximately 7 miles long. The trail spans from Ridgewood to Rochelle Park. You can bike along the trails, passing by other towns of Fair Lawn, Glen Rock, Paramus, and Saddle Brook. Along the way, peddle pass 3 ponds, including the Wild Duck Pond Area.
Multiple Entrances: East Ridgewood Ave in Ridgewood NJ, Dunkerhook Rd in Paramus NJ, Alan Avenue in Glen Rock NJ, 40 Railroad Ave in Rochelle Park, NJ.
Henry Hudson Trail in Monmouth County
The Henry Hudson Trail is a paved flat 10 foot wide 24 mile trail broken up into two sections. The 12 mile North section spans from the Highlands to Aberdeen and the 12 mile South section goes through Marlboro to Freehold. This multi-use trail is on the site of a former railroad with scenic views of nature, including fields, streams, and wetlands.
Multiple Entrances: Atlantic Highlands at Henry Hudson Trail Activity Center RT36, Marlboro at Big Brook Park, Arberdeen at Gerard Ave.
Loantaka Brook Reservation Bike Path
Nearly 5 miles of paved and unpaved trails in the park makes Loantaka Brook Reservation perfect for biking. The mostly shaded flat paved multi-use trail is good for children and beginner bikers. Natural wooded setting along Loantaka Brook. Because this park is popular, it can be busy on the weekends. Entrance: 468 South Street or 139 Kitchell Rd, Morris Township, NJ.
Hoboken Waterfront Walkway
Bike along Hoboken's waterfront from the path ferry terminal up to 14th Street. If you're up to it, go beyond and bike to the Lincoln Harbor Ferry area. The pathway is 30-foot wide in most places. Look around and check out the wonderful views of New York City buildings and skyscrapers. Entrance: by Path Terminal
Liberty State Park Pathway
Nice 3 mile paved bike trail in the heart of Jersey City. The Liberty State Park Pathway is perfect for all skill levels. Enjoy waterfront views of the NYC skyline, Statue of Liberty, New York Harbor, Ferry Boats, and Hudson River. Not to mention the abundance of wildlife, birds, and nature. Entrance: Liberty State Park, Turnpike Exit 14B, Follow directions to Audrey Zapp Drive.
Biking at Sandy Hook
At Sandy Hook, you can ride your bicycle on approximately 8 miles of a paved multi-use pathway, which runs from the entrance of Sandy Hook Gateway National Recreation Area to the ferry at Fort Hancock. Miles to explore as you ride your way through scenic beaches, greenery, Sandy Hook Lighthouse, and a fort. Entrance: 128 South Hartshorne Drive, Highlands, NJ or Route 36, Highlands
Union Transportation Trail
Rail-trail ideal for hikers, walkers, and bicyclists. Union Transportation Trail is nine miles long, the first 2 miles are gravel. This trail was once the Pemberton & Hightstown Railroad. While biking, take in the vista views, rural scenery, trestle bridges, and greenery. Entrance: Ranger Station at Crosswicks Creek Park. Parking lots at 70 Herbert Rd in Upper Freehold or 314 Rt 539 in Upper Freehold.
D&R Canal from Lambertville NJ to New Hope PA
About 7 miles one way from Lambertville to New Hope along the Delaware Raritan Towpath trail. 14 miles for a round trip. You will be biking alongside the Delaware River. It's a loose gravel dirt trail, so a mountain bike or hybrid bicycle is best. Cross a small bridge and you'll enter New Hope where you can stop by for lunch or a quick snack. The entire D&R Towpath expands to almost 70 miles with other loops to explore. Entrance: Park in Lambertville.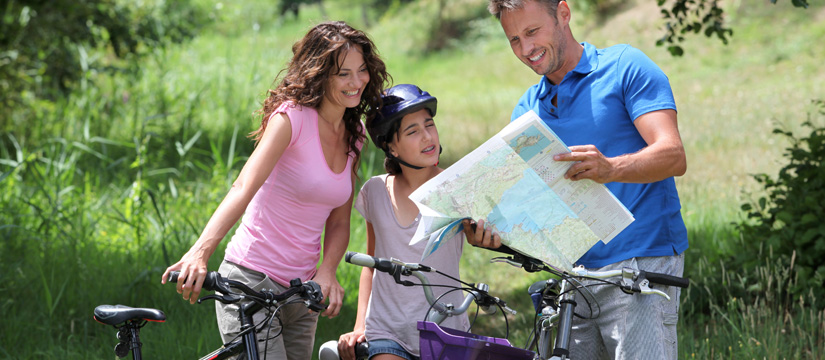 Noteworthy Biking Trails Beyond New Jersey
Biking on Governor's Island
Fantastic family fun with 7 miles of gorgeous fun with NYC as the backdrop. Peddle your bike as you take in the historic sites, stunning views, and luscious landscape of Governor's Island. Bring your own bike or rent bikes from Blazing Saddles on Governor's Island. If you can get there on a weekday, FREE Bike Mornings lets visitors borrow a bike from Blazing Saddles for 1 hour.

Getting to Governor's Island - Ferries leaves from 2 New York City locations: Battery Maritime Building at 10 South Street in Manhattan or Pier 6 at Brooklyn Bridge Park.
Bicycle Sundays on the Bronx River Parkway
Imagine bike riding for 13 miles round-trip on a wide paved parkway road on 2 wheels. Ride from Exit 4 in Scarsdale to Exit 22 in White Plains in Westchester or vice versa on Bicycle Sundays on the Bronx River Parkway. Of course, you can always ride a much shorter distance depending on your stamina and energy. Biking on this parkway is super fun. Quite enjoyable for kids and adults alike. From 10AM-2PM, you can ride on select May, June, and September Sundays. Entrance: Multiple entry points along the parkway with street parking. Or, Park at the County Center Lot in White Plains.
North County Trailway for Biking
Multi-use paved path in Westchester that is perfect for bicyclists. Total distance 1 way from Mount Pleasant to the Town of Somers is about 22.1 miles. It's fun to bike just part of the trail. Free of car traffic, this North County Trailway used to be part of the old New York Central Railroad. You can bike pass historical marker plaques along the way. Entrance: Multiple entry points, Eastview Park & Ride in Mount Pleasant, Briarcliff Public Library parking lot.
Randall's Island Park
10 miles of biking and walking pathways along the waterfront at Randall's Island Park. These urban pathways are wide, paved, flat, free from cars, and scenic. Great for exercise and fun for all. View map for entrance ways.