Get Ready for Terrifying and Frightening Fun this Halloween...
Looking for scares around every corner for your teenager? Want to encounter ghosts, zombies, creepy clowns, the "dead", dark passages, and terrifying landscape? Check out these creepy Haunted Halloween Attractions in NJ and beyond. Aimed at older tweens and teens, go at your own risk and get ready to scream. Please Confirm for age appropriateness, admission dates, times, and prices.
If you have young kids, link to our list of family friendly and not so scary Halloween Events for Kids.
Here's our Guide To Scary Halloween Attractions (updated for 2021):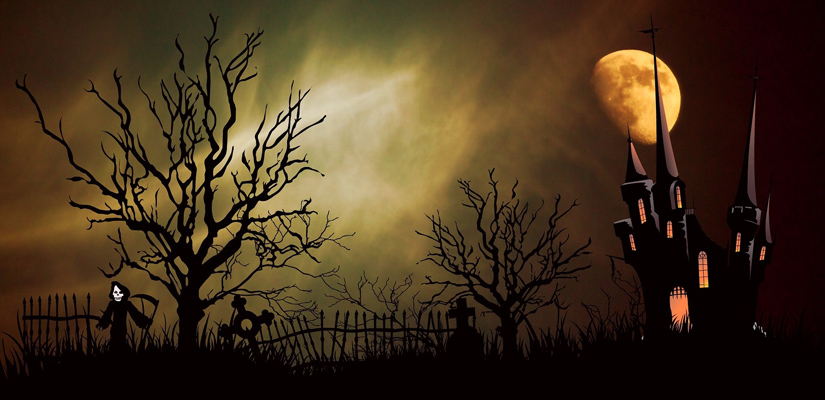 Scroll down for NJ KIDS's Guide to NJ Haunted Halloween Attractions. This list will be updated as we find more frightening halloween events and attractions, so keep checking back. We have more fun stuff on our calendars which are continuously updated.
PANTOPHOBIA HAUNTED ATTRACTION AT DEPIERO'S FARMSTAND
53 Craig Rd, Montvale, 805.666.1699
Oct Every Friday-Sunday
Outdoor attraction. Ages 10+. Best Haunted Hayride in search for legendary Cyrus Grain. Cyrus has been seen lurking in the woods, between buildings, and along the private roads at the farm.
SIX FLAGS FRIGHT FEST
Six Flags Great Adventure
1 Six Flags Blvd, Jackson Township, 732.929.2000
Sept 25th – Oct 31st
Ages 13+. Scary fun, day and night. Enter 7 haunted mazes, 5 scare zones, mirrors in Reflections of the Dead, get the hell out of the Hell Fest maze, encounter fears of blood, dolls, ghosts, clowns and more!
13th HOUR HAUNTED HOUSE
105 W Dewey Ave Suite 5 Wharton, 862.244.4454
Sept 24th-Sept 25th, Oct 1st-Oct 31st Starts at 7PM
Two floors of fear! Think terror, think scare, think horror as you walk through the Hayden Farmhouse and be forced to escape. Or, enter a completely dark maze called The Dark Side of the Hayden House and find your way out. Rooms to escape: The Grand Parlor, The Cookhouse, John Hayden Room, The Great Room, and The Dungeon.
BLOODSHED FARMS DRIVE-THRU
2919 US-206 Columbus 609.251.6707
Friday, Saturday & Sunday Oct 1st-Oct 31st
Bloodshed Farms "The Last Drive Haunted Drive Thru" Is an immersive, terrifying, Halloween experience. From the safety of your own vehicle, you will have frightening encounters with twisted creatures and menacing characters as you journey through theatrical sets full of nightmarish displays and special effects.
BRIGHTON ASYLUM
2 Brighton Ave. Passaic 201.848.2517
Friday, Saturday, & Sunday Oct 1-Oct 31, Nov 6
Interactive haunted attraction experience. Called "the scariest place on Earth" and a "Top 10" must see haunted attraction. Custom special effects, interactive sets, huge realistic animatronics, and scares at every turn!
OASIS ISLAND OF TERROR-THE DESTINATION TO FEAR
3 Circle Drive Robbinsville, 609.259.7300
Fridays & Saturdays Oct 1-Oct 30
Oasis Island of Terror will be an experience you will never forget. Oasis Island offers many spooky attractions such as the woods have eyes trail, the blackout trail, and the sawmill escape room. Do you have what it takes to survive? Let the games begin! Not suitable for children 12 and under.
SLEEPY HOLLOW HAUNTED ACRES
881 Highland Rd, Newtown, PA, 215.860.6855
Fridays, Saturdays, & Sundays Sept 25, Oct 1-Oct 30
Venture down into THE HOLLOW through the abandoned gardens and deep into the winding crypts and catacombs deep beneath the manor. An expansive cemetery and dark woods provide bone-chilling frights at every turn.
FIELD OF TERROR-NJ PREMIER HAUNTED ATTRACTION FARM
831 Windsor-Perrineville Rd East Windsor, 609.758.7817
Friday, Saturday, Sunday Sept 24-Sept 25, Oct 1- Oct 31
A Haunted Farm - perfect for older kids. Four unique terror-filled attractions where visitors will encounter zombies of all shapes and sizes as you try to survive the FIELD OF TERROR. Explore Killer Kornfield, Zombie Attack Haunted Hayride, The Unknown Barn, House of Insanity. Try your hand at the Circus of Terror Paintball Wagon Hunt.
THE LEGEND OF SLEEPY HOLLOW
Historic Village at Allaire, 732.919.3500
4263 Atlantic Avenue Wall Township, NJ
Oct 2nd 7:30-9PM
Listen to the thrilling retelling of Washington Irving's famous tale "The Legend of Sleepy Hollow". Neill Hartley's dynamic performance brings the tale to life. Audience participation is welcome. The performance takes place at the Allaire Chapel.
NIGHT OF TERROR AT CREAMY ACRES
448 Lincoln Mill Road, Mullica Hill, 856.223.1669
Sept - Nov, Select Dates
Step into the darkness and explore 6 haunted attractions - Slaughter Cave, Cornfield Maze, Dark Dreams, Head Hunters, Zombie Mayhem and Ride of Terror. Hop aboard a Haunted Paintball Hayride for a Zombie Hunt and shoot at scenes, movie props, and live zombies. You will be frightened!
NJ PARANORMAL GHOST TOURS
Liberty Hall Museum
1003 Morris Ave, Union, 908.527.0400
Oct 9th 7-11PM
Take a tour and experience paranormal activity. Staff and visitors have reported seeing full body apparitions, unusual orbs, and have heard disembodied voices. For 18+ only.
HAUNTED THEATER AT BROOKDALE PERFORMING ARTS CENTER
765 Newman Springs Rd, Lincroft, 732.224.2345
Oct 15-17,22-24,29-30 7 -10:30PM
For older kids. Take a 20-minute self-guided indoor walk through the haunted house mazes. Encounter zombies, witches, inmates, clowns, and other frightening creatures. Also available: A Magic Experience with a guided interactive, no scare tour for ages 2-8.
NIGHT OF FRIGHTS
The Historic Village at Allaire
4263 Atlantic Avenue Wall Township, 732.919.3500
Oct 22nd-Oct 23rd 6-9PM
Enjoy the village grounds and historic buildings from the 18th and 19th centuries...visit with our ghosts, ghouls, and monsters. Treats at the bakery plus a haunted food truck. New for 2021: TWO twisted, scary, creepy trails that will give you goosebumps!
RAVENSCROFT MANOR HAUNTED ATTRACTION & FUNDRAISING EVENT
1 Foxwood Avenue Mahwah, NJ
Oct 15-31 Friday, Saturday, & Sunday
Come take a walk-through Ravenscroft Manor. You won't just be scared but terrified as ghosts and ghouls creep around in the dark. Enter the manor if you dare! Not only is this event fun and spooky but it raises money for boy scout troop 259. Admission Costs: $10
---
Link to see a complete list of Halloween events for kids including Not So Scary Halloween venues. Or check out the event calendars for more family attractions.