What's open and welcoming families? Here's a guide to fun things to do this Spring.
For social distancing, please respect the ticket limitations or appointment time requirements.
Arts, culture, history:
Immerse yourself in outdoor art, walks and take in culture
BATTLESHIP NJ TOURS
62 Battleship Place, Camden
Opening March 6 with tours on Saturdays and Sundays from 11am to 3pm through March. Experience a Fire Power tour of our nation's most decorated battleship. Guests touring the ship can check out the massive 16-inch gun turrets, track a tomahawk missile in the Combat Engagement Center, learn how the crew lived aboard this floating city and more! www.battleshipnewjersey.org

NEWARK MUSEUM OF ART plans to reopen in early 2021, currently offering virtual community days and online family activities. newarkmuseumart.org

COUNT BASIE CENTER FOR THE ARTS in Red Bank has indoor shows. www.thebasie.org

HISTORIC ALLAIRE VILLAGE in Farmingdale is open for special events. allairevillage.org

ALGONQUIN ARTS THEATRE in Manasquan will begin its live 2021 season in March. www.algonquinarts.org

GARDEN STATE FILM FESTIVAL will have virtual and in-person options this year starting March 23 at the Cranford Theater in Cranford.

HUNTERDON ART MUSEUM is open 11am-5pm, Thursdays - Sundays. www.hunterdonartmuseum.org

MACCULLOCH HALL HISTORICAL MUSEUM in Morristown is holding gallery tours.
Or social distance walk through the Garden. Visit macculloughhall.org

MAYO PERFORMING ARTS in Morristown will be hosting a mix of live on stage and live-streamed performances. Check out their calendar mayoarts.org.

MONTCLAIR ART MUSEUM Galleries are reopened with one hour timed tickets. Montclair. Come in for family workshops and classes. www.montclairartmuseum.org

MORRIS MUSEUM in Morristown has reopened Saturdays and Sundays. Free admission first weekend every month. Go see the Mega Model Train Gallery for train enthusiasts of all ages. Currently open to the public. www.morrismuseum.org

MUSEUM OF EARLY TRADE AND CRAFTS in Madison has walk-in visits Tuesdays-Sundays, with reservations recommended on Saturdays-Sundays. www.metc.org
NORTHLANDZ (pictured above) in Flemington is unique train attraction for enthusiasts and non-enthusiasts alike, and appropriate for all ages. Walk through 16 acres on a self guided tour of the Guinness Book of World Records' Largest Model Railroad. Explore a 94-room Doll mansion, La Peep Doll House, as well as a 2,000 pipe theatre pipe organ, and fine art galleries throughout. Enjoy the largest play land for kids with a stage, piano, organs, ping pong and table games, large legos and toy horses you can actually ride on, small electric cars and ride on the outdoor locomotive. www.northlandz.com
PASSAGE THEATRE at the MILL HILL PLAYHOUSE has a hybrid lineup of online and live productions. www.passagetheatre.org

STATUE OF LIBERTY The new Statue of Liberty Museum on Liberty Island has reopened. Tours available include the grounds of Liberty Island (Reserve Ticket) and the Hard Hat Tour of Ellis Island (includes the Liberty Island Reserve Ticket); however, the Crown and Pedestal interior areas will remain closed.

STATUE CRUISES is operating daily. Go see Ellis Island, 911 memorial and museum, and One World Observatory! www.statuecruises.com
Theme Parks:
Get ready, get set, go! The thrills are back as many theme parks are opening for the season. SIX FLAGS Park opens March 27 and new for 2021, featuring the world's tallest, fastest and longest single rail coaster, Jersey Devil Coaster.
Here are the timelines of reopening for others:
Nickelodeon Universe (located in American Dream) open Now
Legoland (New York) opens in 2021
Diggerland USA (Berlin) opens March 13, 2021
Jenkinson's Amusement Park March 27, 2021
Six Flags Great Adventure opens March 27, 2021
Hersheypark (Pennsylvania) reopens April 2, 2021
Morey's Piers (New Jersey) opens May 8, 2021
Dutch Wonderland (Pennsylvania) May 15, 2021
Dorney Park (Pennsylvania) May 22, 2021
Or take the family on a vacation to Florida. All the major theme parks in Florida — Disney, Universal, Busch Gardens, SeaWorld, Legoland are opened.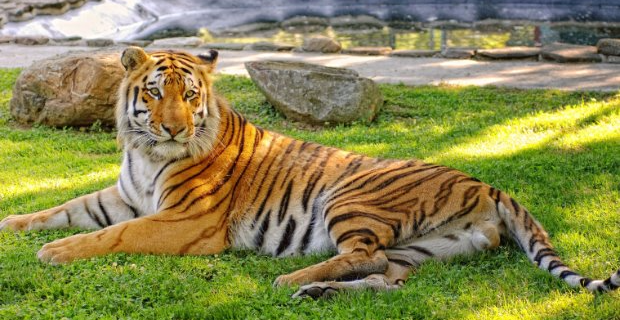 Zoos, aquariums and animals
ADVENTURE AQUARIUM - Explore the fascinating underworld. One free child ticket with paid adult ticket through March 12. www.adventureaquarium.com

BERGEN COUNTY ZOO - Free admission and open but capacity will be monitored. Zoo traffic goes one way. Walk around outdoors and spot the animals. Paramus friendsofbergencountyzoo.org

BRONX ZOO - Reserve a date online for an admission ticket and enter the zoo within one hour of the entry time, then stay as long as you like. You can also book a private encounter for your group of six of more. www.bronxzoo.com

CAPE MAY COUNTY PARK AND ZOO - (tiger image above) free year-round admission to a collection of more than 550 animals representing 250 species in 85 acres of exhibits. Now open from 10am-4:30pm. www.capemaycountynj.gov/1008/Park-Zoo

CENTRAL PARK ZOO - Now open for your visit, but must have a date specific ticket and arrive within one hour of entry time. Visit Tisch children's zoo, animal feeding from 10am-2pm. NYC centralparkzoo.com

TURTLE BACK ZOO - Opens 10am - 4pm. Meet the residents at the zoo. See attractions, education programs. Join their Family Nature Club which takes you to various locations of the South Mountain Reservation where kids run, climb, build, dig, and experience the sounds, smells, and sights of the outdoors. www.turtlebackzoo.com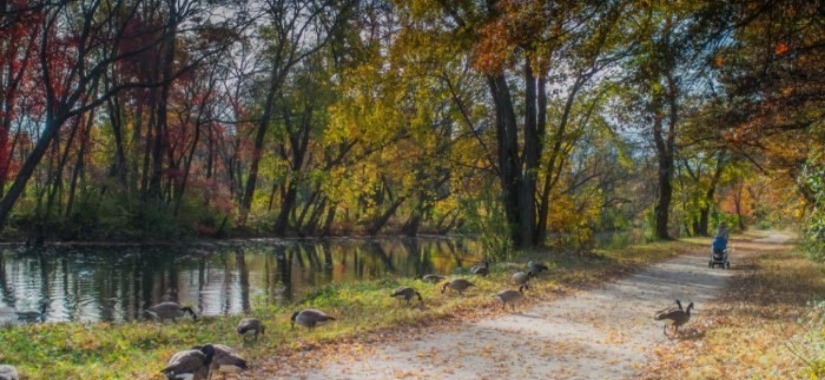 Nature
Take a family-friendly hike in any one of the state parks and reservations and take advantage of the Great Outdoors which include some of our favorite hikes and trails (pictured above is one of many parks listed in the Great Outdoors article). ARBORETUMS are welcoming visitors to enjoy their outdoor trails and gardens; connect with nature and enjoy family-friendly programming at these nature centers. Many host seasonal crafts, story time, and maple sugaring events.

FRELINGHUYSEN ARBORETUM - Home School Days - in person events every month. Morristown. www.arboretumfriends.org
JERSEY SHORE - Take a stroll on the Jersey Shore's famous boardwalks; both Point Pleasant and Wildwood's boardwalks are home to year-round arcades. Asbury PARK Boardwalk entertainment venues have reopened Live shows.
GREAT SWAMP OUTDOOR EDUCATION CENTER - Maple Sugar Demo days in March, Family Farm Strolls, and Scavenger Hunts. Chatham. www.morrisparks.net

GROUNDS FOR SCULPTURE - A sculpture garden, arboretum, and museum. Experience a 42-acre landscaped park and its seasonal transformation; engage with new sculptures throughout the landscape with nearly 300 sculptures on view. Reduced price of $10 Thurs-Mon from 10am–6pm thru March 31 groundsforsculpture.org

MOVEN MUSEUM AND GARDEN - Open Wed through Sundays with timed tickets. www.morven.org

STORM KING ART CENTER - Get outside and experience art in nature. But advance tickets for Saturday or Sunday visits 10am-4:30pm. New Windsor, NY. www.stormking.org
Interactive Museums and fun entertainment
IMAGINE THAT!!! CHILDREN'S MUSEUM - General Admission Tues - Sun - with Special Appearances at Weekend events. East Hanover. imaginethatmuseum.com

LIBERTY SCIENCE CENTER - Thurs-Sun. Buy tickets online, reduced capacity. DC Superheroes, Making Mammoths, Sock Skating Rink, Planets Show, One World One Sky, Beyond Rubik's Cube.... www.lsc.org

MONSTER MINI GOLF - Reserve your optional tee time! Swing your way to non-stop fun. Unique mini golf experience with 18 holes of glow-in-the-dark mini golf. Play in a state-of-the-art-arcade and enjoy a laser maze. Fairfield 973.244.0026, Paramus 201.261.0032, www.monsterminigolf.com

SKYZONE TRAMPOLINE PARK (Pinebrook, Mount Olive, Allendale, Springfield, Ocean) - Reserve for open jump or glow (at select locations) tickets. Some locations offer private group play. www.skyzone.com

IPLAY AMERICA - Reserve tickets to this indoor amusement park full of rides for all ages, including go-karts, minibowling, carousel, rollercoaster, skyscraper, laser tag, 4D theater, arcade, and new ride - Reverse Time. Freehold. www.iplayamerica.com

SAHARA SAMS - Reserve a one day ticket or season pass to visit the indoor waterpark. West Berlin. www.saharasams.com