List of where to go and what to do with the family
Spring time is the best time to see Cherry Blossoms in the greater New Jersey area and in neighboring states. The color range of these cherry trees are amazing, from vibrant pink to gorgeous white. Get your camera and cells phones picture ready. You will find family friendly festivals and activities that are great for kids of all ages. Cherry Blossoms are Japan's symbolic national flower and represents friendship. The Cherry Blossom blooming season is short, usually lasting only 2 weeks. So go check out these beautiful blossoms with your family.
Essex County Cherry Blossom Festival at Branch Brook Park
April 2-10, 2022. Come see over 5,200 cherry blossom trees at the Essex County Cherry Blossom Festival. Learn about Branch Brook Park and tour cherry blossoms. Among the activities all week are: Cherry Blossom Challenge Bike Race on Saturday April 2nd, the Cherry Blossom 10K run on Sunday April 3rd, a 1 mile Fun Walk/Run on Saturday April 9th, fabulous Bloomfest on Sunday April 10th, and much more! Welcome Center, Branch Brook Park, Newark NJ.
Essex County Family Day At Branch Brook Park
Sat, April 9, 2022, 11am-3pm, FREE ADMISSION. Spend a fun family day among cherry blossoms at Branch Brook. Fun for kids of all ages. Participate in crafts, face painting, hula hooping, paddleboats and more! Located at Concert Grove, Park Street Entrance, Newark NJ.
Bloomfest at Newark Branch Brook Park
Sun, April 10, 2022, 11am-5pm, FREE. Enjoy a Bloomfest family day in NJ's pinkest park. A packed schedule of events includes Japanese cultural demonstrations, children's activities, live music, craft marketplace, food and more! Cherry Blossom Welcome Center, Clifton Ave Entrance, Newark NJ.
Central Park of Morris County
Take a walk along the tranquil pathways at Central Park of Morris County to see Cherry Blossom trees lining the main entrance area. Along the way, enjoy nature walks, a children's playground, sports fields and a dog park. Located in Parsippany-Troy Hills NJ.
The Frelinghuysen Arboretum
A buzz of horticulture wonder packed into 124 acres in Morris County. Be on the lookout for flowering cherry blossoms in early spring. The Frelinghuysen Arboretum is filled with beauty, trees, flowers, plants, hiking trails, walking trails, educational programs and events. It's a great place to spend the morning or afternoon with the kids. Open daily. Located in Morris Township, NJ.
New Jersey Botanical Garden
You can catch cherry trees in the Perennial Garden of NJBG. Also view various colorful garden displays nestled throughout the facility. Among them are the Peony garden, Lilac Garden, Azalea Garden, Magnolia Walk, and much more. Self Guided tours offered. NJBG at Ringwood State Park NJ
Rutgers Gardens
FREE Admission. Visit a beautiful 180 acre botanical gardens in the heart of Middlesex County. At Rutgers Gardens, enjoy a leisure walk and explore blooming cherry trees, perennials, ferns, grasses, flowers, shrubs, trees, and more! Great place for an outing with the whole family. Located in New Brunswick NJ and open year round.
Verona Park
At this 54 acre park in Essex County, take a walk around the beautiful lake to see gorgeous cherry blossoms and weeping willow trees. Verona Park is located in Verona NJ and is perfect for moms and strollers. There's also an updated playground for the kids to burn off energy.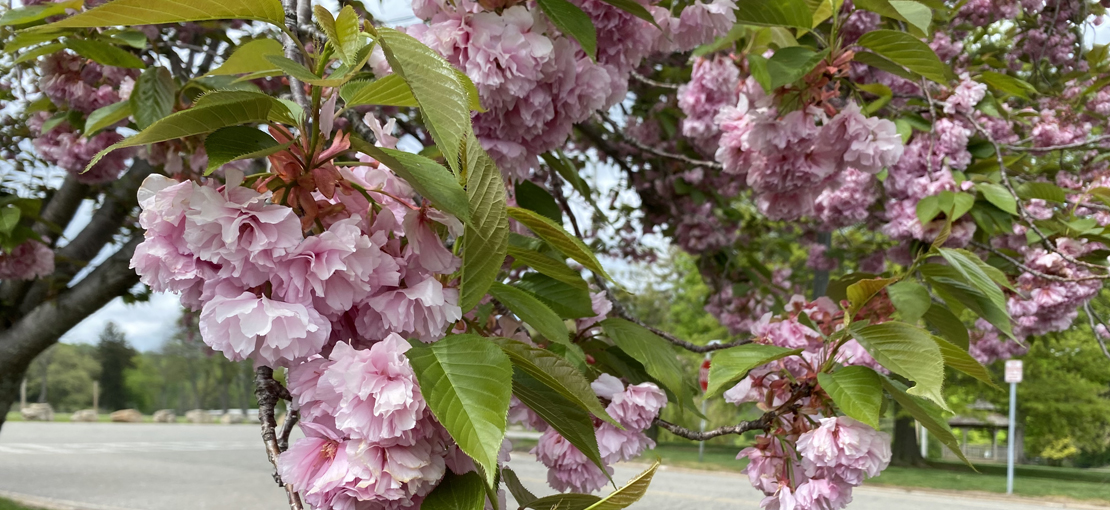 Cherry Blossoms outside the New Jersey area
Brooklyn Botanical Garden Cherry Blossoms
In early Spring, check out BBG's Cherrywatch to wait for the bloom. Enjoy fun garden experiences in the Japanese Hill and Pond Garden, Cherry Walk, Cherry Esplanade, Cherry Cultivars Area, and Osborne Garden. Advanced tickets recommended.
Central Park Cherry Blossoms
FREE to walk around Central Park. Look for Cherry Blossoms near the Belvedere Castle in New York City's Central Park. You can see 2 species of cherry trees this spring: Kwanzan Cherry and Yoshino Cherry. Also see Cherry Blossom around the reservoir (85th-96th St), Conservatory Garden (104th St), Cherry Hill (72nd), Pilgrim Hill (East 72nd), the Great Lawn, Shakespeare Garden (79th St), East Meadow, and behind the Metropolitan Museum of Art. Fun activity for children of all ages.
New York Botanical Garden
Starting in late March, you'll be able to see colorful pink and white Cherry Blossom trees along the curving path in the Cherry Collection section of the garden. NYBG is located in the Bronx NY.
Randall's Island Park
Visit Randall's Island Park in late March to early April to see cherry trees lined up throughout this waterfront park. While you're visiting, don't miss the Rock Garden, unique wildlife, plants, wildflowers and more in this urban oasis. Take the MTA M35 bus from 125 Street & Lexington Ave to Randall's Island Park.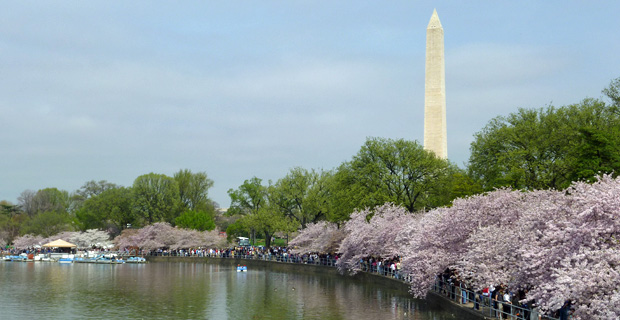 National Cherry Blossom Festival 2022 In Washington DC
Mar 20, 2022 - April 17, 2022. Go on a DC vacation getaway to visit the National Cherry Blossom Festival this year. It's definitely a bucket list item. The tidal basin area transforms into a happy place filled with pink and white. This festival celebrates the 1912 gift of 3,000 cherry trees from Japan to Washington D.C. The cherry blossoms may peak the week of March 22nd so keep an eye out with the Bloom Watch.
National Cherry Blossom Festival Parade
Sat, April 9, 2022, 10am-12pm. FREE and fun for all ages. If you're in the DC area, go celebrate and watch the spectacular National Cherry Blossom Festival Parade - filled with giant colorful balloons, floats, marching bands, entertainers and performers. Constitution Ave, 9th to 15th Streets NW, Washington DC.
Blossom Kite Festival
Sat, Mar 26, 2022, FREE for all ages. Celebrate Spring and come fly kites among the cherry trees at the Washington Monument Grounds. If you can't make it all the way to DC, just fly your kite at your local park to participate.
Petalpalooza at National Cherry Blossom Festival
Sat, April 16, 2022, 1pm-9pm. FREE. If you're traveling to the DC area this spring, the Petalpalooza at the Waterfront is "home of the cherry blossoms". Spectacular family friendly festival with games, kids activities, live music, Japanese culture, and evening Fireworks display. Capital Riverfront at the Yards in DC.