From nature centers, villages, zoos, to gardens, walks and hikes, here are out of the box ideas to get you outside. We've listed 22 outdoor activities that will connect you closer with nature. Best of all, these are FREE! Make it a day trip for the whole family. Always check with venue for any changes to their policy.
1. RUTGERS GARDENS
This living outdoors gem is great for kids of all ages. Lots of green space at Rutgers Gardens to explore - 180 acres located in Middlesex County New Jersey. Plenty of walking trails and along the way you can see trees, plants, colorful gardens, and horticulture wonders. Don't forget to check out the student farm and seasonal farmers market selling plenty of fresh fruits and vegetables. Free admission and open daily Tuesday-Sunday.
2. BERGEN COUNTY ZOO
So many animals to see at the Bergen County Zoo (Paramus NJ) - owls, sheep, sloths, monkeys, mountain lions, bald eagles and more! Admission is FREE during the winter season which runs from November 1st to April 30th. Fee from May through October.
3. OVERPECK PARK
Multi-use open space recreational area in Bergen County spanning over 805 acres with children's playgrounds, 5 miles of walking & jogging trails, Bergen Equestrian Center, tennis courts, athletic fields, kayaking, picnic areas, fishing and more! Overpeck Park in Leonia NJ is open daily with plenty of parking.
4. LIBERTY STATE PARK
Enjoy walking & jogging trails, playgrounds, biking, green space, nature, picnic areas, amazing views of New York City's skyline, Statue of Liberty and more! There is a 2 mile promenade called the Liberty Walk with splendid Hudson River views. Truly a Jersey City wonder and great for children of all ages.
5. WEEHAWKEN WATERFRONT
Open daily. There is a public park overlooking the Hudson River with playgrounds, gardens, recreational center, and beautiful views of NYC. Linear Park is exclusively for toddlers. The scenic Hudson River Walk along the waterfront is stroller friendly with scattered benches throughout.
6. THE FRELINGHUYSEN ARBORETUM
Free admission and open year round. Let the kids explore 127 acres of well kept hiking and walking trails, the Patriots Path, outdoor gardens, manicured lawns, pretty flowers, colorful plants, and majestic trees. Great way to spend the day. Bring your lunch and have a picnic. The Frelinghuysen Arboretum is especially scenic during Spring and Fall seasons. Stroller friendly.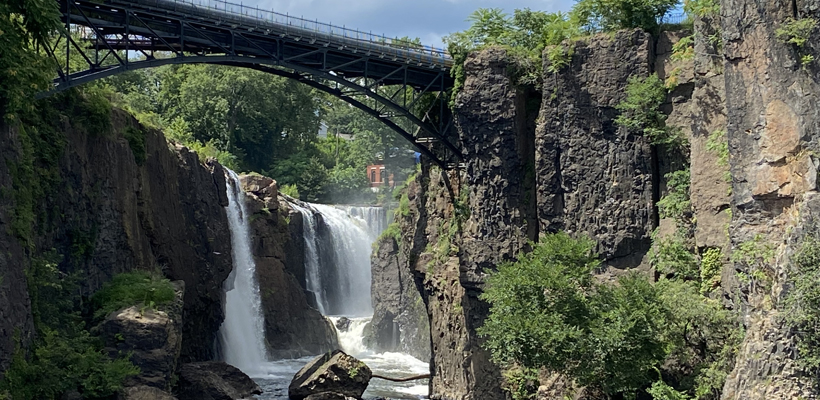 7. GREAT FALLS IN PATERSON
Free admission, grounds are open daily from sunrise to sunset. Right in the heart of Paterson New Jersey is the majestic 77-foot waterfall surrounded by a Historical National Park. Ancient geology created this wonder. Children of all ages will get a kick out of seeing more than 2 billion gallons of rushing water. Explore the grounds and take in the view of the Falls from different vantage points in the park.
8. CAPE MAY COUNTY PARK & ZOO
Free admission and open daily. Tour the Cape May Zoo and see over 250 animal species. Here you will also find a playground, fishing pond, tree aerial obstacle course, hiking trails, and lots of places to enjoy a picnic lunch. Also check for seasonal children activities throughout the year.
9. BRANCH BROOK PARK
Home to over 4,000 cherry blossom trees, Branch Brook Park is a public park in Newark NJ with plenty of walking trails, natural green space, a Welcome Center, beautiful flowers & trees, children's playgrounds, ball fields and more! Open daily with free entrance.
10. REEVES-REED ARBORETUM
Open daily and FREE for all visitors. Come to Summit NJ and explore over 13.5 acres of nature at Reeves-Reed Arboretum. The whole family can enjoy seasonal blooms, hiking, bird watching, gardens, forests, art and beauty. This Center also hosts special events for children and families.
11. GREAT SWAMP NATIONAL WILDLIFE REFUGE
Conservation of natural resources is the main theme at this 12 acre Great Swamp National Wildlife Refuge. Learn how wildlife and habitats are protected at this sanctuary. Visitor Center, Wildlife Observation Center, and 8 miles of trails. Refuge hours open year round, Basking Ridge NJ.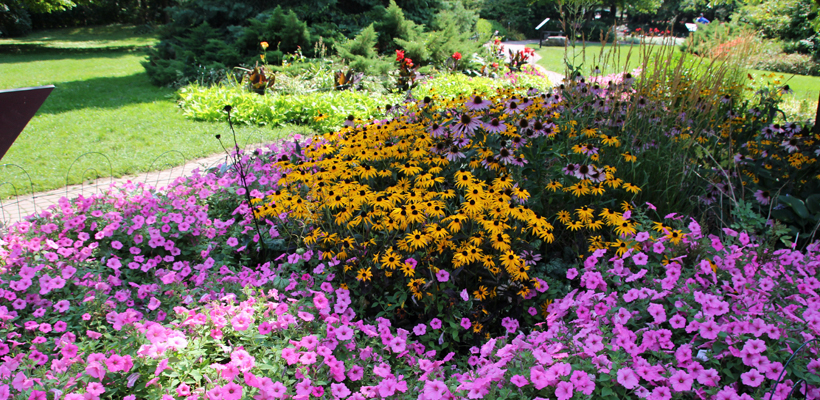 12. CATTUS ISLAND COUNTY PARK
Open daily, Cattus Island County Park in Toms River NJ is a 530-acre recreational area in Ocean County with 7-miles of walking trails and gorgeous, natural grounds for photography, hiking, playing, picnics and relaxing. This park also houses a children's playground and educational center. The grounds and trails are open daily from dawn until dusk. Also visit the recently renovated Nature Center showcasing exhibits on the park and Barnegat Bay.
13. LONGSTREET FARM
9-acre historical farm re-creating Monmouth County around the 1890s. Visit the Farmhouse, Tenant House, animal livestock, and gardens. Activities such as blacksmith demo, cookstove demo, basketmaking demo, quilting, sheep shearing, and more are offered throughout the year. Located in Homed NJ with free access daily.
14. UNION TRANSPORTATION TRAIL
Perfect for walkers, joggers, cyclists and horseback-riding, these trails are well-kept. Enjoy natural beauty as well as some remnants of an old railroad. Ranger Station at Crosswicks Creek Park in Upper Freehold NJ.
15. VAN VLECK HOUSE & GARDENS
Free daily access to 6 acres of lovely outdoors gardens in Montclair New Jersey. Flowers, trees, woodlands, blooms, lush landscapes and more! Don't miss the Children's Butterfly Garden at the Van Vleck Gardens.
16. DEEP CUT GARDENS
From 8am until dusk, enjoy 54-acres of beautiful flowers, plants and natural grounds, greenhouses, koi ponds, walking tours and horticultural education. Located in Middletown New Jersey.
17. MARINE MAMMAL STRANDING CENTER
Take a tour of this center dedicated to saving and healing our injured or stranded marine animals. With a mission of "Rescue, Rehabilitate, Release, Preserve", you can view their great work first hand, Saturdays from 10am to 2pm at the Sea Life Museum. Donations always appreciated. 3625 Atlantic Brigantine Blvd, Brigantine NJ.
18. BAYSHORE WATERFRONT PARK
Open daily, this 227-acre park in Port Monmouth is perfect for walking, bird-watching, admiring coastal marine life and fishing. Also home to the Waterfront Park Activity Center, dating back to the 1700s, this building offers free shows and educational programs.
19. HISTORIC WALNFORD
Visit a 18th century historic village in Freehold NJ - see a gristmill, farm buildings, main house, a barn, Waln House Kitchen, and enjoy a picturesque walk along Crosswicks Creek. Open daily and free admission.
20. WARREN E FOX NATURE CENTER
Nature preserve and education center happy to teach us all about our local fauna and flora. Located in Mays Landing NJ and open daily from 8am to 4pm for you to enjoy the surrounding trails, environmental programs and live animal area.
21. MANASQUAN RESERVOIR ENVIRONMENTAL CENTER
Perfect access to the Manasquan River for boating, canoeing and fishing. Open around 7am and closes around dusk year-round. 331 Georgia Tavern Rd, Howell, NJ.
22. SAYEN HOUSE & GARDENS
Botanical gardens and municipal park for all nature lovers to enjoy and appreciate gorgeous gardens at no cost. Dogs are allowed on a leash and cyclists may ride with caution. Sayen House is located in Hamilton Township, NJ.
You may be interested in best outdoor biking trails for kids in New Jersey.