Experience the magic of holiday lights right from your car!
Get into the spirit with holiday cheer! From the comforts of your own vehicle and with COVID-19 safety in mind, the whole family can relax and enjoy a spectacular Christmas light show. Beautiful colorful holiday lights will certainly bring out the kid in all of us. Have that camera ready to take some great pictures. Extra snacks and drinks in the car for the children is always a good idea. For these New Jersey, New York, and Pennsylvania attractions, please check venue for times & dates, rules & regulations, and safety instructions.
Click here for other NJ Christmas attractions.
1. Christmas Light Show & Village at Skylands Stadium
Now through Jan 3, 2021
Drive-thru the mile long Skylands light show. Skylands Stadium is transformed into a dazzling array of lights this Christmas. Also enjoy the Outdoor Village and Winter Carnival. Don't forget to buy your tickets online. 94 Champion Place, Augusta NJ.
2. Magic of Lights at the PNC Bank Arts Center
Now through Jan 2, 2021
Fun for the whole family while staying safe in your own car. Drive your vehicle through 2.5 miles of themed holiday lights and digital animations. This winter wonderland comes alive with The North Pole, elves, Santa and more! New for 2020, enjoy new illuminating Mega Trees inside the Toyota Holiday Village. Over 240 feet of LED lights on Christmas Trees, listen along with holiday music. Purchase your tickets in advance for a discount. 116 Garden State Pkwy, Holmdel, NJ.
3. Winter Wonder Lights Spectacular
Now through Jan 3, 2021
Drive-thru a 1/2 mile journey of Winter Wonder Lights. This spectacular show is filled with over 1.5 million animated Christmas lights. Fun for all ages. Tickets available online. 655 Cranbury Rd, East Brunswick, NJ.
4. Six Flags Holiday in the Park Drive-thru Experience
Nov 30, 2020 through Jan 10, 2021
Drive-thru a nighttime spectacular at Six Flags Great Adventure in Jackson NJ. The park becomes a winter wonderland this time of year with seasonal music and dazzling lights. There will be 12 different areas of the park filled with holiday characters, Christmas decorations, Santa & Mrs. Claus, Holiday Heroes, North Pole theme, Gingerbread Junction, Snowman City, and more! Make reservations and buy tickets in advance, first come first serve. Tickets go on sale Nov 25th.
5. DiDonato's Magical Drive
Dec 7, 2020 through Dec 23, 2020, 5PM-10PM
A Christmas drive-thru experience, see millions of Christmas lights. Holiday music, Santa, and more! 1151 S. White Horse Pike, Hammonton NJ.
6. South Jersey Holiday Light Show (at Bridgeport Speedway)
Now through Dec 30, 2020
Spectacular night time drive-thru South Jersey Holiday Light Show. A one mile route featuring holiday themed displays and festive lights. Buy tickets online. 83 Flood Gate Rd, Swedesboro, NJ.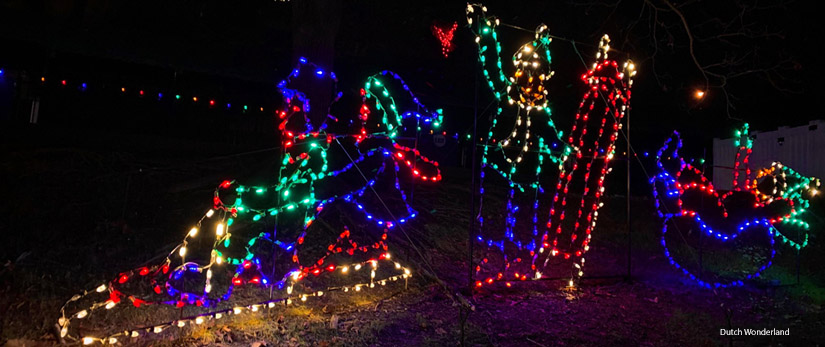 7. Holiday Lights Drive-Through Experience at Old Mill Steam Campground (Dutch Wonderland)
Now through Dec 31, 2020, 5PM-9PM
Stay in your vehicle and take a 1.5 mile drive-thru journey through Old Mill Steam Campground to see holiday lights and illuminated Christmas decorations. Afterwards, stop by the Dutch Wonderland castle for hot cocoa, and a socially-distanced photo with Santa (through Dec 23rd)! You can also take a ride aboard Dutch Wonderland's famous Wonderland Special train (included with admission). 2249 Lincoln Highway, East Lancaster.
8. Hershey Sweet Lights Drive-Thru
Now through Jan 3, 2021, 5PM-9PM
Sit in the comfort of your own car as you and your family enjoy the Hershey Sweet Lights drive-thru attraction. A 2 mile course featuring a Winter Wonderland with 600 illuminated animal displays. Buy your tickets online. 100 W. Hersheypark Drive, Hershey, PA.
9. Furry & Bright Christmas Drive-Thru Experience at Sesame Place
Now through Dec 23, 2021
Hop in your car and take a night time drive-thru at Sesame Place. Come see millions of colorful Christmas lights, holiday décor, and Sesame Street characters dressed in their holiday best. Kids will enjoy Candy Cane Lane, Snowflake Way, The Neighborhood Street Party Christmas Parade, 9 foot Menorah, and Santa Claus. Buy your car load ticket online. 100 Sesame Road, Langhorne, PA.
10. Magic of Lights Jones Beach State Park
Now through Jan 2, 2021
Drive-thru Holiday Light experience at Jones Beach. Make your way around a 2 mile course, enter a 200 foot tunnel and see over 40 holiday scenes of LED light displays. Plenty of holiday themes - The North Pole, candy canes, a Victorian Village, elves, Santa, toy land, and more! The Toyota Mega Tree Spectacular will feature over 240 feet of lights and music. Buy your contactless tickets in advance and save money. 895 Bay Parkway Jones Beach, NY.
Read 20 Free Holiday Events in New Jersey
Read Santa Sightings in NJ
Read NYC Holiday and Christmas Attractions 2020
Read Things to Do in PA and Philadelphia for Christmas 2020