Experience the magic of holiday lights 2022 right from your car!
Get into the spirit with holiday cheer with these nearby drive-thru shows. From the comforts of your own vehicle and with safety in mind, the whole family can relax and enjoy a spectacular Christmas light show. Beautiful colorful holiday lights will certainly bring out the kid in all of us. Keep that camera ready to take some great pictures. Please check venue for any changes. Check NJ Kids Calendar for more events.
1. Winter WonderLights at the Middlesex County Fair Grounds
Nov 25, 2022 - Jan 1, 2023, from 5:30PM-10PM. Wow! Come see NJ's largest animated holiday drive-thru show - Winter WonderLights. This 1/2 mile long drive features 20 foot Christmas trees, 3 magical tunnels, holiday themed displays and Christmas lights - synchronized to music from your car radio. 655 Cranbury Rd East Brunswick, NJ.
2. Skylands Stadium Christmas Light Show & Village
Nov 23 - Dec 30, 2022. The one mile Drive-Thru light show experience is fun for kids and adults of all ages. Skylands Stadium is transformed into a dazzling array of 2 million lights this Christmas. Also enjoy the Outdoor Village and Winter Carnival. Buy tickets online. 94 Champion Place, Augusta NJ.
3. Diggerland HoliDIG Drive-Thru Light Show
Nov 16, 2022 - Jan 1, 2023. Fun for the whole family. Drive through Diggerland's construction theme & water park to see lights, holiday displays, and tunnels. Listen to holiday music in your car. 100 Pinedge Drive, West Berlin, NJ.
4. Magic of Lights at the PNC Bank Arts Center
Nov 18 - Dec 30, 2022. Drive your vehicle through 1-2 miles of themed holiday lights and digital animations at the PNC Bank Arts Center. You'll be treated to favorite holiday scenes and characters using the latest LED technology. This winter wonderland comes alive with Christmas trees, The North Pole, elves, Santa and more! Purchase your tickets in advance. 116 Garden State Pkwy, Holmdel, NJ.
5. Orchard of Lights at Demarest Farms
Nov 23, 2022 - Jan 1, 2023. Drive your vehicle on a guided tour through 32 acres of amazing holiday light displays at the Orchards of Lights. Enjoy hot cocoa and market treats. Don't forget to take pictures with Santa and listen to Santa's singing Reindeers. Must buy tickets online. 244 Wierimus Rd, Hillsdale, NJ.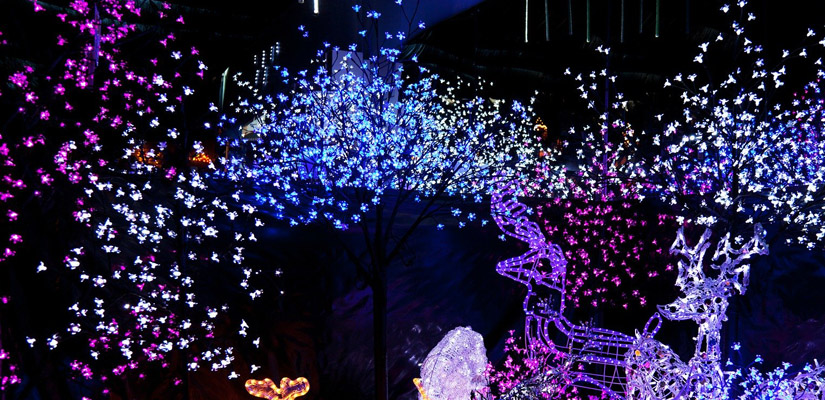 6. South Jersey Holiday Light Show
Nov 18 - Dec 31, 2022. Spectacular night time drive-thru South Jersey Holiday Light Show. A one mile route featuring holiday themed displays and dazzling festive lights. Buy tickets online. 83 Flood Gate Rd, Swedesboro, NJ.
7. Westchester's Winter Wonderland Drive-Thru Holiday Light Extravaganza
Nov 25, 2022 - Jan 1, 2023. From the safety of your own car, drive along 1.2 miles of interactive fun and see thousands of holiday lights and magical animations. At the Westchester Winter Wonderland, you can experience the North Pole, Santa, Peace on Earth display, a 40-foot Christmas tree, a 100 foot tunnel, and much more! Kensico Dam Plaza, 1 Bronx River Pkwy, Valhalla, NY.
8. Magic of Lights Jones Beach State Park
Nov 18 - Dec 30, 2022. Family friendly drive-thru Holiday Light experience at Jones Beach. Start off on a 2 mile course and see over 40 holiday scenes of LED light displays. Don't miss The North Pole, candy canes, a Victorian Village, elves, Santa, toy land, and more! Buy tickets in advance. 895 Bay Parkway Jones Beach, NY.
9. Hershey Sweet Lights
Nov 11, 2022 - Jan 1, 2023. Sit in the comfort of your own car as you and your family enjoy the Hershey Sweet Lights drive-thru attraction. A 2-mile course featuring a Winter Wonderland with 600 illuminated animal displays. Buy your tickets online.1183 Sandbeach Rd, Hershey, PA.
10. Christmas Spirit Light Show in Lancaster PA
Nov 25- Dec 31, 2022. A one mile drive-thru Christmas Spirit Light Show at Clipper Magazine Stadium. Showcasing thousands of changing colored lights and holiday displays. Don't forget to see the Christmas Tree Lane and Santa. Listen to Christmas songs on your car radio and sing along. Buy your tickets online or at the booth. 650 North Prince St, Lancaster, PA.
Read NJ Kids Things to Do