Celebrate the Wonder and Magic of the Holidays 2021
The best way to experience Christmas in New York City with children is to walk around. There is always something unique to see and plenty of things to do with kids. Buildings are beautifully decorated and department store windows are adorned with holiday scenery. The air smells of freshly roasted chestnuts. Christmas trees being sold dot the city's sidewalks. The lights of Fifth Avenue are bright and the streets are bustling with people going in all directions. Visit a train display, see a show, holiday market, city lights or winter wonderlands.
The holidays just wouldn't be the same without a trip to NYC. Spend the day with family and friends in the city of lights. Make memories by taking pictures by the Rockefeller Christmas tree, go ice-skating in Rockefeller center, or meet Santa in Central Park. There is something for everyone to enjoy!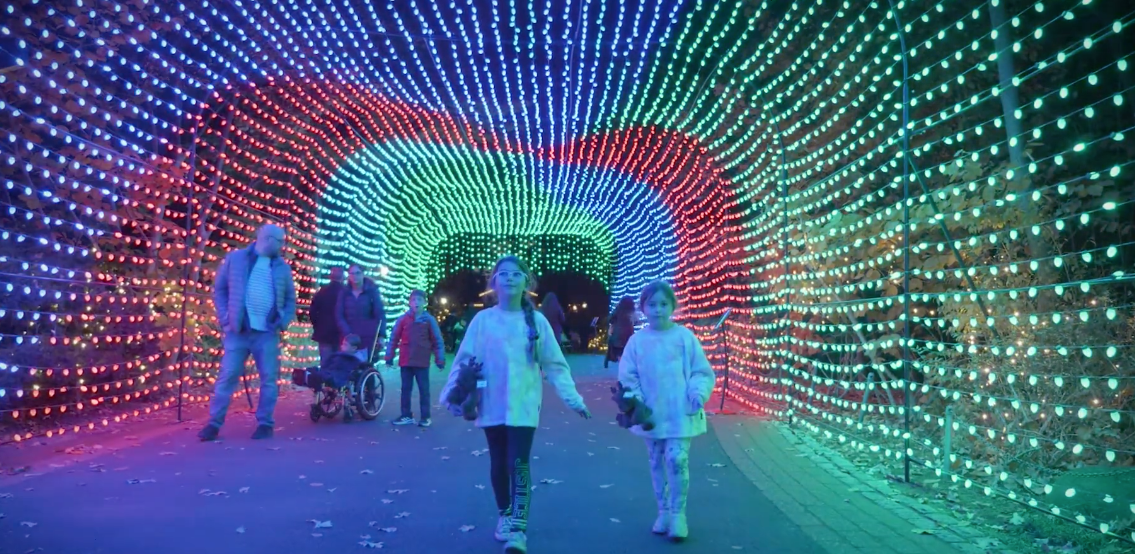 2300 Southern Blvd, Bronx, NY
718.220.5100
Nov 19th-Jan 9th
Enjoy a family holiday festival at the Bronx Zoo. During the evenings, the park comes to life with holiday cheer as immersive light displays, custom-designed animal lanterns and animated light shows sparkle across the zoo. The outdoor celebration is complete with festive entertainment, seasonal treats and classic holiday music. The walk-through experience is a beloved tradition, enchanting and fun for all ages.
40th and 42nd Streets & Fifth and Sixth Avenues, New York, NY
212.768.4242
Nov 19th-Dec 26th
Bryant Park is transformed into a Winter Village with FREE admission outdoor ice-skating. Explore holiday shops, the Lodge by Prime Video, and eateries, all are following COVID-19 safety protocols.
14 East 60th St. New York, NY
212.310.6600
Dec 2nd
Celebrate the season at the Annual Holiday Lighting in Central Park. Meet Santa and friends, sing carols on the Plaza, watch an ice-carving demonstration and take part in other seasonal festivities. The event concludes with lighting a flotilla of trees on the Harlem Meer. In the meantime, cozy up with some hot cocoa!
Grand Army Plaza in Brooklyn NY
646.298.9909
Nov 28th-Dec 5th
Celebrate the lighting of each day of Chanukah at the largest menorah in Brooklyn with live music, hot latkes and gifts for children. There's a kick off concert on Sunday, November 28th that begins at 4PM.

230 Vesey Street New York, NY
212.978.1673
Nov 29th-Jan 2nd
FREE! Canopy of colorful lights hung from lanterns on top of the palm trees at the Winter Garden. Touchless wishing stations sends wishes up to the lanterns. At the top of every hour, Luminaries Light Show featuring songs: Winter Wonderland by Michael Bublé, Silver Bells by Tony Bennett, Carol of the Bells by The Bird and The Bee, Let It Snow by Pentatonic.
7 Community Drive East Manhasset, NY
Nov 12th-Jan 9th
An outdoor experience where you become immersed in a wonderland of lights. Get ready to Light the Night at LuminoCity Festival at Randall's Island Park in New York. Walk through 3 parks inspired by nature, history, and magic. Truly spectacular light art displays with a celebration of cultures.
Macy's Holiday Window Displays
34th Street and Broadway, New York City
Through Jan 2022
Macy's 54th annual holiday window display theme this year will be a bright-eyed, blue reindeer named Tiptoe. The windows tell the story of a little reindeer who was "too shy to fly" with Santa's sleigh team on Christmas night, according to Macy's tale of Tiptoe. The story is meant to spark viewers' will to find courage and believe in themselves.
895 Bay Parkway Jones Beach, NY
Nov 19th-Jan 2nd
Magic of Lights is a dazzling, drive-through holiday lights experience featuring favorite holiday scenes and characters of the season using the latest LED technology and digital animations. Experience Magic of Lights from the comfort and safety of your own car as you wind through the sparkling path of Long Island's favorite holiday tradition. One carload, one price.
(New York Botanical Gardens)
2900 Southern Boulevard Bronx, NY
718.817.8700
Nov 24th-Jan 22nd
Enjoy an all NEW outdoor experience at NYBG Glow. The outdoor gardens are filled with color and illuminating lights, with the Haupt Conservatory serving as the centerpiece. See artistic ice sculpting, music and pop-up performances by The Hip Hop Nutcracker. Don't forget to watch the Holiday Train Show!
43-50 Main Street Flushing, NY
718.886.3800
Dec 4th
Celebrate the best of December with free live musical performances, a tree and menorah lighting, holiday crafts, a tree tour, selfies with Santa (donations welcome), and sales at the QBG Shop! Enjoy a selection of beverages at the Holiday Bar for purchase.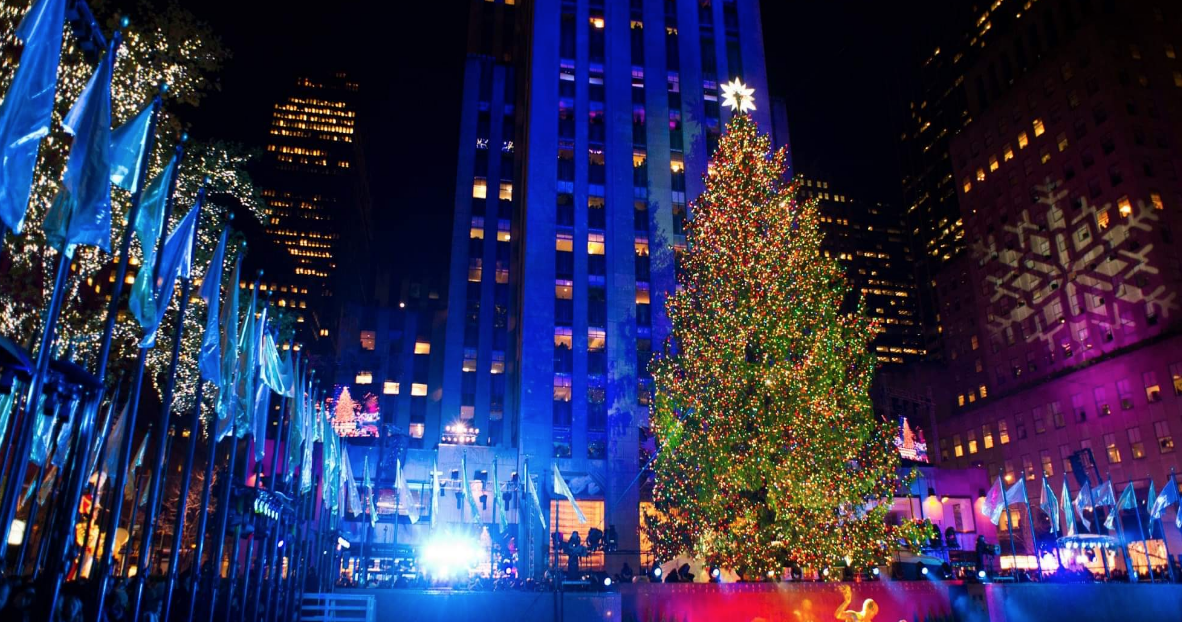 30 Rockefeller Plaza New York, NY
212.588.8601
Dec 1st
The 2021 Rockefeller Center Christmas Tree will be coming from Elkton, Maryland this year. The Tree will arrive at Rockefeller Center on November 13th and will be lit on December 1st. The tree will be lit daily from 6am-12am. Come see the tree lit until New Years!
Rockefeller Plaza
212.771.7200
Starts Nov 6th
Ice skating under the Christmas Tree on The Rink at Rockefeller Center is one of New York's quintessential winter activities. It's a tradition that has never failed to delight. The Rink is a gathering place for everyone, and you're always invited to join in on the fun. With only 150 ice skaters allowed on the ice at a time, it's a unique New York City experience. Located at 45 Rockefeller Plaza, New York, NY.
2 East 42nd Street New York, NY
212.664.0300
Nov 13th-Jan 2nd
All aboard! Grab your North Pole Express tickets and join us for a magical trip to the "North Pole" this holiday season. Enjoy Christmas activities for kids in NYC including carol singing, storytelling, and Santa meeting. The polar express NYC is surely the best thing to do with kids on Christmas that can't be missed!
20 West 34th Street, New York NY
Visit the top of the Empire State Building at night to see all of New York City in twinkling lights. The changing of lights recognize holidays, special occasions, and organizations throughout the year. Currently, the building is using LED lights capable of displaying 16 million colors. They even have their own YouTube Channel so you can view all the lights virtually. Check out their calendar for all upcoming dedicated light displays.