2023 Holiday Fun for Families in nearby PA
Find the holiday spirit in Philadelphia and nearby Pennsylvania attractions. The City of Brotherly Love is home to America's history and independence. Downtown city hall and points along the Delaware waterfront sparkle at night. Whether your family enjoys gardens, holiday lights, scenic views, or train rides, there is something for everyone. All attractions are within driving distance from New Jersey. Venue dates and times below are subject to change. Check NJ Kids Calendar for more events.
Colorful Christmas at Crayola Experience
Now through - Jan 7, 2024. Splash some color into your holiday adventure and head over to Crayola Experience. Enjoy SNOWtastic adventures, listen to stories, crafts, seasonal treats, special character appearances and much more! Don't forget Crayola has 20+ creative, hands-on activities. 30 Centre Square, Easton, PA.
A Very Furry Christmas at Sesame Place
Through Jan 7, 2024. The park is transformed into a A Very Furry Christmas wonderland with millions of twinkling lights and festive decorations. See 1-2-3 Christmas Tree, a 30 foot illuminated tree at the center of an ultimate light show experience. Special Christmas shows, Sing-alongs, Sesame Street Christmas parade, dance along with your favorite Sesame Street friends and more! Buy tickets in advance.100 Sesame Road, Langhorne, PA.
Dutch Winter Wonderland
Now through Dec 31, 2023. Dutch Winter Wonderland is transformed into a park filled with thousands of lights and holiday ornaments. Family friendly theme park with over 20 rides and attractions. Many Christmas activities for children of all ages, including 10 NEW activities such as holiday character dining, holiday sing-a-long, and much more! 2249 Lincoln Highway, East Lancaster, PA.
LuminoCity PA Holiday Lights Festival
Now through Jan 15, 2024. An outdoors experience where you become immersed in a wonderland of lights. Get ready to light the night in the greater Philadelphia area. This year's theme at LuminoCity is "Golden Holiday" is where art and color comes to life through remarkable light displays. Buy tickets in advance. Free parking. Greater Philadelphia Fairgrounds, 100 Station Ave, Phoenixville, PA.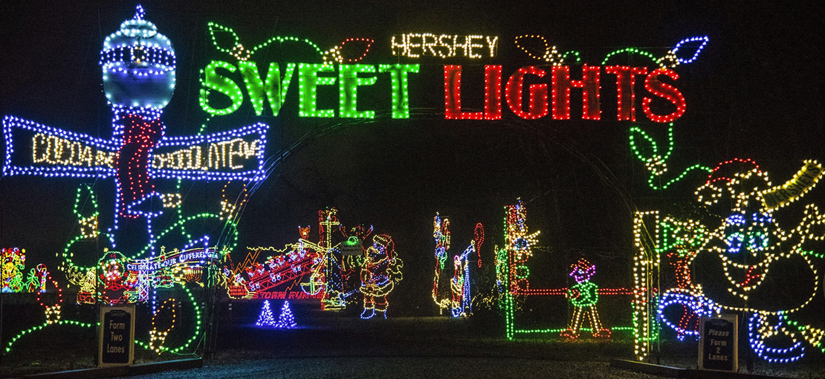 Hershey Sweet Lights
Now through Jan 1, 2024. From the comfort of your own car, you and your family can enjoy the Hershey Sweet Lights drive-thru attraction. A 2-mile course featuring a Winter Wonderland with 600 illuminated animal displays. Buy your tickets online.1183 Sandbeach Rd, Hershey,.
Hersheypark Christmas Candylane
Select dates through Jan 1, 2024. Over 5 million lights at Hersheypark. Holiday light show NOEL will sure to delight, featuring over 250,000 lights synced to classic holiday music. Kids can enjoy plenty of rides and rollercoasters. Visit Santa, explore Hershey's Chocolate town, see Hershey festive characters, take photos, and more! Don't forget to check out TREEville at the Boardwalk, a festive trail with decked out trees. Buy tickets in advance. 100 W. Hersheypark Drive, Hershey, PA.
A Longwood Christmas at Longwood Gardens
Through Jan 7, 2024. Longwood Gardens Christmas celebrates the holiday season with decorated towering trees, plants, flowers and more! Longwood is going retro and nostalgic with its holiday displays this year. More than 500,000 lights grace the outdoor Gardens. Enjoy festive music. Kids will get a thrill with the model train displays. Buy tickets online. 1001 Longwood Road, Kennett Square, PA.
Christmas Trains at Strasburg Rail
Select dates through Dec 2023 at Strasburg Rail. So many special Christmas train rides to choose from. Christmas Tree Train: take a train ride and pick a Christmas tree. The Night Before Christmas Train: Children will delight in an authentic stream train ride, hear about Christmas past, and enjoy stories about the anticipation of Christmas Eve. Santa's Paradise Express: Santa welcomes you aboard a magical steam train. Santa Claus Limited: 45 minute ride through Amish Country and visit with Santa. Book tickets online. 301 Gap Rd, Ronks PA.
Blue Cross RiverRink Winterfest in Philadelphia
Opens Nov 25, 2023. FREE to enter and open to the public. The Philadelphia seasonal RiverRink Winterfest features a winter landscape with thousands of lights and views of the Delaware River. Ice-skating rink, food, beverages, games and rides (fee). Holiday Tree Lighting Dec 1, 2023. South Columbus Blvd, Philadelphia, PA.
Read more NJ Kids Things to Do