Get Ready for Terrifying and Frightening Fun this Halloween...
Looking for scares around every corner? Check out these heart pounding, ear piercing, and bone chilling haunted Halloween attractions in NJ and beyond. Encounter ghosts, zombies, creepy clowns, the "dead", dark passages, terrifying landscape, eerie music and more! These are aimed at older tweens and teens, so go at your own risk and get ready to scream. We certainly don't want you to be frightened! Confirm for age appropriateness, admission dates, times, and prices.
Candlelit Ghost Tours at Liberty Hall Museum
Fridays, October 18 & 25, 2019
Take a spooky spine tingling guided candlelit ghost tour of museum. Hear paranormal ghost stories and experiences. 1003 Morris Ave, Union, NJ, 908.527.0400
13th Hour Haunted House
September 21, 2019 - November 2, 2019
Two floors of fear! Think terror, think scare, think horror as you walk through the 13 Hour Haunted House and be forced to escape. Rooms: The Trophy Room, The Cookhouse, John Hayden Room, The Great Room, The Grand Parlor and The Dungeon. 105 West Dewey Ave, Wharton, NJ.
Bane Haunted House
September 20, 2019 - November 10, 2019
For 2019, we've moved across the river to New York City. So get ready to experience one of the largest and most terrifying haunted houses around the tri-state area. Spine chilling, scary & interactive experience with over 100 actors at the Bane Haunted House. Have fun as you feel the fear. Get ready to scream for your life! 618 W. 46th Street, New York, NY.
Brighton Asylum
September 27, 2019 - November 2, 2019
Interactive haunted attraction experience: The Tunnel, Brighton Asylum, and The Bleeding Grounds. Called "the scariest place on Earth" and a "Top 4" must see haunted attraction. Custom special effects, interactive sets, huge realistic animatronics, and scares at every turn! Try your hand in 4 escape rooms: 1408 Escape, The Device, Bomb Squad, and The Tomb. 2 Brighton Ave, Passaic (Rear of building), NJ.
Field of Terror (K & S Farms)
September 21, 2019 - November 2, 2019
A Haunted Farm - perfect for older kids. Four unique terror-filled attractions, encounter zombies of all shapes and sizes as you try to survive the FIELD OF TERROR. Explore Killer Kornfield, Haunted Hayride to Terror Town, The Unknown Barn, Timmery Manor. Experience the Creepy Carnival Paintball Ride. Also available: Non-scary Family Friendly Fall fun on Sunshine Acres with flashlight corn maze and pumpkin patch. 831 Windsor Perrineville Rd, East Windsor, NJ.
Haunted Orchards at Demarest Farms
October 3, 2019 - November 2, 2019
Fear the Farm and let the scare begin! Haunted houses filled with ghouls, ghosts, creatures, and creepy things. Spooky wagon hayride into a graveyard site within the apple trees. 244 Wierimus Rd, Hillsdale, 201.666.0472
Haunted Theater at Brookdale Performing Arts Center
October 11-13, 18-20, 25-27, 2019
Kids 8+. New for 2019 is Area 732: a 20 minute self guided indoor walk through interconnected mazes haunted by creatures, phobias, and images ripped from your worst nightmares. Encounter zombies, witches, inmates, clowns, and other frightening creatures. For ages 2-8, there is a Kids Tour. 765 Newman Springs Rd, Lincroft, NJ, brookdalehauntedtheater.com
The Haunted Woods of Oldbridge
Fridays - Sundays, October 11-27, 2019, select dates
Walk through the Haunted Woods of Oldbridge. They are filled with displays, lights, sound, and live actors lurking about. Bring a food donation for the Old Bridge Food Bank. 75 Springhill Rd, Old Bridge, NJ.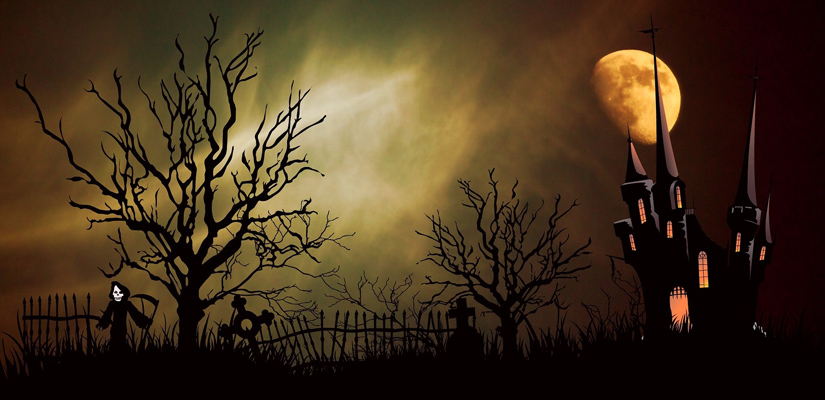 Horseman's Hollow
Ocobert 4, 2019 - November 3, 2019, Select Dates and Times
Ages 10+. Sleepy Hollow Philipsburg Manor's premier haunted attraction. Experience a terrifying landscape ruled by the undead, the evil, and the insane at Horseman's Hallow. Walk a haunted trail, stumbling upon scary scenes of a town driven mad by the Headless Horseman. Elaborate costumes and the work of makeup artists make it all too real. 381 N. Broadway, Sleepy Hollow, NY, 914.631.8200
Night of Terror at Creamy Acres
Through November 2, 2019, select dates
NJ's scariest haunted attraction is the Night of Terror. Step into the darkness and explore haunted attractions - Slaughter Cave, The Harvest Dark Dreams, and Ride of Terror. Hop aboard a Haunted Paintball Hayride for a Zombie Hunt and shoot at scenes, movie props, and live zombies. You will be frightened! 448 Lincoln Mill Rd, Mullica Hill, NJ.
Pantophobia Haunted Attraction
September 27, 2019 - November 2, 2019
Outdoor attraction. Ages 10+. Ride North Jersey's Best Haunted Hayride in search for legendary Cyrus Grain. Cyrus has been seen lurking in the woods, between buildings, and along the private roads at the farm. Can we find him? Get ready for a scare! 53 Craig Rd, Montvale, NJ, pantophobia.com
Phantoms Of The Physick Estate: The Curse Of H.H. Holmes
Ocobert 18-19, 25-26, 2019 and November 1-2, 2019
Come to the "haunted" Physick Estate for an immersive theatrical performance that includes scary images, strobe lights and other effects. Featuring the Curse of H.H. Holmes. Discretion is advised. 1048 Washington Street, Cape May
Six Flags Fright Fest 2019
Through November 3, 2019
Ages 13+. Scary fun with zombies and ghouls galore at Six Flags Fright Fest. Enter 7 haunted mazes, 5 scare zones, mirrors in Reflections of the Dead, Big Top Terror: Forgotten Carnival in 3D, the living dead roam The Manor haunted mansion, encounter fears of blood, dolls, ghosts, clowns and more. 1 Six Flags Blvd, Jackson, NJ.