2019 Summer Time Fun at Jersey Shore Beach Exits
Spanning 130 miles from Sandy Hook all the way to Cape May are some of New Jersey's most gorgeous beaches. You'll find many fun family things to do: play on sandy beaches, climb up classic lighthouses, feast your eyes on scenic views, stroll along beautiful boardwalks, get in touch with nature and experience unique events. Many of the beaches have free 2019 summer concerts and special events. Remember to always swim safely in areas with a lifeguard on duty. Each beach exit off the Garden State Parkway (GSP) offers a perfect day trip or getaway.
Exit 117 Sandy Hook

Sandy Hook is a 7-mile barrier stretch of sandy beaches at the North end of New Jersey with access to both the bay and the Atlantic ocean sides. Enjoy swimming, sunning, water sports, and surf casting. Nearby activities: Explore Gateway National Park at Sandy Hook, the Nike Missile Radar Site, Fort Hancock Museum, Sandy Hook Lighthouse. Sports activities: birding, biking, boating, canoeing, hiking; kayaking, and picnicking. No entrance fee to beach but there is a car parking fee.
Wednesdays: Beach Concerts, 6-8pm
Aug 31: Boar's Head BBQ & Craft Beer Festival
Exit 105 Seven Presidents Oceanfront Park (and Beach)
Monmouth County Park System's Seven Presidents Oceanfront Park is a 38-acre beach park offering families a great place to enjoy swimming, sunning, and beach fun. It has a snack bar, eating areas, changing area, and showers. There is a park fee and parking fee. Other Activities: Tony's Place, a universal accessible playground. Skateplex offers skaters a skating bowl with ramps, floating ramps, planters, and steel rails.
Exit 105 Long Branch Beach
Miles of sand at the public beaches at Long Branch NJ. Enjoy the sand, water, and surf. No beach fee for kids 13 & under. There are playgrounds at each of the 4 beach locations, Cottage, Great Lawn, Laird and Melrose. Lifeguards on duty, plenty of restrooms and concessions. Attractions: Have some fun at Pier Village boardwalk with shops and restaurants.
Summer Music Concert Series
Sundays: Bands by the Beach
Tuesdays: Broadway Free Concerts
Aug 24: Jersey Shore Jazz & Blues Festival
Exit 102 Bradley Beach
Bring the sand toys. Family friendly shore town with pristine beaches, perfect for swimming, surfing, and sunning. Lifeguards on duty. No beach fee for kids 12 & under. Boardwalk with free concerts and arts events.
Jul 20: Latin Festival
Mondays: Summer Concerts
Aug 31-Sep 1: Lobsterfest
Exit 102 Ocean Grove
New Jersey's finest year-round family seashore resort with one square mile of natural beauty. No beach badge fee for kids 11 & under. Experience Ocean Grove's eclectic main street with rows of colorful Victorian houses, quaint shops, arts and crafts shows, ice cream and cafes, and the giant flea market at the Great Auditorium.
Jul 14: Ocean Grove Choir Festival
Jul 27: Victorian Day, 10am-8pm
Jul 29: Historical Society's Tent Tour, 11am-3pm
Aug 1-2: Mary Poppins Jr
Aug 10: Ocean Grove Forever 150th anniversary celebration. 2-9pm.
Exit 98 Belmar
Clean, safe, fun, family friendly beaches at Belmar. Colorful and fun beach playgrounds every few blocks. Belmar's composite made no splinter boardwalk is ideal for walking, jogging, and relaxing. The beaches are cleaned and groomed every morning. Kids playgrounds at 4th, 8th, 12th & 16th Avenues. No beach fee for kids 15 & under. Note: There are no changing rooms at this beach.
Jul 17: Sandcastle Contest
Jul 17: Belmar Cruise Night
Saturdays: Movies on the Beach
Sep 8: 15th annual Autism Beach Bash, 9am-4pm
Sep 12: Belmar Feast of San Gennaro

Exit 98 Asbury Park
Asbury Park is a historic shore town known for miles of sand and water. The beaches here are for swimming, sunbathing, surfing, fishing, and people watching. The revitalized boardwalk is lined with shops, restaurants, arcades, cafes, mini-golf, and music. Lifeguards on duty. No beach fee for kids 12 & under. Attractions: Visit The Silver Ball Museum Arcade, houses vintage arcade games and pinball machines. Kids can get soaked at the Asbury Splash Park.
Jul 17: Sad Summer Festival @ Stone Pony
Jul 20: Summer Bazaar @ Convention Hall
Aug 17: Summer Freestyle Jam
Exit 98 Spring Lake

Quiet and beautiful beach at Spring Lake. Children can play on the sand, build sand castles, and enjoy the water. There are no playgrounds. Non-commercial boardwalk where families can go for a gentle stroll. No coolers are allowed on the beach. Spring Lake is a quaint town with Victorian mansions, bed and breakfasts, cute shops and restaurants. Food, outdoor showers, and restrooms. No beach fee for kids 12 & under. Free parking on Ocean Ave.
Tuesdays: Summer Movies & Concerts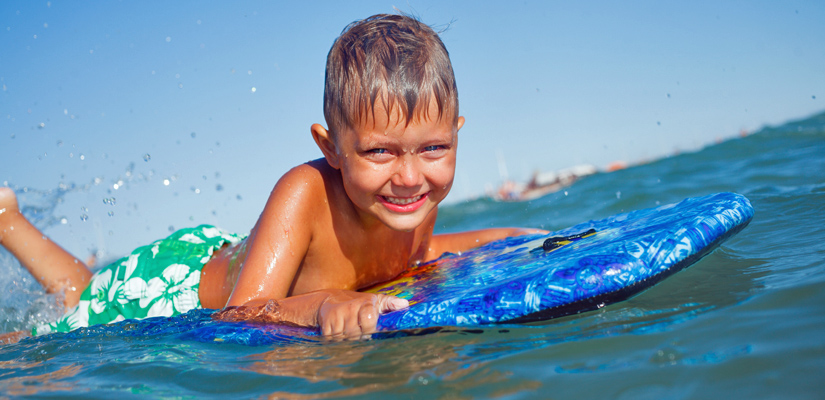 Exit 98 Point Pleasant
Point Pleasant has a mile long white sand beach and is fun for the whole family. Bring your beach chairs and play in the water or relax on the beach. Swim in life guarded areas. Visit Jenkinson's boardwalk for rides, games, and sweet shops. Play miniature golf or explore Jenkinson's Aquarium. No beach fee for kids 5 & under.
Wednesdays: Inlet Music Festival
Fridays: Movies on the Beach.
Thursdays: Fireworks at Dark @ Boardwalk
Fridays: Movies on the Beach
Jul 24-25: Christmas in July
Aug 12: Kite Festival
Sep 21: 5th Annual Festival of the Sea
Exit 98 Manasquan
Manasquan is home beautiful beaches. Families can swim, sun, relax, and surf. Popular beaches include: Elks Beach, Main Beach, Brielle Road Beach and Inlet Beach. Elks Beach in Manasquan offers beach access to guests who need special assistance or have physical disabilities with special needs. There are 5 surf chairs available for use and is free for handicapped guests or those with physical challenges to access the beach. Inlet Beach offers surfing year round. Lifeguards are on duty. There is a Beach fee.
Jul 15,29: Movie on the Main Beach
Thursdays: Concerts on the Beach
Aug 1-2: Firemen Fair
Aug 10: Big Sea Day
Exit 89 Bricktown
Brick Township operates three ocean beaches and one riverfront beach at Windward Beach Park. Clean, family friendly beaches with easy parking, snack bar, bathrooms, and lifeguards. No beach fee for kids 12 & under.
Thursdays: Bricktown Summer Concert Series
Jul 14: Brick Train Show
Exit 82 Seaside Heights
The Jersey Shore comes alive at Seaside Heights. 15 blocks of award winning beach with soft white sand. Swim in the ocean when life guards are on duty. No beach tag fee for kids 11 & under. Access to the Bay Beach is FREE every day for all. Attractions: Boardwalk, Casino Pier, Breakwater Beach Waterpark, Concerts, Special Events.

Sundays: Beach Movies
Jul 13: CasinoPier Slider's Birthday
Aug 10: Arts and Crafts by the Sea
Exit 63 Long Beach Island
Long Beach Island or LBI encompasses 18 miles of beach fun with 6 unique towns: Barnegat Light, Beach Haven, Harvey Cedars, Long Beach Township, Ship Bottom and Surf City. Things to do: beach, sunning, water sports, fishing, bicycling, boating, kayaking, walking, and exploring. Attractions for kids: Thundering Surf Water Park, Mini Golf at Jen's Links, Fantasy Island Amusement Park.
Jul 27: Tuckerton's Privateers & Pirates
Exit 40 Brigantine
Relax on pristine white sandy beaches at Brigantine Beach. Go swimming in the ocean, try sport fishing or windsurfing. Lifeguards on duty. Attractions: Shark Park Playground, Marine Mammal Stranding Center, Brigantine Lighthouse and Brigantine Beach Historical Museum. No Beach Tag fee for kids 11 & under.
Exit 36 Margate
Life Guarded beaches where families can spend a relaxing day. Clean and family friendly beach. Enjoy watersports, including paddle-boarding, jet skiing, fishing and boating. Attractions: Viist Lucy The Elephant, a national historical landmark six stories high.

Jul 20: Lucy the Elephant's 138th Birthday Party
Jul 25, Aug 1: Summer Movies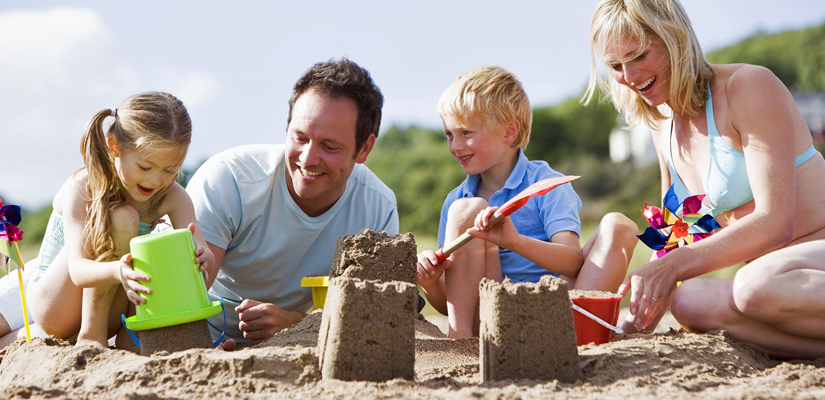 Exit 30 Ocean City
The beaches at Ocean City New Jersey are perfect for families and kids of all ages. You can't go wrong with 8 miles of white sandy beaches. Enjoy the waves, sun, and sand. Lifeguards on duty. No beach fee for kids 11 & under. Attractions: Gillian's Wonderland Pier Amusement Park, Playland's Castaway Cove, Boardwalk Adventures Water Park, arcades, boardwalk, and mini-golf.

Jul 13: Night in Venice (annual boat parade)
Jul 31: Twins Contest, 6pm
Aug 2-4: Boardwalk Art Show, 10am-8pm
Aug 6: Pamper Scamper
Aug 8: Baby Parade
Aug 10: Miss Ocean City Pageant
Aug 14: Hermit Crab Beauty Pageant
Exit 17 Sea Isle City
There are all types of beaches at Sea Isle City: bathing beaches, catamaran and sailboat launching beaches, kayaking beaches, kiteboarding beaches, rafting beaches, surf-fishing beaches, and volleyball beaches. No beach tag fee for kids 11 & under. Activities: biking and inline skating, sailing lessons, family fun nights and family dance parties at Excursion Park.

Jul 16: Baby Parade
Exit 11 Atlantic City
FREE beach access to Atlantic City beaches. No badges required. Spend a day having fun playing in the water or walking in the sand. Explore Atlantic City's Boardwalk and salt water taffy shops. Enjoy beach activities, swimming, surfing, boogie boarding, kayaking, windsurfing, and fishing. Attractions: Abescon Lighthouse, Atlantic City Aquarium, Ripley's Believe It or Not, Steel Pier amusement center, Outlet Shopping
Saturdays: Fireworks Show at the Tropicana
Sundays: Family movies under the Stars
Mondays: Broadway on the Boardwalk
Exit 10A Stone Harbor
Flanked by the Atlantic Ocean on the East and the Inter-coastal Waterway on the west, Stone Harbor is known as Seven Mile Island and has endless beautiful, family beaches. Swimming, rafts, and surfboards are permitted on select beaches. No beach tag fee for kids 11 & under.

Aug 3-4: Arts and Crafts Festival
Aug 17: Festival of Lights Boat Parade.
Exit 4B Wildwood
FREE access to 5 miles of clean and safe Wildwood beaches. No badge fee required. Voted one of the top New Jersey beaches, Wildwood has so much to do for families and kids. You've got wide white powder beaches, perfect for swimming, sun bathing, playing, and relaxing. Swim in life guarded beaches. Attractions: Morey's Piers and Beachfront Water Parks, Surfside Pier, Mariner's Landing, Adventure Pier, Raging Waters Waterpark, Doo Wop Experience Museum.

Jul 13: Fishing Tournament, Pig roast, BBQ and awards start at 6pm
Jul 13: 40th annual masters swim, 8am registration, 10am start
Jul 13: North Wildwood Boogie Board Races for ages 5-17, 9am registration
Jul 13-14: Wildwood Cornhold Tournament
Jul 12-14: NJ State BBQ Championship & Anglesea Blues Festival
Jul 20, North Wildwood Christmas in July, 1pm
Jul 28: Food Truck and Music Festival
Jul 28: Wildwood Crest Sunset Fest & Movie
Night. Jul 27-28: Beach Frisbee Tournament.
Jul 31: Wildwoods Baby Parade.
Aug 3-4: Downtown Wildwood Rib-Off Festival
Aug 10-11: Jazz & Wine Festival
Aug 24: North Wildwood: Triathlon, 5K & Kids Triathlon
Exit 0 Cape May
Located at the southern tip of Cape May Peninsula where the Delaware Bay meets the Atlantic Ocean, Cape May is a perfect destination for families. There miles of beautiful clean powdery beaches. Go swimming near life guard stations. No beach tag fee for kids 11 & under. Walk along the Cape May Promenade. Attractions: Cape May County Park and Zoo, Nature Center of Cape May, Naval Air Station Wildwood Aviation Museum at Cape May Airport, Cape May Lighthouse.

Jul 13-14: Annual Celtic Weekend
Jul 19: British Invasion Years in Cape May
Jul 21: Captain Kidd Treasure Hunt
Aug 2: Baby Parade.