Here's what to do at Jersey's Most Popular Beaches updated with 2023 Free Events
Summer is almost here! The famous Jersey Shore has so much to offer. From Sandy Hook all the way to Cape May are some of New Jersey's most gorgeous beaches. You'll find many fun family things to do: play on sandy beaches, climb up classic lighthouses, feast your eyes on scenic views, stroll along beautiful boardwalks, get in touch with nature and experience unique events.
We've listed some of our favorite free events. Each beach exit off the Garden State Parkway (GSP) offers a perfect day trip or getaway. Explore nearby attractions and you'll most likely find many other fun things to do around the area. Beach entry is free to all prior to Memorial Day and after Labor Day (unless specified) and most are free for kids under 5 and others are free for kids under 12.
Please check our online calendars for upcoming events this summer of 2023. Here are some of the most popular Jersey Shore Beach Exits: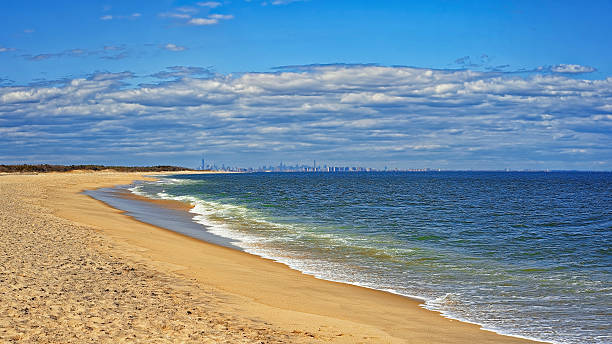 Exit 117 Sandy Hook (image above)

Sandy Hook is a 7-mile barrier stretch of sandy beaches at the North end of New Jersey with access to both the bay and the Atlantic ocean sides. Enjoy swimming, sunning, water sports, and surf casting. Nearby activities: Explore Gateway National Park at Sandy Hook, the Nike Missile Radar Site, Fort Hancock Museum, Sandy Hook Lighthouse. Sports activities: birding, biking, boating, canoeing, hiking; kayaking, and picnicking. Fees: Free admission to the beach. $20 daily parking/$50 oversized vehicles.
May 21: Beachata (or May 28 rain date) 2pm to 9PM, LOT E.
This free event welcomes all dancers. Bring you own chair, food and drinks to share. Whether you're a beginner or advance dancer come and enjoy the night. 80% bachata, 20% salsa, merengue and more. Playing bachata from the classics traditional to the modern latest mix songs.
June 24: Sandy Hook Hike @ 8:30 - 3PM. Henry Hudson Trail / Popamora Point. Shore Dr, Atlantic Highlands, NJ
August 4 - 7: 27th Annual Clam Festival @ Buddy Park, Highlands, NJ.
October 8: Jersey Shore Half Marathon Race: Come run the Jersey Shore Half Marathon race in Fort Hancock this October. Race date is estimated.
October 14: 4th Annual Fall Taste of Highlands @ 12:00 pm - 5:00 pm. Fee. Feature a Fall theme with 5 hours of delicious food samplings and cocktails. Rain or shine.
October 22: 22nd Annual Oktoberfest @ 12:00 pm - 7:00 pm (Rain date Sunday, October 8th) – Oompa Bands & Dancers, Stein Holding and Costume Contests, Authentic German Food & Beer, Hazlet, NJ
Exit 105 Seven Presidents Oceanfront Park (and Beach)
Monmouth County Park System's Seven Presidents Oceanfront Park is a 38-acre beach park offering families a great place to enjoy swimming, sunning, and beach fun. It has a snack bar, eating areas, changing area, and showers. You'll also find Volleyball area. Fees: $10 daily parking, guarded swimming, designated areas for surfing. The park also offers a reservable picnic tent for groups up to 50. There is a park fee. Children 17 and under are free. The beach is open for guarded swimming weekends only (including Memorial Day) May 27- June 11; and daily June 17 through Labor Day. Guarded swimming hours are from 10 a.m.-5 p.m.; weather and conditions permitting. In 1869, President Grant made the city the nation's "Summer Capital," a tradition followed by Presidents Hayes, Garfield, Arthur, Harrison, McKinley, and Wilson, hence its name, Seven Presidents.
May 27-29: Jersey Shore Food Truck Festival @ Monmouth Park Racetrack. 175 Oceanport Avenue, Oceanport. Food Trucks are finally back with the Jersey Shore Food Truck Festival Memorial Day weekend. Come enjoy our most delicious event.
June 18:

Father's Day at Monmouth Park

@ 11:00 am - 5:00 pm. FREE – $6. Continue a long-standing tradition or start a new one by treating Dad to an amazing Father's Day at Monmouth Park.
June 24 & 25: Wine and Pizza Festival @ 11:00 am - 5:00 pm, FREE – $15
Other Activities: Tony's Place, a universal accessible playground; Skateplex offering skaters a skating bowl with ramps, floating ramps, planters, and steel rails. Walk along the beach promenade all the way to Pier Village (a short walkable distance away) and enjoy the boutique shops and cafes. The kids will surely be entertained at the Pier Village Arcade, Boardwalk Fun N' Games. Fun for all ages and skill levels featuring state of the art virtual reality games, skee ball, crane games and an abundance of skill and chance games to win points for redemption. Take a ride by the sea in the unique and imaginative iconic Carousel. With hotels right on the beach, this makes a perfect weekend getaway.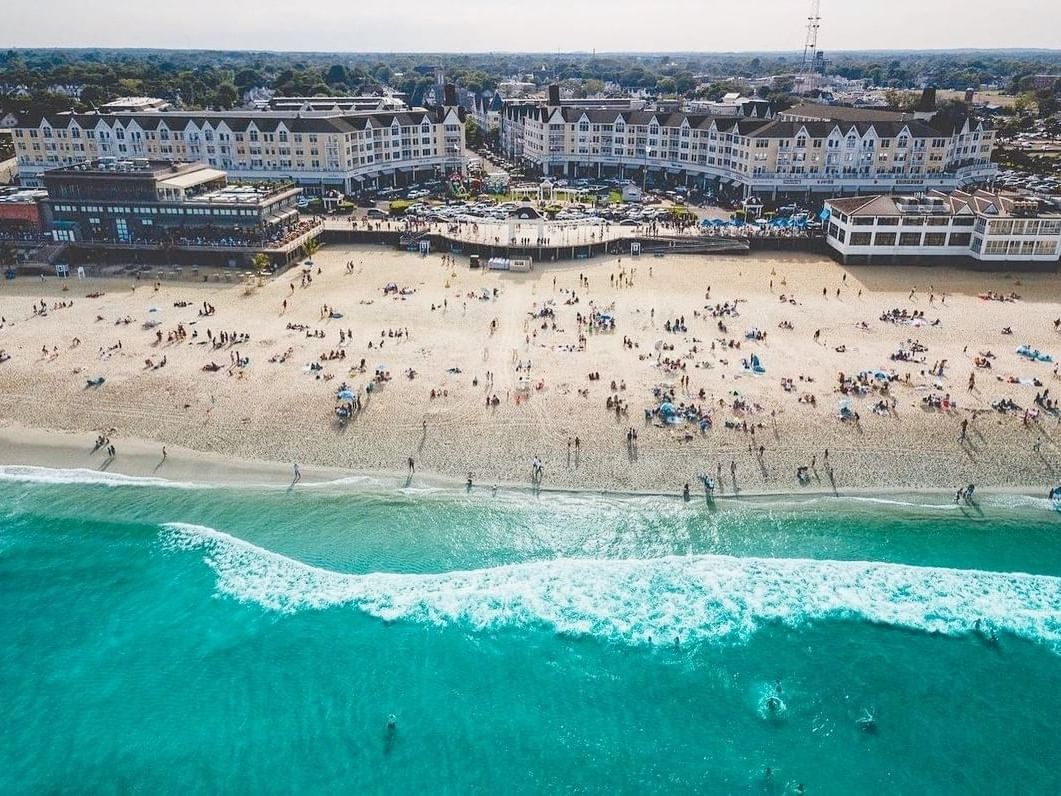 Exit 105 Long Branch Beach & Pier Village
Miles of sand at the public beaches at Long Branch NJ. Enjoy the sand, water, and surf. There are playgrounds at each of the 4 beach locations, Cottage, Great Lawn, Laird and Melrose. Lifeguards on duty, plenty of restrooms and concessions. Fees: $5 daily, $7 weekend and holidays, $3 daily for young adults 14-17. No beach fee for kids 13 & under, and for seniors 62 years and over. Disabled people are free. Attractions: Have some fun at Pier Village boardwalk with shops and restaurants, Merry Go Round. Boardwalk extends 8.2 miles out and back trail, offering scenic views. Trail is great for walking, running and biking.
May 28, 2023: Long Branch Art in the Park @ 10:00 am - 5:00 pm, FREE.
Thursdays: By the Sea Free Concert Series by Pier Village @ 7-8:30pm. FREE
June 4 - August 27: Bands on the Beach
Tuesdays on Broadway @ 7 - 8:30PM
July 15: 2023 Run/Swim/Run event at Pier Village
August 9-13: 47th Italian American Association Festival @ 5:00 pm - 11:00 pm, Joe Palaia Park, Oakhurst
August 19: West End Cruise Night & Classic Car Show @ 6:00 pm - 10:00 pm, Concert @ 7:30
August 26: Long Branch Jazz & Blues Festival @ 1:00 pm - 9:00 pm. Featuring music and vendors on the beach front. Fireworks at dark.
September 22-24: Jersey Shore Cake and Cookie Convention @ 9:00 am - 5:00 pm, Trade show, classes, live demonstrations, and competitions for bakers of every skill level to shop and connect with like minded individuals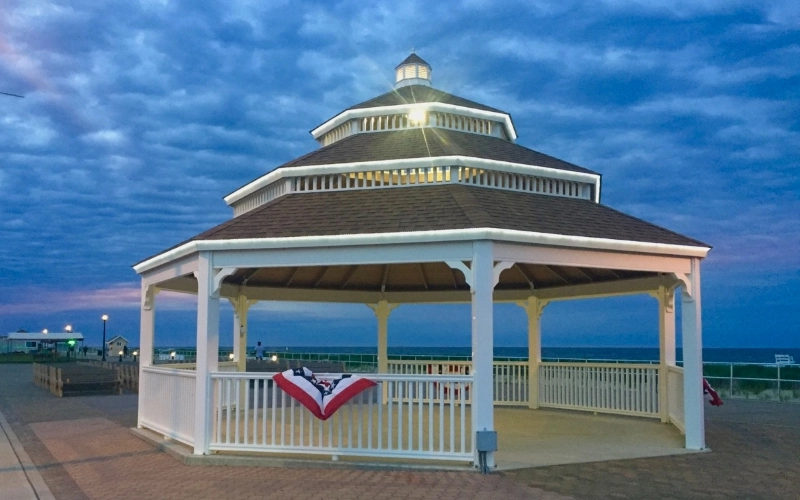 Exit 102 Bradley Beach
Bring the sand toys. Family friendly shore town with pristine beaches, perfect for swimming, surfing, and sunning. Lifeguards on duty. Fees: $12 daily. No beach fee for kids 12 & under. Boardwalk with free concerts and arts events. Nearby is Avon by the Sea, another fabulous family friendly beach.
May 27-29: Bradley Beach Memorial Day Weekend Festival @ 9:00 am - 7:00 pm. FREE
Saturdays in the Park Concert Series @ 5 - 7PM, held at Riley Park

Exit 102 Ocean Grove
New Jersey's finest year-round family seashore resort with one square mile of natural beauty. Experience Ocean Grove's eclectic main street with rows of colorful Victorian houses, quaint shops, arts and crafts shows, ice cream and cafes, and the giant flea market at the Great Auditorium. Fees: $5 daily. No beach badge fee for kids 11 & under.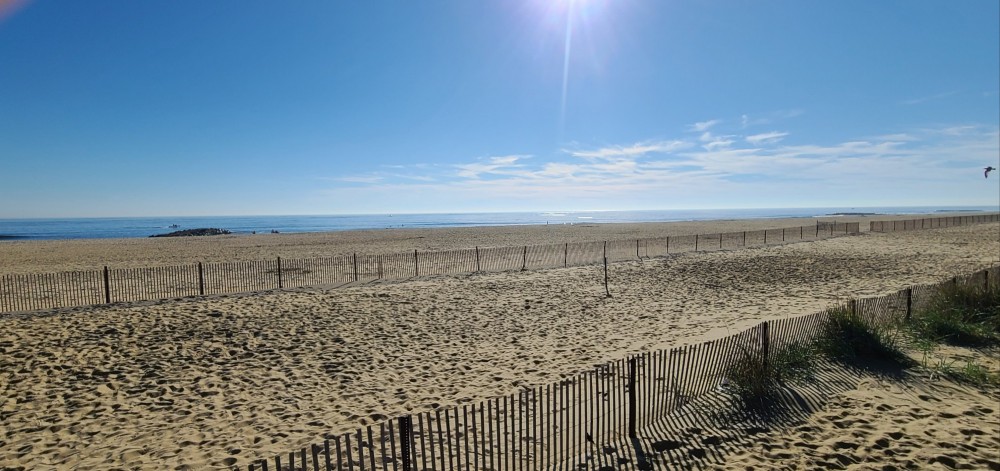 Exit 98 Belmar
Clean, safe, fun, family friendly beaches at Belmar. Colorful and fun beach playgrounds every few blocks. Belmar's composite made no splinter boardwalk is ideal for walking, jogging, and relaxing. The beaches are cleaned and groomed every morning. Kids playgrounds at 4th, 8th, 12th & 16th Avenues. Fees: $10 daily. No beach fee for kids 15 & under.
Free Movies Thursdays
Belmar Farmer's Market Wednesdays, 4pm
July 8: 5 mile Run
September 10: 19th Annual Autism Beach Bash
September 16-17: Belmar Feast of San Gennaro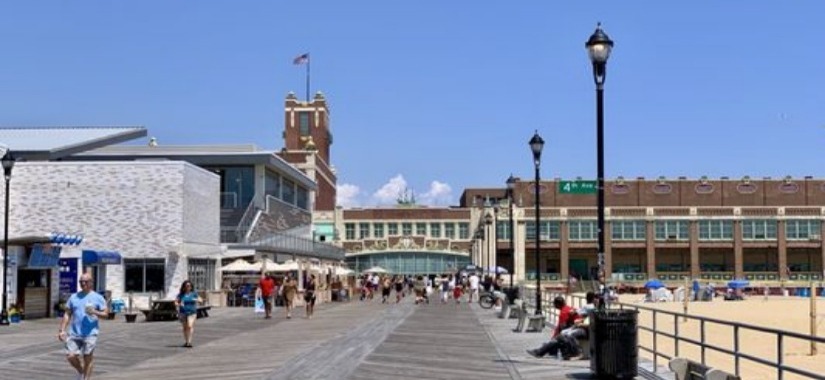 Exit 98 Asbury Park
Asbury Park is a historic shore town known for miles of sand and water. The beaches here are for swimming, sunbathing, surfing, fishing, and people watching. The revitalized boardwalk is lined with shops, restaurants, arcades, cafes, mini-golf, and music. Lifeguards on duty. Fees: $6 daily weekday, $9 weekends and holidays. No beach fee for kids 12 & under. Attractions: Visit The Silver Ball Museum Arcade, houses vintage arcade games and pinball machines. Kids can get soaked at the Asbury Splash Park.
June 14-18, 2023: North to Shore Festival – Sensational Soul Cruisers @ 7:00 pm - 9:00 pm. More than 100 events and acts are planned in three cities — Atlantic City (June 7-11), Asbury Park (June 14-18) and Newark (June 21-25). LINK
September 22-24: Asbury Fest @ 8:00 am - 5:00 pm, Music, Food and Fun for all at AsburyFest Across from Convention Hall
Exit 98 Spring Lake

Quiet and beautiful beach at Spring Lake. Children can play on the sand, build sand castles, and enjoy the water. There are no playgrounds. Non-commercial boardwalk where families can go for a gentle stroll. No coolers are allowed on the beach. Spring Lake is a quaint town with Victorian mansions, bed and breakfasts, cute shops and restaurants. Food, outdoor showers, and restrooms. Fees: $12 daily. No beach fee for kids 5 & under.
May 26: Spring Lake Kids Race starting at 6:00 p.m.
May 27: Spring Lake Five Mile Run @ 8:30 am - 11:00 am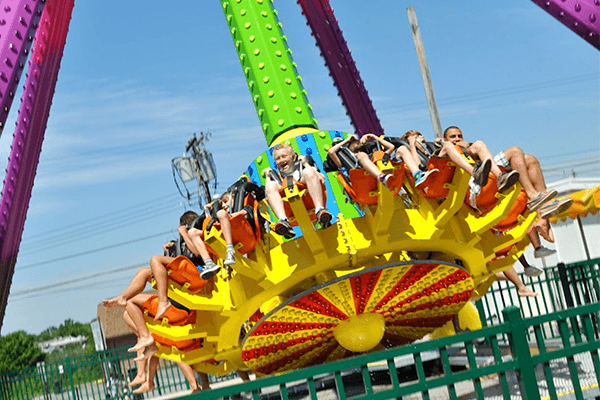 Exit 98 Point Pleasant
Point Pleasant has a mile long white sand beach and is fun for the whole family. Bring your beach chairs and play in the water or relax on the beach. Swim in life guarded areas. Visit Jenkinson's boardwalk for rides, games, and sweet shops. Play miniature golf or explore Jenkinson's Aquarium. Jenkinson's Fees: $4 daily for children 5-11/$5 weekends and holidays, No beach fee for kids 4 & under.
May 26: JUMPSTART TO SUMMER with Z100 @ Jenkinsons, 10AM
June 2-3: Point Pleasant 33rd Annual Summerfest 2023 (June 2: 6:00 pm - 10:00 pm; June 3: 11am-7pm), Point Pleasant Community Park
Tuesday Free Movies at the Beach, Jenkinson's @ 9-10:30PM
August 17: Sidewalk Sale Days @ 10AM - 8PM


Exit 98 Manasquan
Manasquan is home beautiful beaches. Families can swim, sun, relax, and surf. Popular beaches include: Elks Beach, Main Beach, Brielle Road Beach and Inlet Beach. Elks Beach in Manasquan offers beach access to guests who need special assistance or have physical disabilities with special needs. There are 5 surf chairs available for use and is free for handicapped guests or those with physical challenges to access the beach. Inlet Beach offers surfing year round. Lifeguards are on duty. Fees: $10 daily.
May 28: Take a Train Ride and Walk the Boardwalks, 10AM
Exit 89 Bricktown
Brick Township operates three ocean beaches and one riverfront beach at Windward Beach Park. Clean, family friendly beaches with easy parking, snack bar, bathrooms, and lifeguards. Fees: $10 daily. No beach fee for kids 12 & under, and for seniors 65 years and over. July 6:
July 6: Brick Township's Summerfest @ 7:00 pm
July 22: Crabbing Contest @ 9:00 am - 1:00 pm, Mantoloking Bridge County Park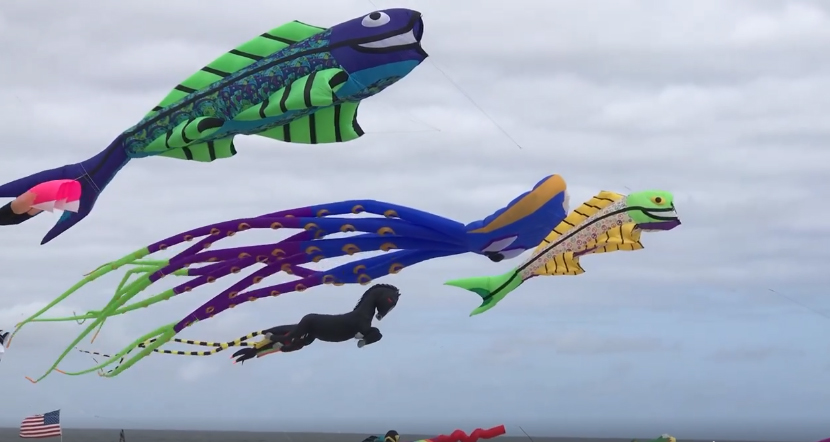 Exit 82 Seaside Heights
The Jersey Shore comes alive at Seaside Heights. 15 blocks of award winning beach with soft white sand. Swim in the ocean when life guards are on duty. Attractions: Boardwalk, Casino Pier, Breakwater Beach Waterpark, Concerts, Special Events. Nearby beaches include Ortley and Lavalette, both are family friendly beaches with little beach towns. Fees: $8 daily, $35 weeklyNo . beach tag fee for kids 11 & under. Access to the Bay Beach is FREE every day for all.
May 26: Memorial Day Kickoff with STARSHIP, Seaside Heights Boardwalk @ 4-10PM
June 3 & August 5: Arts & Crafts By The Sea @ 11:00 am - 7:00 pm
July 4: Kites in the Heights @ 5-9PM
August 1 Seaside Heights Mom and Me Beach Day @ 9:00 am - 5:00 pm
August 8 Seaside Heights Dad and Me Beach Day @ 9:00 am - 5:00 pm
Exit 98 or 82 to Lavalette and Ortley Beaches
Lavalette and Ortley both are family friendly beaches with little beach towns, perfect to escape the crowds of Seaside Heights and Point Pleasant. Lavalette is one of the nicest beach communities on the Barnegat Peninsula. You'll find a quaint beach town away from the hustle of the larger beaches with commercial boardwalks. Enjoy a stroll through its mile long non-commercial boardwalk, and ready access to the ocean beach and the Barnegat Bay Shoreline. It's a small beach town with plenty of places to shops and eat in town. The beach meets the bay within 2-4 blocks depending on where you are. Next town over is Ortley Beach, an unincorporated community located within Toms River. It's a nice, clean beach, less fancy than its neighboring Lavalette but still has much of the same charm. The Surf Club beach has snack bars, showers and there is a great playground on the bay side. Lavalette Fees: $12 daily. Children 11 years and under are free. Ortley Fees: $11 daily, Children 12 years and under are free.
June 24: Kickoff To Summer Food Truck Festival @ 3:00 pm - 9:00 pm, Lavalette Bay Front & Philadelphia Ave
Sunday Concert Series, Lavalette, 7PM
July 4 - August 29: Movies in the Bay, 8:30PM
July 6: Lavallette Kites and Castles @ 7:00 pm
Exit 63 Long Beach Island - LBI
Long Beach Island encompasses 18 miles of beach fun with 6 unique towns: Barnegat Light, Beach Haven, Harvey Cedars, Long Beach Township, Ship Bottom and Surf City. Things to do: beach, sunning, water sports, fishing, bicycling, boating, kayaking, walking, and exploring. Attractions for kids: Thundering Surf Water Park, Mini Golf at Jen's Links, Fantasy Island Amusement Park. Fees vary for each beach, averaging $10.
May 27: Kick Off to Summer Fireworks! @ 7:00 pm - 9:30 pm, Bayview Park Pavilion, Long Beach Blvd., Long Beach
May 28: Viking Village Art & Craft Show, Barnegat Light. Fine Arts, Photography, Ceramics, Wood Crafts, Clothing, Handmade Jewelry and Accessories. With over 70 vendors they have a little bit of everything.
June 7 - 11: Lighthouse International Film Festival 2023 @ 10:00 am - 11:00 pm LINK
June 10: Fifth Annual Beach Haven Art Walk @ 9:00 am - 4:00 pm
Saturday Concert Series @ Barnegat Dock, 7-9PM LINK
June 27, July 11, 25, August 8, 22:

B

arnegat Drive In Movie Series

@ Barnegat High School
July 8: Ship Bottom Block Party, 3-9PM
Exit 40 Brigantine
Relax on pristine white sandy beaches at Brigantine Beach. Go swimming in the ocean, try sport fishing or windsurfing. Lifeguards on duty. Attractions: Shark Park Playground, Marine Mammal Stranding Center, Brigantine Lighthouse and Brigantine Beach Historical Museum. Fees: $10 daily. No Beach Tag fee for kids 11 & under and. for seniors 65 years and over.

Exit 36 Margate
Life Guarded beaches where families can spend a relaxing day. Clean and family friendly beach. Enjoy watersports, including paddle-boarding, jet skiing, fishing and boating. Attractions: Visit Lucy The Elephant, a national historical landmark six stories high. Children 11 and under are free
Exit 30 Ocean City
The beaches at Ocean City New Jersey are perfect for families and kids of all ages. You can't go wrong with 8 miles of white sandy beaches. Enjoy the waves, sun, and sand. Lifeguards on duty. Fees: $5 daily, $10 weekly. No beach fee for kids 11 & under. Attractions: Gillian's Wonderland Pier Amusement Park, Playland's Castaway Cove, Boardwalk Adventures Water Park, arcades, boardwalk, and mini-golf.
June 1: Wonder's Birthday Bash @ 6-9PM. Celebrating 93 years on Ocean City's Boardwalk
June 2 - 4: Ocean City Flower Show
July 6: Sand Sculpting Contest, 9-11:30AM
July 29: Night in Venice, 6-9PM
Funtastic Tuesdays– 10 a.m. to 1 p.m. on Asbury Ave. Entertainment, Face Painters, Balloon Sculptors.

Wacky Wednesdays
Exit 17 Sea Isle City
There are all types of beaches at Sea Isle City: bathing beaches, catamaran and sailboat launching beaches, kayaking beaches, kiteboarding beaches, rafting beaches, surf-fishing beaches, and volleyball beaches. Fees: $5 daily, $10 weekly. No beach tag fee for kids 11 & under. Free on Wednesdays. Activities: biking and inline skating, sailing lessons, family fun nights and family dance parties at Excursion Park.
Exit 11 Atlantic City
FREE beach access to Atlantic City beaches. No badges required. Spend a day having fun playing in the water or walking in the sand. Explore Atlantic City's Boardwalk and salt water taffy shops. Enjoy beach activities, swimming, surfing, boogie boarding, kayaking, windsurfing, and fishing. Attractions: Abescon Lighthouse, Atlantic City Aquarium, Ripley's Believe It or Not, Steel Pier amusement center, Outlet Shopping.
Exit 10A Stone Harbor
Flanked by the Atlantic Ocean on the East and the Inter-coastal Waterway on the west, Stone Harbor is known as Seven Mile Island and has endless beautiful, family beaches. Swimming, rafts, and surfboards are permitted on select beaches. Fees: $8 daily, $17 weekly.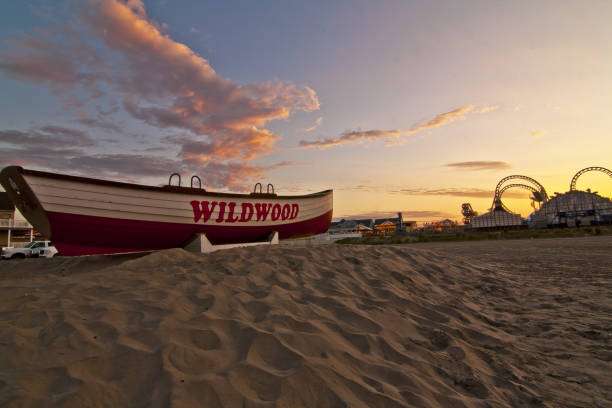 Exit 4B Wildwood
FREE access to 5 miles of clean and safe Wildwood beaches. No badge fee required. Voted one of the top New Jersey beaches, Wildwood has so much to do for families and kids. You've got wide white powder beaches, perfect for swimming, sun bathing, playing, and relaxing. Swim in life guarded beaches. Attractions: Morey's Piers and Beachfront Water Parks, Surfside Pier, Mariner's Landing, Adventure Pier, Raging Waters Waterpark, Doo Wop Experience Museum.
May 26-29: Wildwood International Kite Festival
June 11-15 and Sept 10-14: Restaurant Week
June 15-18: Barefoot Country Music Fest
July 7: Wildwood Crest Sand Sculpting Festival @ 9am-2pm

Exit 0 Cape May
Located at the southern tip of Cape May Peninsula where the Delaware Bay meets the Atlantic Ocean, Cape May is a perfect destination for families. There miles of beautiful clean powdery beaches. Go swimming near life guard stations. Fees: $8 daily. No beach tag fee for kids 11 & under. Walk along the Cape May Promenade. Attractions: Cape May County Park and Zoo, Nature Center of Cape May, Naval Air Station Wildwood Aviation Museum at Cape May Airport, Cape May Lighthouse.
---
Where are the boardwalks? See our Guide to the top NJ Boardwalks that are perfect for families and kids.
Check out Things To do this month.