NJ Boardwalks Offer Plenty of Things to Do for Everyone....
Ready for some summer fun with the kids? Hop in the car and take a drive down the Garden State Parkway (GSP) to visit New Jersey's famous boardwalks. There are plenty of kid friendly ones all along the Jersey Shore. Order up some custard or soft serve ice cream, try to win a stuffed animal, bite into a funnel cake, take a ride on a carousel, listen to a summer concert or watch a movie under the stars. Fun amusement parks are a shore hit. Go ahead and start creating wonderful memories with your family.
Wildwoods Boardwalk
Spend some time this summer at the Wildwoods Boardwalk! Experience 38 blocks of classic boardwalk fun, along with 5 miles of free beach access. Walk it or ride aboard a Sightseer Tram Car. Over 100 amusement rides, water rides & attractions, arcades, shops, eateries, and more! Ride your bike on the boardwalk weekdays from 5am-11am, weekends and holidays till 10:30am. Wildwood, NJ (GSP exit 4N or exit 4B-S)
Jenkinson's Boardwalk at Point Pleasant
Kid friendly one mile Point Pleasant boardwalk featuring Jenkinson's Aquarium and Jenkinson's Amusement Park. Good day trip from all parts of New Jersey. Arcades, mini-golf, candy shops, and boardwalk food are a big hit. Free programs are offered at Jenkinson's. 300 Ocean Ave, Point Pleasant Beach, NJ (GSP exit 98S or exit 90N)
Ocean City Boardwalk
Known as "The Boards" - venture out for some family fun on the 2.5 mile boardwalk at Ocean City. This boardwalk is super kid friendly with arcades, mini-golf, candy stores, go-karts, and two amusement parks: Gillian's Wonderland Pier and Playland's Castaway Cove. Many free programs are offered for families and kids. Ocean City, NJ (GSP exit 30N or exit 25S)
Cape May Promenade
Walk along Cape May's beautiful paved 2-mile promenade with spectacular ocean views. Small shops, candy stores, arcades, and ice cream. Biking allowed 4am-10am. Beach Ave, Cape May, NJ (GSP exit 0).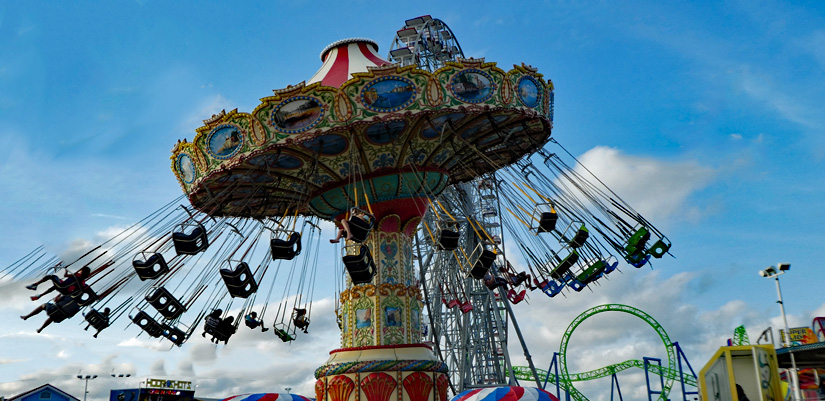 Seaside Heights Boardwalk
Stretching almost 2 miles from end to end, Seaside Heights boardwalk is filled with fun family activities, amusement rides, arcades, waterparks, mini-golf, music, funnel cakes, ice cream, and more! 410 Boardwalk, Seaside Heights, NJ (GSP exit 82)
Atlantic City Boardwalk
Explore the Atlantic City Boardwalk. It's one of America's most iconic boardwalks featuring a colorful 4 mile walk along the water. Check out Ripley's Believe It or Not, Steel Pier Amusement Park, mini-golf, arcades, shopping, and restaurants. Boardwalk, Atlantic City, NJ (GSP exit 36)
Long Branch Boardwalk & Pier Village
The Long Branch Boardwalk is almost 2 miles long with scenic views of the ocean. Family Fun Night every Sunday through labor day at Pier Village - visit the arcade and Boardwalk Fun N' Games, check out Festival Plaza for bounce houses, slides and inflatables. Ocean Ave, Long Branch, NJ (GSP exit 105)
Belmar Boardwalk
The Belmar Boardwalk is a great place to visit and enjoy the attractions, shops, and eateries. Ocean Ave from 1st to 20th Ave, Belmar, NJ (GSP exit 98)
Spring Lake Boardwalk
Spring Lake's non-commercial & wide stroller friendly boardwalk along the beach seems to go on for miles. Take in the pretty sites, homes, and surroundings. Bike riding allowed from 10pm-8am. Ocean Ave, Spring Lake, NJ (GSP exit 98)
Sea Isle City Promenade
Paved walkway almost 1.5 miles long. Wonderful place to take a leisure stroll with the kids. Biking allowed weekdays 5am-3pm, weekends 5am-noon. 29th to 57th Street, Sea Isle City, NJ (GSP exit 17S)
Asbury Park Boardwalk
Asbury Park's boardwalk is lined with unique shops, eclectic restaurants, arcades and cafes. It's a historic shore town known for its sandy shore and currently there's lots of new development throughout. Shopping, cafes and dining all nearby. 1300 Ocean Ave, Asbury Park, NJ (GSP exit 98)