Make Virtual Holidays extra special this year
By now, you've celebrated birthdays, weddings, Halloween and Thanksgiving virtually and have become quite adept at commemorating special days on a screen, miles away from your friends and family. This holiday season is a very special one and you might be running out of ideas or wondering how to make this virtual celebration different from the others.

No worries…..

We might be physically apart this year, but with the help of the following remote, interactive activities we don't have to feel so separated. Here are some new ideas you might want to incorporate in your upcoming virtual celebration to make it a most enjoyable one.
1. INVITES
Create fabulous, digital invites with all your party's details. Make sure everyone knows what is expected of them, and if they need to wear, make or bring anything or prepare anything in advance. Having all the details clearly laid out on a beautiful invite will ensure everyone knows what's expected and will allow the party to run smoothly.
2. HOUSE DECORATION TOUR
Begin the festivities with everyone's turn showing off their home's festive decorations. Let everyone boast about their indoor and outdoor ornaments and share traditions they typically do with their family this time of year.
3. SHARING DJ RESPONSIBILITIES
Have everyone participate in choosing the party's background music by either sending you their favorite holiday song titles in advance or having each guest take turns as the DJ for a certain period of time during the evening. This way everyone gets to listen to their most-liked music and feels they contributed to the party's atmosphere.

4. UGLY SWEATER COMPETITION
Have everyone wear and vote on their favorite ugly, holiday sweater. Have prizes ready to mail to the winner, eGift Cards, or special bonuses for the winner(s) like 'they get to be in charge of the party's music for the next hour' or 'they get to pick the holiday movie you will all stream later.'
5. SLIDESHOW
Choose a theme for your picture show such as 'favorite neighborhood decorations', or 'family holiday pics from the past' or 'childhood holiday pics for a guess-the-person game' etc. and have all your guests send them in advance. Create a slideshow of all the pictures and add music for everyone to enjoy
6. PRE-SET MENU
If you wish all your guests to enjoy the same food and drinks, let them know in advance so you can all share the same menu when it comes time to eat. Another option might be to have everyone create their own favorite, traditional holiday food as a conversation piece over mealtime.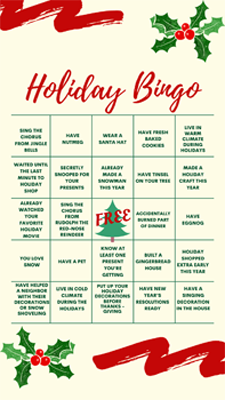 7. GAMES
Everyone loves to play. Choose games you can all play together, online, or over your virtual platform. You can also create a scavenger hunt for specific items your guests must find in their home with the winner being the one who finds them all the fastest, or you could play holiday Bingo with a board we designed for you here. There are many options for fun, interactive games. The more participation, the more enjoyable and memorable it will be.
8. SECRET SANTA
Have everyone select a secret Santa for whom they must get a present (you can determine a value limit) and mail to them before the party. During your celebrations, once it's time, everyone can open their presents together or take turns and then guess who their Secret Santa is. Prizes can be awarded to those with correct guesses.
9. ACTIVITY
You might choose for everyone to make something together; whether it's cookies or dough ornaments (see DIY Holiday Crafts) or after-meal drinks (cocktails or hot chocolates), everyone can make their own at the same time and everyone can share advice, recipes, and opinions. If you're competitive, of course, you can turn this into another competition for prizes.
10. HOLIDAY MOVIE STREAMING
To end the festivities, you might want to stream a movie for all to watch together. You can select which movie yourself or hold a guest vote and then share the winning selection for all to sit back, relax in their favorite chair, maybe in their holiday PJs, and watch from the comfort of their home.

The key to any successful party is in its preparation. Plan ahead of time as much as possible. If you want everyone to enjoy the same menu, play the same games, have a Secret Santa Gift Exchange, and/or have specific ingredients/objects for party activities, it's best that all your guests know in advance so they have enough time to get everything to help in your virtual party's success.

This has been quite a year and we've been forced to do many things differently, but different does not mean bad. We can all make the best of this holiday season by making sure we keep in touch with our loved-ones, listen to them, care for them, and share out time with them any possible way we can.

Have a wonderful, virtual party together and a beautiful, holiday season filled with best wishes and much love.

HAPPY HOLIDAYS EVERYONE!
Read Things to Do for the Holidays
Read Santa Sightings
Read Best Drive-Thru Christmas Light Shows in NJ
Read Christmas and Holiday Lights in NJ