It's time to Deck the Halls with holiday cheer!
In our home, we have a few carefully placed, store-bought decorations for the Holiday Season as well as some home-made crafts the kids create yearly. This is a much loved family tradition because of the great stories each craft tells of their childhood over time. Every November, we start looking for new DIY ideas to "spruce up the house" for December. Below are some of the crafts we considered this year.
If you enjoy crafting with the kiddos and decorating your home with personal memories, you might want to try a few of the following: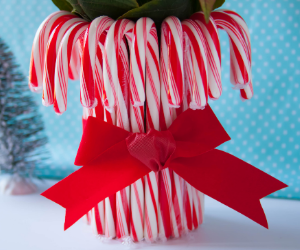 Candy Cane Vase
Those holiday flowers you plan on getting need an equally jolly vase. Tie or hot glue candy canes all the way around a mason jar, tall glass or vase and finish with a nice ribbon and bow around the center. This is always a conversation starter with guests.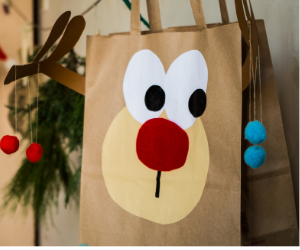 Character Bags
Do you have a bunch of paper grocery bags hanging out under the sink? Time to put them to a fun use. Decorate them with other paper cutouts or markers to create a character's face. Add decorations as needed like googly eyes, pompoms and bows. Make them fun!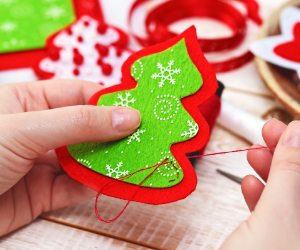 Cloth Ornaments
Make a few more ornaments for the tree with fabric you might have laying around the house or parts of old clothing with sentimental meaning that might not fit anymore. Cut them into holiday shapes like trees, candles, angels, stars, wreaths etc, and layer them with similar shaped fabric in different sizes. Sew them all together and attach a string/yarn either by piercing a hole at the top or by using hot glue, then you can hang your new ornament on the tree. If you make multiple such ornaments, another option would be to create a garland with them by affixing them all to a long & thick ribbon for hanging over the mantle or the staircase.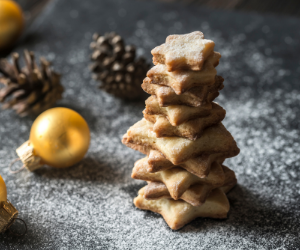 Cookie Trees
Time to bake a bunch of different sized star cookies. Once ready you can stack them together from large to small to look like a pine tree. Add green sprinkles for pine needles and a little confectioners sugar for snow. This makes for a great Holiday Village addition or a fabulous dessert platter.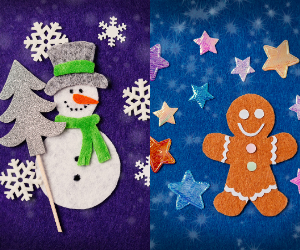 Holiday Cards
Forget store-bought cards, personalize your list this year by making them yourself. Get some card stock and colored construction paper to create your own Holiday Wishes. Make cutout characters come to life by creating a pop-out in the card's middle or 3D shapes by adding layers and objects to your designs like straws, sticks, beads etc.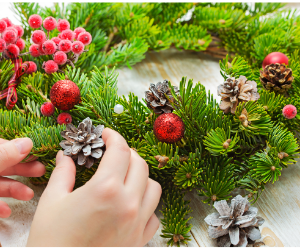 Homemade Wreath
Bring a bit of the outdoors in the house. If you love the smell of pine, you'll love this craft. First, create a circular, wreath shape as your base out of cardboard, wire, pliable twigs, or foam. Then, enjoy a nice nature walk to collect small pine branches and pinecones. Arrange them all around your circular base and tie or hot glue them in place. Decorate with small ornaments, ribbons, or anything you like. One year, my son made a wreath with tons of his favorite, match box cars tied to the branches. We lit them up from behind and to this day, he still says that was his favorite wreath of all time.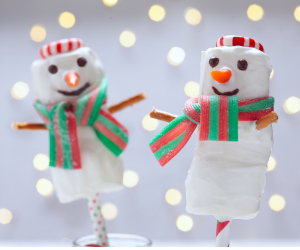 Marshmallow Snowmen
Poke three marshmallows on a straw or skewer and decorate with icing and candy to look like snowmen or reindeer or other characters you prefer. Licorice can be scarves, pretzel sticks can be arms or antlers, candies for hats or buttons and other decorations. You can arrange them all over the house in planters, in vases, or on plates, and then of course as a fabulous dessert.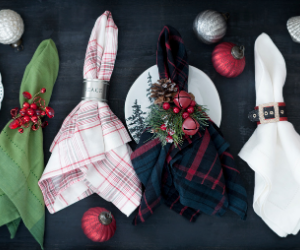 Nifty Napkin Rings
Decorate the table with homemade napkin rings. Use your imagination and make them fun. You can hot glue decorations like beads, jewelry or twigs onto a strip of velcro, an elastic, construction paper strips or wire. Use items you have in and around the house to make special rings for your family meals.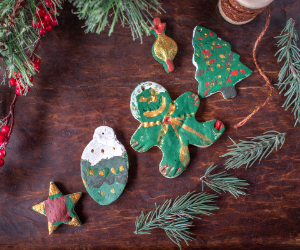 Painted Dough Ornaments
Bake and paint your own holiday ornaments this year. Mix 4 cups of all-purpose flour with 1 cup of salt and 1-½ cups of warm water. Knead until firm yet smooth. Create your own ornament shapes; remember to make a hole near the top for hanging. Bake at 300F for an hour - let cool before painting.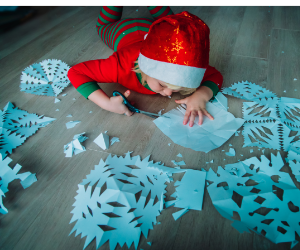 Paper Snowflakes
A fun and easy standard craft as a garland or window decoration. Start with regular or colored paper cut into a square; fold the paper diagonally to make a triangle; fold that triangle in half where pointed corners meet; with the triangle point at top, fold left 2/3rds over, the right 2/3rds over in the other direction. The paper should look like a little arrowhead. Cut off the bottom points so you have a clean triangle. Now make little cuts, and shapes as you will. When done, open to see your masterpiece.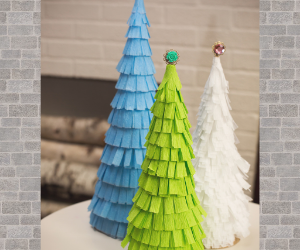 Post It Trees
Create a cone shape out of large construction paper then stick small post-it notes (or little rectangles of paper if you don't have post-its) all over like branches. Start with bottom layers and work your way up to the top. Decorate with a pompom or other ornament on top. These make for really cool end-table decorations and they're fun to make.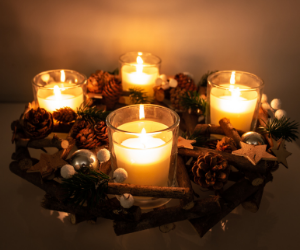 Scented Centerpieces
Create a special centerpiece with scented (but not overpowering) candles or surround candles with cinnamon sticks or scented pinecones that will emit a scrumptious smell once heated by the candles. Add holiday decorations like little ornaments, ribbons and more as you wish. Another fun centerpiece, if you have holiday light bulbs lying around, is to cut out the bottom of a foam sphere and stick the lightbulbs in covering the exposed area fully.
There are so many ways to spruce up your home around the holidays and it's so much fun when the whole family creates these decorations together. Enjoy creating great memories you will be thrilled to revisit each year.

HAVE FUN & ENJOY YOUR HOLIDAYS TOGETHER!
Read 10 New, Fun Holiday Ideas to Celebrate Remotely
Read Things to Do for the Holidays
Read Christmas and Holidays Lights in NJ