Field Station: Dinosaurs - T-Rex Takeover!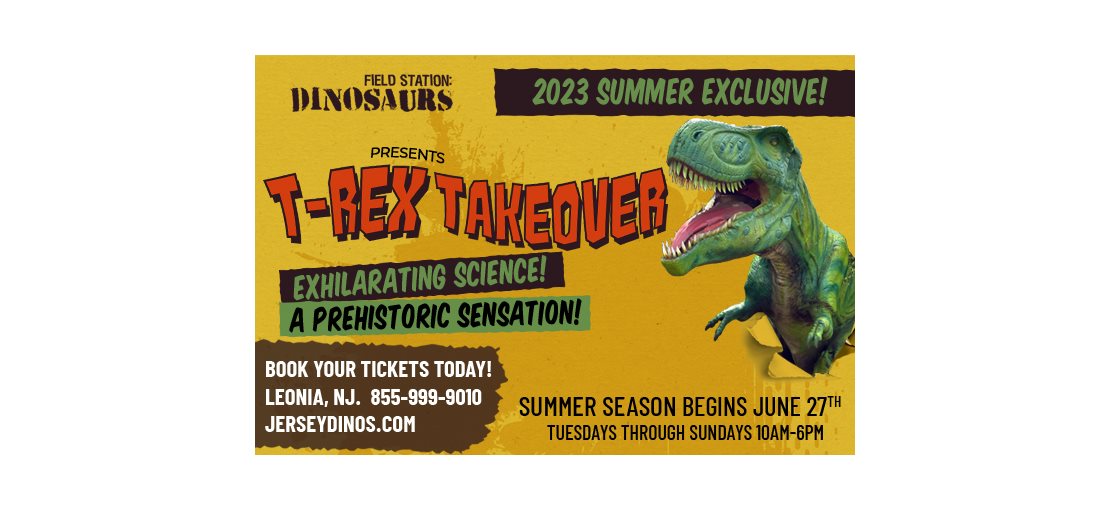 Step aside Stegosaurus! Move over, Velociraptor!
Field Station: Dinosaurs Opens for the FULL Summer Season on June 27th! For a limited time only in Summer 2023, Field Station: Dinosaurs presents T-Rex Takeover!, a celebration of paleontology's biggest star, the mighty Tyrant Lizard King.
In addition to the new T-Rex themed programming, new adventures added for the 2023 Season include Build a Dinosaur with La-Q, Compsognathus Race, Ferocious Feud, Jurassic Zoo Bounce House, and Stanley Stegosaurus.
Field Station: Dinosaurs is a world-class family attraction that combines cutting-edge science with the creative minds of great artists and teachers to create a one-of-kind experience that's thrilling, educational and fun. Location: 3 Overpeck Park Driveway, Leonia, NJ 855.999.9010 www.jerseydinos.com
Summer Hours:
June 27 through September 3
Tuesdays through Sundays, 10am - 6 pm
Fall
September 9 through November 12
Saturdays and Sundays, 10am - 5pm
"Buy Tickets Now" at https://fieldstationdinosaursnj.aluvii.com/store/shop/categories?id=1&_ga=2.13296948.2089988317.1686761432-610401807.1684425177