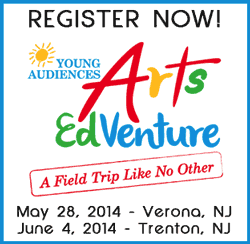 May 28 – Kips Castle Park,

Verona, NJ


Rain Date – May 30
June 4 – New Jersey State Museum, Trenton, NJ


Rain Date – June 6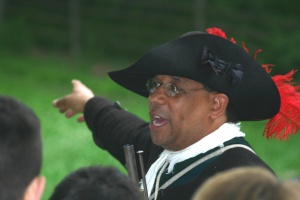 For students, a field trip is a highly anticipated event getting to go out of school on a big adventure. For teachers, they want to find unique experiences to really bring their classroom lessons to life. Field trips represent a creative teaching method that takes students out of the familiar class environment and allows them to experience new things.
For over 40 years, Young Audiences New Jersey & Eastern Pennsylvania is the premiere arts-in-education resource. They provide high-quality performances and artist-in-residence programs to nearly 500,000 children pre-kindergarten through 12th grade annually. This year they are launching a new festival called Arts EdVenture. They have created easy lessons plans to help teachers make the most out of the festival experience. Check out more information below on this new festival they are planning and how to get involved.
Liberty Stage – Discover the critical role New Jersey played in the Revolutionary War from the great General George Washington and join Harriet Tubman as she tells amazing stories about New Jersey's vital role in the Underground Railroad. An amazing gripping tales of liberty and the importance of defending our freedom.
Diversity Stage – Celebrate the diversity of our state through incredible music, dance, and spoken word as Young Audiences' artists share some amazing traditions of the cultures of New Jersey and encourage students to share their families' history and roots.
Cultural Village – Students will participate in a variety of activities like painting, quilting, crafting and "meeting" historical NJ figures like Walt Whitman,Molly Pitcher, Carlos Williams, Paul Robeson, Alice Paul, Joseph Campbell, or David Sarnoff.
Souvenirs - Students and teachers will receive souvenir booklets that will include a variety of activities and resources designed to enhance learning in the classroom and at home. Students will also have an opportunity to purchase souvenirs as a keepsake of their memorable day with Arts EdVenture.
Young Audiences encourages interested schools to learn more and register at www.artsedventure.org or by contacting Programming DirectorDonna Reckelhoff at 609-­‐243-­‐9000 or at donnajr@yanj.org.
For more information about Young Audience programs please visit http://www.yanj-yaep.org or "LIKE: them on Facebook at https://www.facebook.com/YoungAudiencesNewJerseyEasternPennsylvania?ref=hl