Check these films off on your bucket list of must see movies
Looking for things to do with the kids, especially on the weekends? If you're quarantine at home with kids, bring out the popcorn and have a movie marathon right in your own living room. Below is a list of our BEST FAMILY MOVIES to watch with kids. Movie categories include: adventure, science fiction, musicals, comedies, sports, and animated. These 50 family friendly films are sure fun to watch.
These classic titles are ones parents and children of all ages can watch over and over and not get bored. Don't overthink, these fan favorite movies are uplifting, fun, and entertaining. Most are available online through various streaming services. Your family can watch movies on Disney+, Amazon, Hulu, Apple iTunes, Sling TV and on regular cable TV channels. Films are listed in alphabetical order and are NJ Kids top picks.
Action and Adventure Movies, Science Fiction, and Superhero Movies
1. Back to the Future - 1985 adventure movie starring Michael J. Fox as Marty McFly who travels back in time in a DeLorean car to the 1950's after a scientist friend Doc Brown conducts an experiment that went wrong. Marty ends up falling in love with Lorraine. Marty and Doc have to figure out a way to get back to the future. Rated PG. Available on Amazon, Apple iTunes. note: also watch Back to the Future Part II (1989) and Back to the Future Part III (1990)
2. E.T. the Extra-Terrestrial - "E.T. go home",1982 family movie about Elliott (Henry Thomas) becoming friends with E.T., an alien from outer space. E.T. is introduced to Henry's sister and brother. When E.T. gets sick and needs help, Henry proceeds to do all he can. At the end, E.T. boards a spaceship to head home. Rated PG. Available on Amazon, Apple iTunes.
3. Free Willy - 1993 family adventure film about a 12 year old orphan boy Jesse who has to do community service at a theme park and befriends a killer whale Willy. Jesse helps Willy return to his family of orcas out in the open sea. Rated PG. Available on Hulu, Amazon, Apple iTunes. note: follow along with Free Willy 2: The Adventure Home (1995); Free Willy 3: The Rescue (1997)
4. The Goonies - 1985 classic movie about a bunch of misfit kids called "The Goonies". They go on an adventure after they find an ancient map to look for lost pirate treasure. Rated PG. Available on Amazon, Apple iTunes.
5. Harry Potter - movie based on J.K. Rowling's set of Harry Potter books about a young wizard named Harry Potter and his friends Hermione and Ron. They are students at the Hogwarts School and encounter many adventures involving wizardry. Harry has a conflict with Lord Voldemort, a dark wizard who wants to be immortal. The first movie, Harry Potter and The Sorcerer's Stone came out in 2001. The Harry Potter series was made into 8 different movies. Rated PG. Available on Amazon, Apple iTunes, YouTube.
6. Incredibles - 2004 animated movie about a superhero family, Mr. Incredible as the dad, Elastgirl as mom, kids Violet, Dash and Jack-Jack the baby. The family goes into action when dad goes on assignment and needs to be rescued. Rated PG. Available on Disney+, Amazon. note: can also watch sequel Incredibles 2 (2018)
7. Indiana Jones and the Raiders of the Lost Ark - the first of a series, this 1981 movie features an adventurous archaeologist named Indiana Jones who tries to find a religious relic the same time as his enemy. Exciting action throughout the movie. Rated PG. Available on Netflix. note: also available Indiana Jones and the Temple of Doom (1984), Indiana Jones and the Last Crusade (1989), Indiana Jones and the Kingdom of The Crystal Skull (2008)
8. Jumanji - a 1995 adventure movie based on a young boy, Alan Parrish, being trapped as a kid in in a board game called Jumanji. Fast forward years later when a brother (Peter played by Bradley Pierce), sister (Judy played by Kirsten Dunst) and Aunt Nora moves into the house where young Alan once lived. Peter and Judy find the game Jumanji in the attic and starts to play. By rolling the right combination on the dice, a grownup Alan (Robin Williams) emerges from the game. However, the kids need Sarah, Alan's friend from childhood, to finish playing the game. Chaos, jungle animals, and adventure ensues. Alan needs to win the game to reverse all the strange things that happened during the course of the game. Rated PG. Available on Amazon.
9. Jurassic Park - enter the world of dinosaurs with this 1993 science fiction film. Watch as paleontologists, visitors, and the grandchildren of businessman John Hammond try to survive and escape from the dinosaurs who roam a wildlife park called Jurassic Park. Exiting thriller for older kids, could be scary for young children during scenes where Dinosaurs jump out. Rated PG-13. Available on Hulu, Amazon, Apple iTunes.
10. Paddington - lovely 2014 movie about a young Bear who escapes the deepest darkest jungle of Peru and ends up in London. He is given his name "Paddington" from the London tube station. He meets the Brown family who take him home. Meanwhile, a evil museum taxidermist (Nicole Kidman) learns about the young bear and tries to capture Paddington to stuff him. See how Paddington is rescued and ends up finding a home with love. Rated PG. Available on Amazon, Apple iTunes. note: Paddington 2 (2017) is the sequel
11. Sky High - 2005 feel good family movie about teenagers who have super powers and learn how to be superheroes at Sky High School. Will's family all have super powers and his father is The Commander (played by Kurt Russell). Will however, does not have any "super power" and is trying to fit in at Sky High. See what happens as Will makes friends, saves his school, and turns into a superhero. Rated PG. Available on Hulu, Amazon, Apple iTunes.
12. Spider Man - 2002 action movie starring Tobey Maguire and Kirsten Dunst. This movie is about Peter Parker, a young man who becomes "Spiderman" after getting bitten by a spider while on a school trip. Peter is a a photographer for the Daily Bugle. In costume as Spiderman, he goes around fighting as a crime stopper and against evil villains who want to take him down. He also develops as crush on Mary Jane. Rated PG-13. Available on Hulu, Amazon, Apple iTunes.
13. Spy Kids - 2001 action adventure turns 2 kids, Carmen and Juni, into spies in order to save their parents from a criminal. Follow along as the kids use their wizardry and technical know how to rescue their parents. Rated PG. Available on Netflix, Amazon. note: Spy Kids 2: The Island of Lost Dreams (2002); Spy Kids 3-D: Game Over (2003), and Spy Kids: All The Time in the World (2011) are also available to watch.
14. Star Wars Films - spawning characters Luke, Lelia, Darth Vader, Obi One, and Yoda. Learn how they came to be. Watch all he films - from Star Wars: The Last Jei to Star Wars: Return of the Jedi, Star Wars: The Empire Strikes Back. Rated PG. Streaming online Disney+. note: The latest installment of the movie franchise is the 2019 film Star Wars: The Rise of Skywalker - not on Disney+ yet.
15. Teenage Mutant Ninja Turtles - 1990 movie about 4 teenager crime fighting turtles named Michelangelo, Raphael, Leonardo, and Donatello and who all love pizza. These turtles are trained by Splinter, a Ninjutsu sensei. Go on a journey with the turtles as they go out to the streets to stop crime. Rated PG. Available on Netflix, Amazon.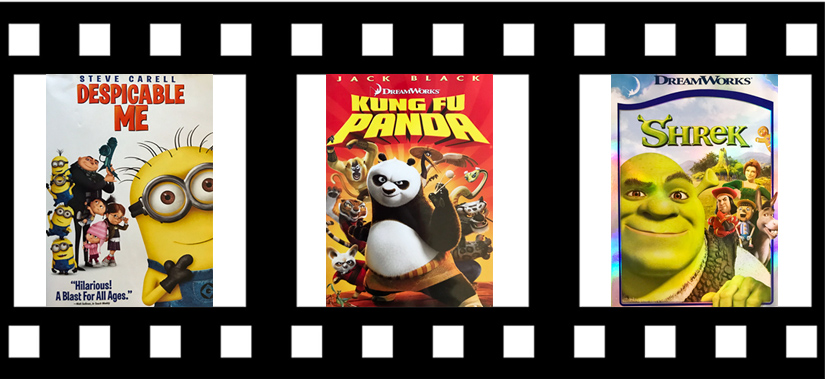 Animated movies for all audiences, perfect for preschoolers to teenagers and adults. Featuring movies from Disney, Pixar, Universal Studios and more!
16. Big Hero 6 - what's not to like with this 2014 film, robotics whiz kid Hiro and his high tech heroes Baymax, Go Go Tamago, Wasabi, Honey Lemon and Fred team up to figure out what be felled Hiro's home city of San Fransokyo. Rated PG. Available on Disney+, Amazon.
17. Cars - 2006 movie featuring memorable car characters Lightning McQueen, Mater, The King, Chick Hicks, Sally, Doc Hudson and more! Lightning McQueen gets stuck in Radiator Springs while on his way to a Piston Cup race and learns the meaning of friendship. Rated G. Available on Disney+. note: Cars 2 (2011) and Cars 3 (2017) are also fun to watch.
18. Coco - meet 12 year old Miguel, a young musician who dreams of becoming the next Ernesto de la Cruz. His family bans music in the house and Miguel does not know why. He finds himself in the Land of the Dead searching for his great great grandfather, a gifted musician. This 2017 movie will fill your heart and minds with color, laughter, and the importance of family and music. Rated PG. Available on Disney+
19. Despicable Me - an animated movie that will delight kids. Sweet family messages and light hearted lines throughout this 2010 movie. A criminal named Gru plans on stealing the moon but turns his life around when he meets 3 orphan girls Margo, Edith and Agnes and discovers the power of love. Rated PG. Available on Netflix, Hulu, Amazon. note: also available to watch Despicable Me 2 (2013) and Despicable Me 3 (2017)
20. Finding Nemo - 2003 animated movie about Nemo, a fish with a shortened fin. He gets caught by a diver and is put in a dentists' fish tank. His father Marlin sets out to save him, along with friend Dory. Rated G. Available on Disney+, Amazon, Apple iTunes.
21. Frozen - "Let It Go" for this classic Disney 2013 kid friendly musical movie. Engaging and heartwarming, Anna gets help from Kristoff to find her icy sister Elsa so their kingdom can be saved from winter's icy hold. Rated PG. Available on Disney+. note: also watch Frozen 2 (2019)
22. Inside Out - this 2015 movie is about Riley, an 11 year old girl who moves from the Midwest to San Francisco. Find out how her emotions Joy, Fear, Anger, Disgust and Sadness come into play as she goes through her new experience. Rated PG. Available on Disney+, Amazon
23. King Fu Panda - 2009 animated family movie, underdog Po the Panda becomes a Kung Fu warrior under the teachings of Master Shifu. Po ends up using his skills to defend his Valley of Peace home when it comes under attack from Tai Lung, a bad snow leopard. Rated PG. Available on Amazon, Sling TV. note: also watch Kung Fu Panda 2 (2011), Kung Fu Panda 3 (2016)
24. Lilo & Stitch - 2002 animated film about a young Hawaiian girl and an extra-terrestrial alien pet named Stitch. With the concept of family or "ohana", love and friendship comes together. Rated PG. Available on Disney+, Amazon, Apple iTunes.
25. The Lion King - the original animated 1994 movie featuring young Simba who returns to take back his home after his father Mufasa is killed by an uncle named Scar. Samba's friends Timon and Pumbaa join in to help their friend. Rated G. Available on Disney+, Amazon.
26. Moana - 2016 animated movie featuring 16 year old teenager Moana as she sets out to save her people on the islands of Polynesia. She is searching for the demigod Maui who can help her find a relic to return to goddess Te Fiti. Filled with hope, song and music. Rated PG. Available on Disney+.
27. Monsters, Inc - in this funny 2001 animated family film, follow monsters one-eyed Mike Wazowski and furry Sulley as they work in a monster factory as "scarers" trying to scare children. A human child enters the factory and Sulley and Mike try to return her before it's too late. Available on Disney+.
28. Monsters University - follow up animated 2013 movie to Monsters, Inc., join Mike Wazowski, Sullivan and friends as they navigate their way at "Monsters University", a scare school. Mike enters the "Scare Games" to try to earn his way back into the school after being kicked out for breaking the Dean's scream canister. At the end, Mike and Sullivan end up joining the scare team at Monsters, Inc. Rated G. Available on Disney+.
29. Mulan - a 1998 animated action movie, heroine Hua Mulan. She disguises herself as a "man" and becomes a trained warrior. She ends up saving her city from the Huns, a fierce enemy, and also saves the Chinese emperor from assassination. Rated G. Available on Disney+. note: sequel Mulan II came out in 2004 and is available on Disney+.
30. Sing - 2016 animated musical movie brings together contestants in a singing contest in the hopes of saving a grand theater that is held near and dear to Buster Moon the Koala. The singing contestants come to life through music and song; Rosita (pig), Mkie (mouse), Ash (porcupine), Johnny (gorilla), Meena (elephant). Rated PG. Available on Amazon, Apple iTunes.
31. Shrek - 2001 animated film about an Orge named Shrek who lives quietly in a swamp. Soon outcast creatures like Donkey and others befriend Shrek. Lord Farquaad makes them go and rescue Princess Fiona. Shrek ends up falling in love Fiona. Go along their journey and see how this movie ends. Rated PG. Available on Amazon, iTunes. note: you can also watch Shrek 2 (2004), Shrek the Third (2007), Shrek Forever After (2010)
32. The Little Mermaid - 1989 Disney animated classic about a mermaid named Ariel who lives under the sea and falls for a human prince. Ariel makes a deal with an evil witch Ursula to become human for 3 days. Watch what happens as Ariel tries for find her happiness. Rated G. Available on Disney+.
33. Toy Story - original 1995 Pixar animated film where toys owned by a boy named Andy Davis come to life and thinks they will be replaced. Andy gets a new toy Buzz Lightyear (voiced by Tim Allen). Meet Woody (voiced by Tom Hanks), Slinky Dog, Bo Beep, Mr. Potato Head, Rex the Dinosaur, and Hamm the piggy bank and follow all their adventures. Rated G. Available on Disney+. note: Toy Story 2 (1999), Toy Story 3 (2010), Toy Story 4 (2019) are also fun movies.
34. Wall-E - 2008 Pixar animated movie about a waste collecting robot Wall-E who goes on a space adventure with another robot named EVE and their journey back to earth where humans and robots come together. Rated G. Available on Disney+, Amazon, YouTube.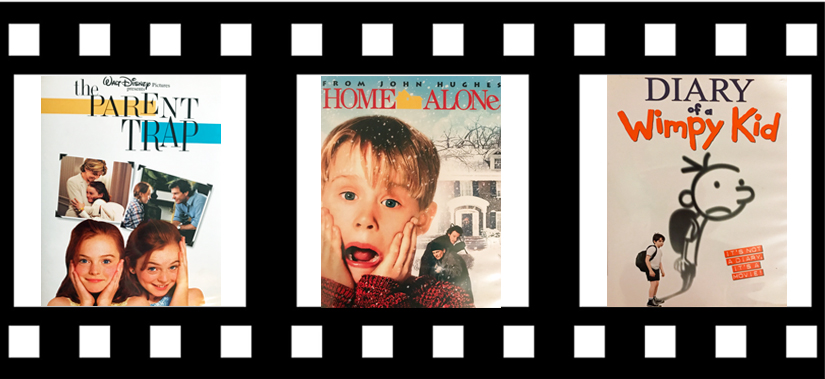 Family Comedies
35. Diary of a Whimpy Kid - based on series of books by Jeff Kinney, this funny, 2010 comedy movie about Greg Heffley and surviving his first year in middle school. Along with his best friend Rowley Jefferson, they navigate the interesting times of middle school - lunch room, locker room, wrestling in gym, girls, and more. Rated PG. Available on Disney+.
36. Home Alone - a must see funny classic 1990 movie about a 8 year old Kevin Mcallister (played by Macaulay Culkin) who gets left behind at home while family goes on vacation to Paris. He gets into mischief and comes up with creative solutions as the "bad guys" try to rob his house. Rated PG. Available on Netflix, Amazon, Apple iTunes.
37. Honey I Shrunk the Kids - 1989 family comedy movie about 4 kids who gets shrunk after their dad's experiment machine goes haywire and shrinks them. Find out what happens as the kids escape their way out of normal size jams. They try to find a way to return to normal size with the help of their dad play by Rick Moranis. Rated PG. Available on Disney+, Amazon. note: also watch sequel Honey, We Shrunk Ourselves (1997)
38. The Parent Trap - this 1998 feel good family movie starring Lindsey Lohan is about 2 twin girls Annie and Hallie who discover they are sisters while at camp and decide to switch places in the hopes to reunite their parents. Rated PG. Available on Disney+, Amazon.
39. The Princess Diaries - 2001 family comedy, Mia Thermopolis (Anne Hathaway) learns that she is a real life princess and heir to Genovia in Europe. She learns to be a princess under the watchful eye of her grandmother Queen Clarisse (Julie Andrews). Rated G. Available on Disney+, Amazon. note: The Princess Diaries 2: Royal Engagement also on Disney+, Amazon.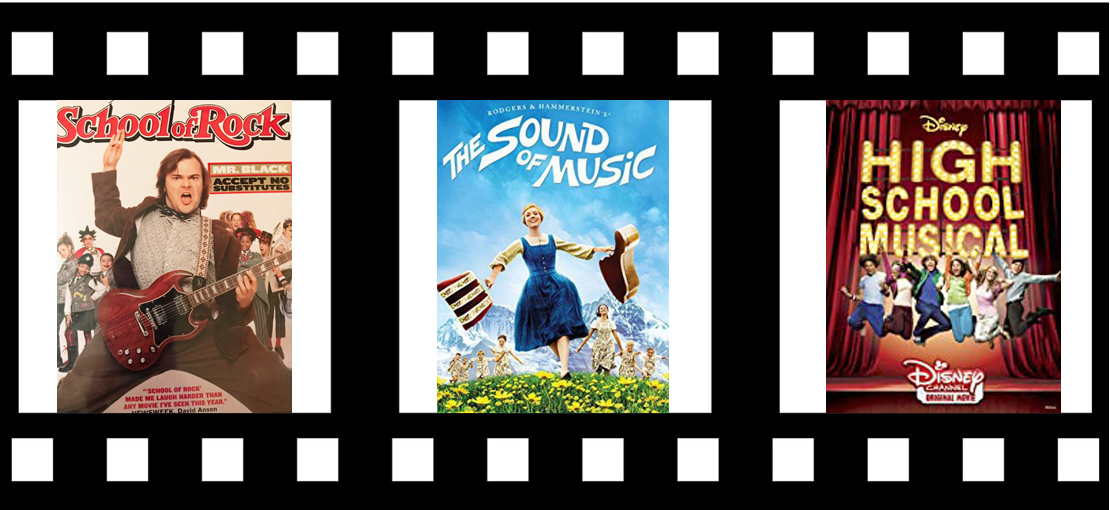 Musicals
40. High School Musical - 2006 TV musical movie about high school students Troy and Gabriella trying out for a high school musical play. They overcome challenges, fears and competition. Rated TV-G. Available on Disney+, Amazon, Apple iTunes. note: High School Musical 2 (2007), High School Musical 3 (2008)
41. Mary Poppins - 1964 musical movie about a magical nanny named Mary Poppins and how she brings a family closer together. Go on her many adventures along her friend Bert (played by Dick Van Dyke) as they look after the 2 children (Jane and Michael Banks) in her charge. Mary Poppins comes up with the word "Supercalifragilisticexpialidocious" to describe a horse race she won. Rated G. Available on Disney+, iTunes.
42. School of Rock - full of laughter and music, this 2003 movie starring Jack Black as a substitute music teacher who turns a bunch of private school kids into "rock stars" as they compete in the Battle of the Bands. Rated PG-13. Available on Amazon, Apple iTunes, YouTube.
43. Sound of Music - a must see movie, this 1965 movie is based on the Von Trapp family. Julie Andrews plays Maria who becomes a governess to Captain Georg Von Trapp who has 7 talented children who sing. As singers, they were able to put on a music festival and then proceed to escape from Austria and into Switzerland. Rated G. Available on Disney+, Amazon.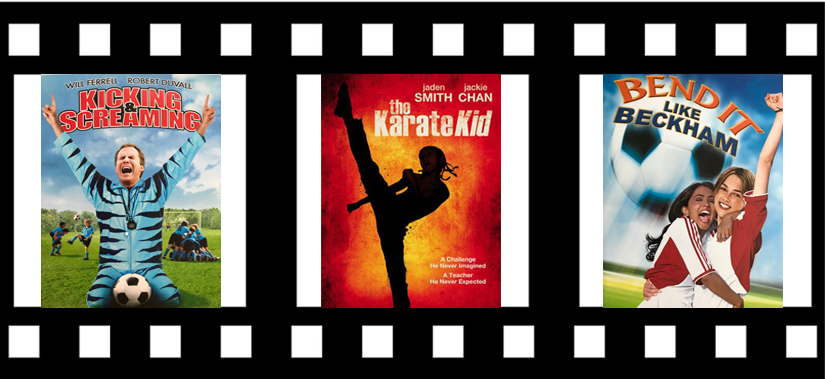 Sports - Baseball Movies
44. Bad News Bears - original 1976 movie starring Walter Matthau as the down and out coach of a little league team called the Bad News Bear. He has to whip a team of outcasts into little league baseball players to compete in a California youth league. He recruits Amanda (Tatum O' Neal), a gifted and talented pitcher who shows the boys how the game is played. Also on board is the best athlete out there - Kelly Leak, a "bad boy" troublemaker. Together as a team they get better and head into the championship game. Although the Bears did not win, they showed true grit on the filed. Rated PG. Available on Amazon, YouTube, Hulu, Sling TV.
45. Sandlot - "You're killing me Smalls!" If you love baseball, you'll love this 1993 classic movie. Sandlot is about a fifth grader named Scott Smalls who moves to a new town and make friends with a group of baseball kids who play in a sandlot. The leader and best player of the sandlot, Benny Rodriguez, invites Smalls to join in the fun. Endearing and entertaining movie about 9 kids playing in a sandlot field and all the adventurous pursuits that follow. Including ones with a mysterious legend voiced by James Earl Jones. He lives behind the sandlot with his dog "Hercules" or "The Beast". Who can forget the scene with "Squints" and his major infatuation with Wendy Peppercorn. Rated PG. Available on Disney+, Amazon.
Sports - Chess
46. Searching for Bobby Fischer - 1993 family drama about 7 year old Josh who gets spotted at a park playing chess. He becomes a talented chess prodigy and his parents hire a chess coach to give him instruction. Balancing act of being a kid with special talents unfold with family dynamics. Rated PG. Available on Hulu, Sling TV, Amazon.
Sports - Hockey
47. Mighty Ducks - first in a trilogy, the 1992 movie is about a peewee kids hockey team called "The Ducks". Coach Gordon Bombay (Emilio Estevez) serves as a hockey coach as part of community service. He rallies the kids and they improve their hockey skills. Watch as they come together as a team to earn victory at the finals of a hockey game. Rated PG. Available on Disney+.
Sports - Martial Arts
48. Karate Kid - the 2010 reboot movie brings us Dre Parker (Jaden Smith) and Mr. Han (Jackie Chan). 12 year old Dre and his mom move to Bejing China for her job. Dre gets bullied in school and later on while on a school trip gets beaten up badly and is rescued by a maintenance man named Mr. Han who also happens to be Kung Fu Master. Dre asks Mr. Han to teach him Kung Fu and to train in the martial arts. Dre meets up with Cheng (a classmate bully) at a martial arts tournament. Dre musters all that he learned from his master and ends up winning as the champion. Mr. Han is recognized as the new master. Rated PG. Available on Netflix, Amazon.
Sports - Soccer Movies
49. Bend it Like Beckam - Jess is an Indian teenager who lives in London and has hidden talents as soccer player. She joins a semi-professional soccer team after getting an invite from Jules (Keira Knightly). Jess keeps this secret football experience from her strict parents and family, so watch what happens. Rated PG-13. Available on Hulu, Amazon.

50. Kicking and Screaming - funny awesome 2005 children's comedy movie about soccer dad Phil Weston (Will Ferrell) trying to turn his last place son Sam's losing soccer team into a champion team by beating a rival team coached by Phil's dad and Sam's grandfather (played by Robert Duvall). Sam is down on himself because he does not think he has any athletic talent. Together this rag tag team of soccer kids overcome obstacles and become "one" as a team. Rated PG. Available on Apple iTunes and Amazon.