Have Fun Crafting & Happy Thanksgiving!
Thursday, November 26th we will observe a celebration of thanks; a day where we eagerly will spend hours preparing a huge, family meal, then share meaningful memories and moments of gratitude. This year, although Coronavirus has thrown us a curve ball, we should still commemorate the occasion in style. Festivities may look a little different, however, they can still hold a special, elegant, and homemade kind of charm. Here are a few centerpiece ideas and crafts you and your family may want to make together to brighten up your dining room and table.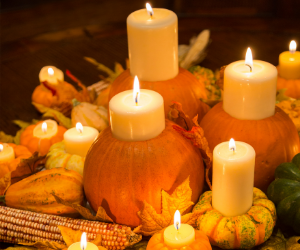 Pumpkin Candles
Select an assortment of small to medium-sized pumpkins and carve out the insides with just enough room allotted for your specific candles. You can use any kind of pumpkin or gourd as well as candles (pillar, tapered, votive). Simply make sure to carve out only enough room to hold your exact candles.
Arrange them around the room or in the center of your dining table. You can also add leaves, acorns, and/or corn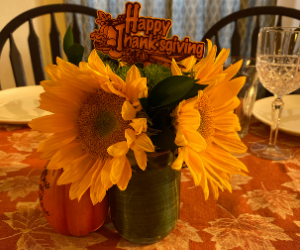 Sunflower Arrangement
Collect a few sunflowers from your garden or the market and place them, along with leaves, in a vase, small container, or bucket, according to your own style.
You can decorate it with your own homemade "Happy Thanksgiving" sign which you can prominently display on top of a twig or straw, inserted within your vase/container.
Surround it with small gourds or leaves and acorns to complete the centerpiece.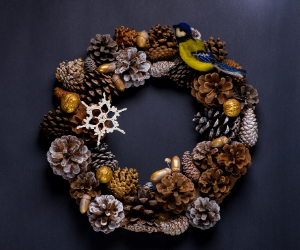 Acorn Wreath
For this craft you will need a glue gun and a wreath-shaped form which you can cut out of foam or cardboard.
Collect acorns from your backyard or while on hikes Cut out your base, wreath shape (something to glue the acorns on)
Select the acorn placement for your wreath and hot glue in place.
Add ribbons & other decor to hang or place tabletop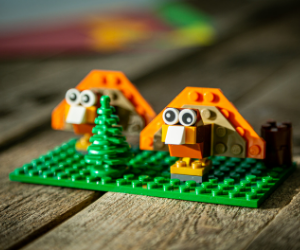 Lego Craft
Do you have Legos lying around the house? Time to put them to good use.
Create seasonal masterpieces. Put together little turkeys, fall forests, wreaths, or anything that says holidays.
Create a little fall village
Display them throughout the house
Place your best creations on the dining table!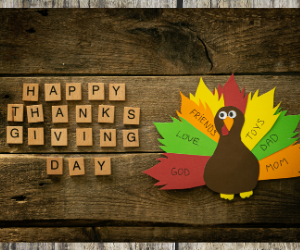 Construction Paper Turkey
You will need construction paper and markers for this craft, plus any other decorative additions you may have and want i.e.: feathers, pompoms, scrabble tiles, google eyes etc.
Cut out a turkey body and as many feathers as you want displayed – maybe one for every person you are grateful for. Write their names on the feathers or something you are thankful for.
Hang on a door or prop up on the dining table.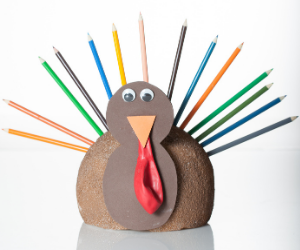 Playdoh Turkey
We're sure you have some stray playdoh hanging around the house somewhere. If you mix them well together, they will most likely make a color resembling brown. Form it all into a nice round ball with a flat bottom for the turkey's body.
Cut out a turkey face, add google eyes or draw them in
Stick colored pencils in for tail feathers, popsicle sticks, or a few colorful, tapered candles for a nice turkey centerpiece. A deflated balloon can be used for the wattle.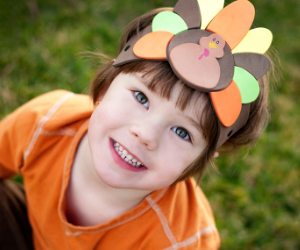 Headband
You will need a headband or something like construction paper or ribbons to make one.
Decorate your headband with a picture or drawing or glue on your turkey creation. Use any craft supplies you have around the house to make your unique masterpiece.
At Thanksgiving meal, everyone can take turns explaining what and why they made it.
Be creative and have fun with it!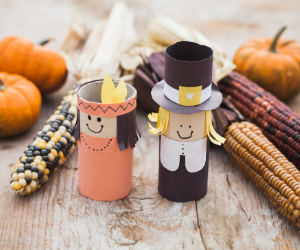 TP Roll Decorations
Save your empty toilet paper rolls for this craft.
Collect as many as you would like to create one simple centerpiece with two pilgrims or characters of your choosing or create a huge village of toilet paper roll men, women, and children.
Decorate them as you wish with construction paper, markers, buttons, ribbons – anything
Display them around the house and create a beautiful, story-filled display as your centerpiece.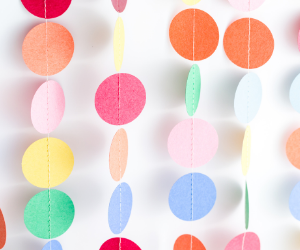 Streamers
You will need paper and string (or any comparable substitute)
Cut out your colorful paper in any shape you want. Create simple shapes like circles or squares or as elaborate as turkeys and pilgrim hats etc.
Tape or glue them on string, rope, or yarn
Hang them or string them around the house, around the stair railing, the door frame, the fireplace mantle, or the dining table.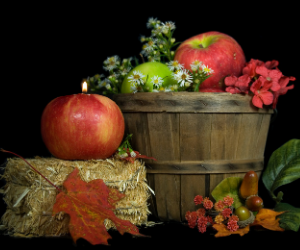 Apple Centerpiece
Apples are also a big part of fall. If you want nice apple scents wafting throughout the house, you might want to try this craft.
You will need apples, a bucket/bowl/container and other fall decorations like leaves, gourds, straw etc. Create a display/centerpiece as you wish.
Carve out a hole in one or many apples to precisely fit a candle in the place of the stem. As the candle melts closer to the apple, it will warm up and give off a yummy, cooked apple smell.
---
Find more Fun Things to Do