(Atlantic City, NJ, June 6, 2014) – The 15th annual Chicken Bone Beach Jazz on the Beach Series – a popular Atlantic City summertime tradition that showcases some of the nation's top jazz artists – returns to Kennedy Plaza on July 3.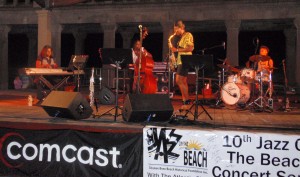 The Chicken Bone Beach Historical Foundation, Inc., and Atlantic City Free Public Library present this free concert series, which takes place on Thursdays in July and August from 7-10 p.m. at Kennedy Plaza, located on the Atlantic City Boardwalk between Mississippi and Georgia avenues.
The schedule features:
Winard Harper and Jeli Posse on Thursday, July 3 – Baltimore is renowned for producing jazz greats – and Winard Harper, a drummer, bandleader and educator, is among them. Jeli, which is another name for griot, is a combination of a storyteller, historian, poet and musician, and Harper considers the band an extension of that tradition. The group's album "Coexist" features a variety of styles, including African motifs, blues, gospel, swing, soul jazz, bop and funk. Eddie Morgan Trio is the opening act.
Helen Sung Quartet on Thursday, July 10 – Winner of the Kennedy Center's Mary Lou Williams Piano Competition, Helen Sung has worked with such jazz masters as Clark Terry, Slide Hampton, Benny Golson and Buster Williams. She has released several critically acclaimed albums, including "Sungbird After Albeniz," which All About Jazz hailed "a real winner." Sung's latest album, "Anthem for a New Day," came out earlier this year. The Steve Cain Quartet is the opening act.
Michael Pedicin Quartet on Thursday, July 17 – Michael Pedicin took up the tenor sax as a teen after listening to the music of jazz legend John Coltrane, who he calls his musical idol. Pedicin released his 12th album, "Why Stop Now … Ubuntu," in 2013. The Somers Point Jazz Society named Pedicin, who is also the Coordinator of Jazz Studies at Richard Stockton College, the winner of this year's George Mesterhazy Jazz Master Award. The Jordan Williams Quartet is the opening act.
Wilson "Chembo" Corniel Quintet on Thursday, July 24 – Considered one of the top hard-hitting, versatile percussionists around, Wilson "Chembo" Corniel was nominated for a Grammy for his 2009 release "Things I Wanted To Do." He teaches percussion at SUNY Purchase Conservatory of Music and leads clinics throughout the country to raise awareness of Afro-Caribbean music. The Suzzette Ortiz Quartet is the opening act.
Sean Jones Quartet on Thursday, July 31 – Sean Jones is the former lead trumpeter for Wynton Marsalis' Jazz at Lincoln Center Orchestra, and he played on jazz diva Nancy Wilson's Grammy Award-winning album "Turned to Blue." All About Jazz once wrote, "Jones possesses his own style that can deliver blistering notes or silky tones at the drop of a hat." The Chicken Bone Beach Youth Jazz Ensemble is the opening act.
Mimi Jones Quartet on Thursday, Aug. 7 – New York native Mimi Jones is a multi-talented bassist, vocalist and composer. Jones has performed or recorded with the great Lionel Hampton, Kenny Barron, Tia Fuller and Terri Lyne Carrington. In 2009, she released her debut CD, "A New Day." She toured extensively throughout Europe, the United States and has performed on five continents as a U.S. Jazz Ambassador. The Connie Jackson Quartet is the opening act.
Kameelah Samar Quartet on Thursday, Aug. 14 – Kameelah Samar brings her jazz vocals to a new height, flavoring each mood with a touch of grace and elegance, from big band swing to the mellow tones of a heartfelt ballad. Samar has completed a CD, scheduled for a fall 2014 release, titled "Celebrate the Season,'' which is a collection of Christmas songs and classic tunes. The Dwain Davis Quartet is the opening act.
Tia Fuller Quartet on Thursday, Aug. 21 – A dynamic saxophonist, composer and educator, Fuller was part of the Beyoncé Experience and I AM … Sasha Fierce world tours to promote the superstar's CDs. Fuller has been featured in Jazz Improv Magazine, Rocky Mountain News, The Philadelphia Tribune, The Star Ledger and Downbeat Magazine. She has recorded three CDs with her quartet: "Pillar of Strength," "Healing Space" and "Decisive Steps." The Gil Thompson Trio is the opening act.
Ralph Peterson, Jr. Quartet on Thursday, Aug. 28 – Pleasantville native Ralph Peterson, Jr., returns to the area to headline the finale. He is renowned in jazz circles for his powerful, energetic and distinctive style of drumming. Peterson, who apprenticed under such jazz greats as Art Blakey, Betty Carter, Elvin Jones and Walter Davis, released "ALIVE at Firehouse 12, Vol. 1: The Unity Project" in 2013. He is a professor at the prestigious Berklee College of Music in Boston. The Keith Hollis Quartet is the opening act.
The 15th annual Jazz on the Beach Concert Series is funded in part by the NJ State Council of the Arts/Department of State through the Atlantic County Office of Cultural & Heritage Affairs, City of Atlantic City, Casino Reinvestment Development Authority (CRDA), Comcast, PNC Bank, Kinematica Inc, Kramer Beverage Co. COORS, Just 4 Wheels, Atlantic City Convention Center and ZEO Brothers. Tune in to Stockton College Radio Station WLFR 91.7 on Wednesdays for the Chicken Bone Beach Hour from 7-8 PM.
Call (609) 441-9064 or (609) 841-6897; or, visit www.chickenbonebeach.org for more information.