Hosted by Paramus Kid Central on July 29th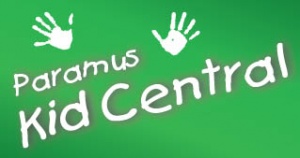 Paramus Kid Central, a new consortium of kid-friendly neighbors including Kids U, The Ridgewood Conservatory and KinderCare, will be hosting a special "Swing Into Summer" Block Party on June 29th at their Paramus location to celebrate the beginning of summer. Joined by Alex's Lemonade Stand and Foundation for Childhood Cancer and a variety of neighborhood vendors, the afternoon will feature a variety of delightful activities and classes, great gifts and prizes, super-cool music and hip-hop, and balloons galore.
Kids U, the ultimate child-centered "campus" for kids to learn and play, will be conducting three free classes, including a Yoga class and a Mommy and Me class both at 1:00pm, and a Cartwheel Clinic at 2:00pm. Kids U will be holding a special Family Play Pass drawing, as well as offering 10% discounts on Fall registration.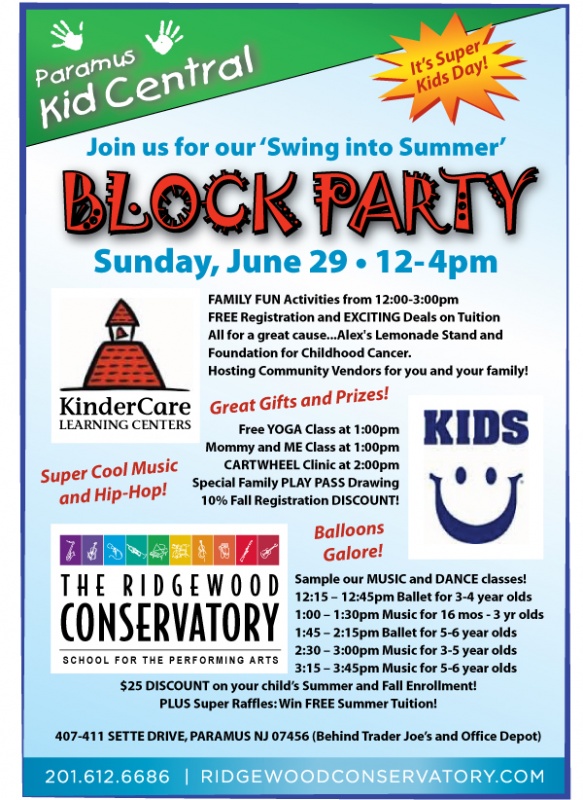 The Ridgewood Conservatory, Bergen County's premier school for the performing arts, will be holding sample Early Childhood Music and Dance classes, including Pre-Ballet for 3-4 year olds at 12:15pm, Music for 16 months – 3 year olds at 1:00pm, Ballet for 5-6 year olds at 1:45pm, Music for 3-5 year olds at 2:30pm, and Music for 5-6 year olds at 3:15pm. In addition to Free Summer Tuition raffles, The Ridgewood Conservatory will provide a $25 discount on Summer and Fall enrollment.
KinderCare Learning Center, well-known provider of convenient, safe and affordable childcare and early childhood education, will offer family-fun activities from noon-3pm, free registration and exciting deals on tuition.
All families are welcome to join the Paramus Kid Central Block Party, scheduled for noon- 4pm on June 29th at 407-411 Sette Drive in Paramus NJ, located just off Route 17 and Midland Avenue (behind Trader Joe's and Office Depot). For more information and directions, visit www.ridgewoodconservatory.com, or call The Ridgewood Conservatory at 201-612-6686.