School is back in session – which means it's back to teaching and learning. Luckily, here in NJ, we've got some amazing teachers, but even with all their hard work and dedication, as parents, we need to be partners in our children's education.
But stop – put away the workbooks and flashcards. Why not get creative – or let NJ Kids be creative for you! Here's our list of great sites and special events that will reinforce many of the Core Curriculum lessons in math, science, art, history – and even gym! It's time to get up, get out and learn (while having fun!)
History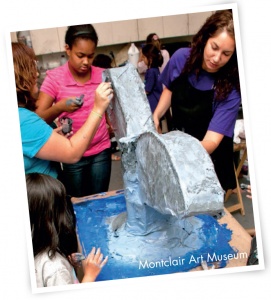 Books and lesson come alive when you visit an historical site or museum
State History
Explore the history and people of NJ and the Northeast from the 17th Century through today at the NJ State Museum in Trenton. Opening September 7th- Maps of New Jersey
Step back into time at Fosterfields Living Historical Farm in Morristown. Sunday, September 15th – Celebrate National Sewing Month by watching a sewing demonstration, then trying your hand at it.
Learn about the time of the Industrial Revolution at Historic Allaire Village in Farmingdale. Saturday, September 28th – experience a 1830s Fall Harvest Festival
Explore East Jersey Old Towne Village in Piscataway and see the history, folklore, and culture of people living throughout the region tat this recreated village. Once a month, the village presents a storyteller
Home of the first governors house, Liberty Hall Museum in Union was witness to 200 years of state and national history; visitors to the 1700 mansion includes George and Martha Washington, Ulysses S Grant, Herbert Hoover and more.
Museum of Early Trades and Crafts in Madison showcases historical pre-industrial trades and crafts museum. Family Fun day at the museum every 2nd Saturday of the month. Advance Registration recommended
US and World History
Supplement a lesson on World War 2 with a visit to the Museum of Jewish Heritage in NYC; 3 floors of exhibits, artifacts and videos explore European Jewry, before, during and after the Holocaust. Free Admission on 9/11
Head into the city and visit the National Museum of American Indian (located in the US Customs House) and Explores the history and culture of Native Americans. Monday, September 9th – Self-guided Ledger Art Activity: create your own drawing on ledger paper using crayons, colored pencils, and stencils.
Board the Ferry to Liberty Island and climb 354 steps to the Crown and imagine arriving as a young immigrant. Continue your trip into the history of immigrants at the Tenement Museum on the Lower Eastside of Manhattan
Politics and Presidents
Follow in the footsteps of George Washington (and see where he slept) at various sites throughout NJ, including, Dey Mansion in Wayne; Morristown National Historical Park in Morristown; Washington Crossing State Park in Titusville; and Rockingham State Historic Site in Kingston
Get an in-person look at the current Governor's mansion at Drumthwacket in Princeton: Tours available on Wednesdays; reserve tickets in advance.
Take a guided tour of the birthplace of America at the Independence National Historical Park in Philadelphia.; visit Constitution Hall, the Liberty Bell and more. Kids can become Junior Rangers
Try on costumes, play period games and write with a quill pen at Grover Cleveland's Home in Caldwell
Battles and Battlefields
Experience America's most decorated battleship and learn about a part of WW II history on board the Battleship New Jersey,
Stand atop the cliffs overlooking the Hudson River and get a bird's eye view of a recreated Revolutionary War encampment at Fort Lee Historic Park, Fort Lee: Saturday and Sundays through 11/17 – Demonstrations include cooking, music, gardening, sewing, soap making, games, and musketry
Walk along the banks of the icy Delaware River where Washington famously crossed at Washington Crossing State Park, in Titusville: 9/22 – Market and Muster Day: witness Revolutionary War era townspeople gather at their colonial market place and soldiers assemble to drill 18th-century military tactics. There will also be face painting, hayrides, a pie-baking contest, and puppet shows.
Hike a Revolutiuonary War Battlefield at Monmouth Battlefield in Freehold Township, Morristown National Historical Park in Morristown or Princeton Battlefield in Princeton.
Step into the Old Barracks of Trenton, a historical building built by the Hessians, used after the war as an infirmary, officers quarters, office space and enlisted quarter
Climb aboard the Intrepid Sea, Air and Space Museum in NYC and take a self-guided or guided tours of this historic aircraft
Science
See, touch, learn.
Inventors
Learn about the life, times and inventions of Thomas Alva Edison at the Edison National Historic Site in West Orange
Space Adventures
Watch a space show in a nearby planetarium at the Newark Museum in Newark, the New Jersey State Museum Planetarium in Trenton, the Raritan Valley Community College, the The Franklin Institute in Philadelphia or the American Museum of Natural History in
Hands –On Exploration
Explore three floors of interactive exhibits at the Liberty Science Center in Jersey City
Imagine That, Florham Park: A hands-on museum perfect for the younger set; science can be found throughout in exhibits such as the touch tank, Science discovery room and Shadow Room
Garden State Discovery Museum, Cherry Hill - Another great place for younger children, filled with rooms that help kids explore the world around them.
Bucks County Children's Museum, New Hope, PA: educational museum with great hands on exhibits to get the kids learning and experimenting
Franklin Institute, Philadelphia Four floors of discovery, learning and fun
DaVinci Science Center, Allentown, PA – Hands on learning
Animal Science
Dinos, reptiles, marine life and more
Jenkinson's Aquarium, Pt. Pleasant: Boardwalk aquarium; Thursday, September 14thh, "Tea by the Sea" Enjoy afternoon tea while learning about a few resident animals
Maritime Aquarium of Norwalk, Norwalk, CT: Behind the scene tours every third Saturday of the month at 8:15 AM
Adventure Aquarium, Camden – Dozens of marine life exhibits; daily activities and special Behind the Scenes tours
Field Station Dinosaur, Secaucus: Step back into pre-historic time and explore the world of dinosaurs.
World of Wings, Teaneck – A world of reptiles and butterflies; discounted tickets for schools, plus school projects and more
Earth and Natural Sciences
Sterling Hill Mining Museum, Ogdensburg – Guided 2-hour school tours include 1 hour in underground zinc mine, half an hour in exhibit hall and about 10 minutes in museum of florescence. Mineral collection also available. In school workshops available
Frost Valley YMCA, Claryville, NY: Science workshops
Newark Museum, Newark: Arts and Natural Science exhibits; special field trip programs for all ages
NJ State Museum, Trenton: science, history and art exhibits
Mad Science– In school workshops on concepts such as harnessing heat, machines, magnets and more
Let's Bloom Together – In school fun highlighting the importance of plants and keeping the earth.
Art
Experience, learn, create
Visual Arts Center, Summit: Changing exhibits highlighting a variety of art forms; special group projects and classes
Morris Museum, Morristown: In-depth discovery led by a docent of a particular permanent or changing exhibit. Meets standards for humanities, fine arts and science
Grounds for Sculpture, Hamilton: Outdoor and indoor sculpture garden; guided tours by appointment
NJ PAC, Newark: Shows and concerts
NJ State Museum, Trenton: Fine Arts Collection
Newark Museum, Newark: African, American, Asian art and more; tailored school group programs for ages Pre-K – 12th grade
Montclair Art Museum, Montclair: American and Native Art; specialized school tours for grades 2nd - 12th
Math
Creative ways to incorporate math into a fun field trip
Liberty Science Center, Jersey City – Mixing math skills and hands on fun
Museum of Mathematics, NYC – Inspiring math exploration and theory
Imagine That, Florham Park – Plenty of interactive counting, adding, and building opportunities
Classic Thyme, Westfield – Reinforce math and measurement…by cooking!
PHYSICAL EDUCATION
Get the kids moving!
Bounce U – Bounce the day away
Pump It Up, Roselle Park –Endless jumping fun
Bounce Factory – Bouncing = exercise = fun
Sahara Sam's, West Berlin –Indoor water fun; perfect for a day out or celebration
Seaton Hackney, Morristown – Horse back riding; learn about all aspects of riding and horse care
Free Play
And don't forget to add in some free time in the day to have some fun!
Woodloch Pines, Hawley, PA – A perfect retreat for any group. Endless activities and fun; perfect for team building