It's been over six months since Hurricane Sandy came crashing into the tri-state area, devastating a large swath of the Jersey Shore. Many of the beachside towns are still trying to recover – but the summer won't be a complete washout! Many boardwalks have been repaired and many beaches are targeting to open Memorial Day weekend. Check out our list of towns open for business – plus some nearby summer fun sites and don't miss activities. We are Jersey Strong! (Travel Alert: We advise you to call ahead for availability of NJ Destinations prior to traveling).
Asbury Park: The boardwalk is repaired and opened and the beach is expected to be ready by the summer season. Other nearby attractions and sites: Concerts at the Stone Pony, Ashbury Park Splash Park, Silver Ball Museum Arcade, Allaire State Park and the Paramount Theatre. Shop at the Madison Marquette, with more than 75,000 sq ft of retail and entertainment destination, along with a miniature golf course and waterpark.
Avalon: Beaches are open. Special Events: July 19th - Crabulous Crab Day at Wetlands Institute
Avon by the Sea: Although 80% of the roughly ½ mile boardwalk was destroyed, both the beach and the boardwalk are now open.
Bayhead: The beaches in the Bayhead area are expected to reopen by June 15th. Other nearby sites: Beaver Dam Park
Belmar: The beaches and boardwalks are expected to be open. Vendors and restroom facilities will be mobile this summer; the pavilions aren't expected to reopen until 2014. Special Event: June 7-9 – NJ Seafood Festival; July 17 – NJ Sandcastle Contest
Berkeley: White Sands Beach is set to open June 15th.
Bradley Beach: The beach will be open by Memorial Day. It's oceanfront walkway is made of paving stones that survived the storm, but a small section of wooden boardwalk at its southern end is still gone.
Brick: The beaches are expected to open by Memorial Day. Not all showers will be up and running. Nearby Cattus Island remains closed due to storm damage.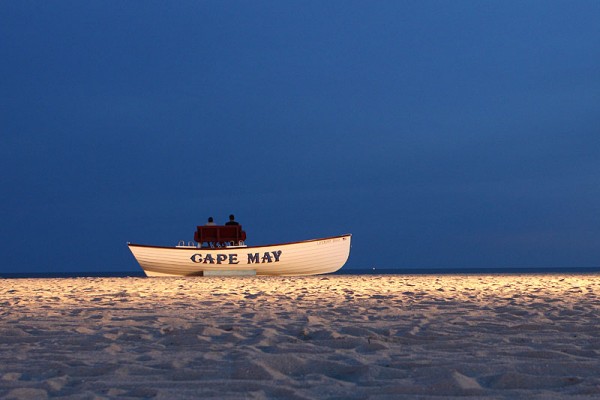 Cape May: Cape May suffered relatively little damage. Nearby Sites: Cape May Zoo, Cape May Lighthouse, Historic Cold Spring Village and Aviation Museum.
Highlands: The beaches at Snug Harbor and Miller Street will be open for the season by late June. PLUS: The beaches are open to the public and free of charge. However, there is limited parking at both sites. Also: Twin Lights Lighthouse State Park.
Lavallette: Boardwalk nearly completed. Both the ocean and bay beaches open June 22. During the summer, beach badges will be sold from a temporary trailer at the Lavallette Fire Department, 125 Washington Ave.
Long Beach Island: 18 mile long LBI, which includes the communities of Long Beach, Ship Bottom, Surf City, Beach Haven, Barnegat Light, Brant Beach and Holgate, is reopened. Plus: Barnegat State Park and the Lighthouse are back open. Enjoy everything from boating and deep-sea fishing to surfing the waves, to digging your feet in the beautiful white sand beaches that are the true gems of the region. Visit the Viking Village in Barnagat Light, and enjoy Jersey fresh seafood, dock tours, special events and unique gifts from craftsmen and artisans.
Long Branch: The boardwalk south of Melrose Terrace was lost in the storm, and will not be replaced, but there is access to the beach. Nearby Sites: Woodrow Wilson Hall. Pier Village features 30 unique shops and restaurants. From the beach, you're steps away from a quick snack, ice cream, cappuccino, lunch or even dinner.
Keansburg: The beach area is reopened. Nearby Activities: As of May 18th, the amusement park and waterpark are open for the season. Keansburg Amusement Park sports 40 rides and a full scale water park.
Manasquan: The beach is reopened and they have rebuilt its asphalt beach walkway, which has served as its equivalent of a boardwalk for decades. The Brielle Avenue restroom will be portable and the borough is still looking for a mobile concessionaire at the Sea Watch facility.
Mantoloking: Borough officials are hopeful the beaches will be open for the summer. This town was the hardest hit by Sandy.
Ocean City: Boardwalk untouched by Sandy. Open Memorial Day weekend. Sand Sculpting Contest on June 25th, $10 wristband day for Funday at Playland. July 3, 9am, the first one of the season. July-Aug: Funtastic Tuesdays 10am-1pm, Entertainment, Face Painting, Balloon Scultors.
Ocean Grove/Neptune: Much of the boardwalk was wrecked by Sandy, and large parts remain missing. Parts of boardwalk that survived the storm will be reopened; temporary walkways will be constructed along areas missing the boards. Beaches will reopen by Memorial Day weekend. Cute town of Ocean Grove with quaint retail stores, restaurants, ice cream parlor and the Great Auditorium where you'll find concerts by top-name performers.
Point Pleasant: The beaches, boardwalk, amusement park and aquarium are open. Enjoy the famous Jenkinson's Boardwalk where you'll find sweet shops, games, funnel cake and more.
Sandy Hook: Gateway National Recreation Area's Sandy Hook campground reopened May 1. Three beach areas — B, Gunnison and North Beach —opened Memorial Day weekend. Some beach areas could have temporary restrooms. Bike path repairs continue. Open attractions: Fort Hancock, Fort Hancock Museum, Battery Gunnison
Sea Bright: The beaches are expected to be opened by Memorial Day. There will be temporary restrooms and showers as the bathhouse that was destroyed during Sandy.
Sea Girt: The borough's 3/4-mile boardwalk is on pace to be open by the summer: parts will be done by Memorial Day, other parts by June 22nd. Other sites: Sea Grit Lighthouse
Seaside Heights: Visitors will be able to access the boardwalk and beach starting Memorial Day weekend. You should be able to walk the entire length of the boardwalk, from one end to the other. More work will continue after the holiday. Other attractions: Casino Pier plans to reopen, although with fewer rides; Funtown Pier is not expected to reopen for 2013.
Spring Lake: Virtually finished with its boardwalk repairs and sections have been walkable for months already.
Stafford: The Jennifer Lane beach is expected to open Memorial Day weekend. Work will continue into July on the lifeguard shed and lighting.
Toms River: Ortley Beach and Shelter Cove beaches are scheduled to open daily June 22, though that date remains tentative. Nearby, visit Insectropolis, the interactive museum of bugs.
Wildwood: The towns of Wildwood, Wildwood Crest and North Wildwood suffered very little damage due to Hurricane Sandy and the beaches and boardwalk are ready for the summer. Other activities: FREE live music Centennial Park every Wednesday and Saturday night