The Girl Scouts of the Jersey Shore relaunched its Man Enough to be a Girl Scout campaign on April 6th. The campaign's purpose is to encourage fathers and business leaders to become more engaged with the Girl Scout mission in helping girls become women of courage, confidence and character who make the world a better place.
"Last year, Governor Chris Christie helped kick-off our Man Enough campaign when he accepted our challenge to say he was Man Enough to be a Girl Scout," explained Madalaine Rice, senior director of fund development and external relations for the Girl Scouts of the Jersey Shore. "This year, we're kicking off the campaign with the support of several members of the Philadelphia Phillies."
The Phillies are featured in a video, which can be seen on the Girl Scouts of the Jersey Shore's YouTube channel. It features team manager and Baseball Hall of Fame member Ryne Sandberg, pitcher Ken Giles and outfielder Ben Revere all declaring that they are Man Enough to be a Girl Scout. Additional Philadelphia Phillies players will be adding their support throughout the season.
This year, the Girl Scouts of the Jersey Shore is partnering with the Lakewood BlueClaws to promote the Man Enough program. Through that partnership, those who say they are Man Enough will receive special perks throughout the year, including free Lakewood BlueClaws tickets for Man Enough members, a chance to have a Lakewood BlueClaws player visit a girl's school, on-field batting practice at FirstEnergy Park, invitations to special Man Enough father-daughter Girl Scout events, and a free 3/4 sleeve baseball t-shirt featuring the Man Enough logo and logos of program sponsors, the Lakewood BlueClaws and New Jersey Natural Gas.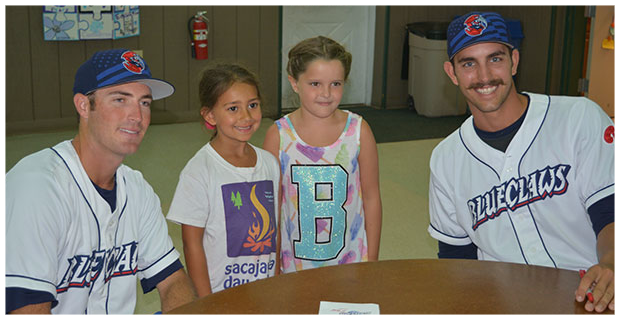 "New Jersey Natural Gas is proud to be a longtime supporter of the Girl Scouts of the Jersey Shore," said Thomas Hayes, director of customer and community relations at New Jersey Natural Gas. "At a time when more than 50 percent of college graduates are women and only a small percentage receive degrees in science, technology, engineering and math, the Girl Scouts' efforts to encourage participation in these fields has never been more important. The skills and experiences that scouting provides helps to instill confidence, build character and, perhaps most importantly, prepare our leaders of tomorrow to make a positive difference where it is needed most. "
"For us, Man Enough was a natural partnership," said Jim DeAngelis, Lakewood BlueClaws director of community relations and executive director of BlueClaws Charities. DeAngelis is also a member of the Girl Scouts of the Jersey Shore board of directors. "Families coming to Lakewood BlueClaws games is a tradition in our community, and Girl Scouts and their families are some of our greatest supporters."
"If we can help Girl Scouts succeed in getting fathers and business leaders more involved when it comes to encouraging girls to discover their interests, then we're making a difference for years to come," added Adam Loerber, chief revenue & operating officer, Lakewood BlueClaws.
"Increasing support for Girl Scouts among men and businesses is one of Girl Scouts' greatest challenges," said Erick Rommel, director of communications for the Girl Scouts of the Jersey Shore. Rommel also oversees the Man Enough program. "Our research shows that men and business leaders are far less likely to support girls than they are boys involved in the same activities. It's not intentional, they just don't know what Girl Scouts accomplish through our program. When we explain Girl Scouts are building robots and making solar powered cars and that we start teaching girls how to create business plans at age five, they better understand."
Membership in the Man Enough to be a Girl Scout campaign costs $25 for individuals and $50 for businesses. For more information, contact Danielle Bagdzinski, PR director, Girl Scouts of the Jersey Shore at 732-349-4499, ext. 240, or visit IAmManEnough.com