Outdoor Winter Sports For The Whole Family
Where to Find the Best Skiing, Tubing and Snowboarding Fun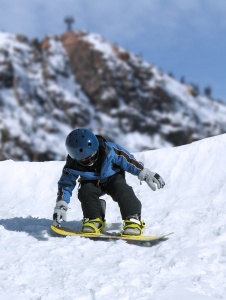 So that dastardly groundhog saw his shadow and predicted another 6 weeks of winter - but why not look on the bright side: There's no better time to head off to the mountain and enjoy some downhill fun. With all this snow, the ski resorts are running at full throttle and there are endless skiing, tubing and snowboarding trails to explore. For a quick day trip right here in NJ, there's Campgaw Mountain in Mahwah, Mountain Creek in Vernon and High Point Cross Country Ski Center in Sussex. Want an overnight trip or longer getaway? Head to the Pocono Mountains - resorts include Shawnee Mountain Ski Area, Camelback Mountain Resort Jack Frost Big Boulder Ski Area and Blue Mountain Ski Area. And in NY, there's Mount Peter Ski Area, Belleayre Mountain, Windham Mountain and Hunter Mountain. Like they say, if you can't beat 'em, join 'em. Looks like there's no stopping these winter storms, so we may as well enjoy the snow! And if you are looking for more outdoor winter adventures, don't forget to click here to check out our website!
This Week
The Enchanted Princess Ball at New Jersey Children's Museum
Friday, February 7, 05:00 PM - 09:00 PM
Have that special little "princess" in your life dreams come true by taking her to our famous Enchanted Princess Ball to meet with their favorite princesses! Cinderella, Ariel, Belle, Snow White, J... Paramus
Chocolate Festival @ Morris Museum
Friday, February 7 - Sunday, February 9, 11:00 AM - 12:00 PM
Enjoy a day of chocolaty fun! Activities include: Decorate a clay "doughnut" Create a lollipop flower Play "Name that Chocolate" Collect chocolate candies throughout the museum Design a dessert c... Morristown
Lunar New Year Festival at Metropolitan Museum of Art
Saturday, February 8
Performance and Activities to celebrate Lunar New Year New York City
Honor Black History at American Museum Of Natural History
Saturday, February 8
Today, Americans of all ethnicities recognize the month of February as a time to honor the bountiful legacy of Black history. Jumpstarting the Museum's annual Black History celebration is the ever-pop... New York City
Masters of Illusion @ BergenPAC
Sunday, February 9
Whether on a Vegas stage or on your television, magic has never been hotter. There are more television specials and series involving magic than ever before and they are always ratings winners. But not... Englewood
Kids Blvd & Therapy Nook GRAND OPENING!
Sunday, February 9, 12:00 PM - 03:00 PM
Tour our brand new gym facility featuring slides, ziplines, tunnels, lego building, arts & crafts, tech lounge, and much more!... Warren