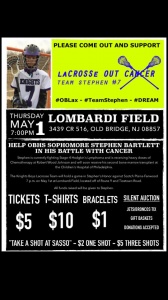 The Old Bridge High School Lacrosse team will sponsor a fundraiser on behalf of one its players, Stephen Bartlett, who is battling cancer. The team plans to hold a game in his honor at
7 p.m. on May 1
at Lombardi Field, located off Route 9 North and Ticetown Road. The cost of a ticket is $5 and all funds raised will be given to Stephen.
Bartlett, 16, has been fighting Stage-4 Hodgkins Lymphoma for the past three years, and he has been in and out of hospitals while receiving heavy dosages of chemotherapy, as well as a bone marrow transplant.
The high school sophomore is currently receiving chemotherapy treatments at Robert Wood Johnson University Hospital in New Brunswick and will then receive his second bone marrow transplant at Childrens Hospital of Philadelphia. (CHOP).
A former student at Grissom Elementary School and Jonas Salk Middle School, the teenager throughout his diagnosis and treatment continues to remain active in Boy Scouts, the Ski Club, and the Old Bridge High School Lacrosse team.
According to Coach Andrew Borriello, this will be a long and difficult fight for Stephen and his mother Patricia, both emotionally and financially, and that is why the lacrosse team is asking everyone to come together and show their support.
The Knights will play the Scotch Plains-Fanwood Raiders, who have agreed to participate in this event. The school will sell Team Stephen t-shirts, wrist bands and food at the concession stand, and it also will hold a 50-50 raffle and a silent auction for sporting event tickets.
Old Bridge High School Principal Vincent Sasso plans to step into the goal, and students can purchase tickets to Take a Shot as Sasso.
Old Bridge High School and friends of Stephen are asking the community to come out and help make this night successful. If anyone would like to make a donation, including concession stand items or items to be raffled off at the silent auction, please contact Borriello at
732.290.3900
.
Tickets for the fundraiser can be purchased in advance at the high school or at the gate the night of the game.