Plenty of Kid Friendly "No Scares" 2019 Halloween Fun
Trick-or-Treat! Give me something good to eat! It's that time of year to dress up in Fortnite and princess costumes. Time for trick or treat, time to load up the candy bags, bob for apples, shout Boo! at your friends, and create great Halloween memories with the family.

Historically, Halloween is a festival of the dead. It was believed that the dead returned as ghosts, and witches attempted to communicate with them.

Today, we celebrate this family friendly kid centered day with costume parades, pumpkin festivals, scary haunts, parties, local town trick-or-treating and much more! Check out some of these non-scary children activities in New Jersey and beyond. It's our most favorite season of the year!
NJ Kids Family Halloween Party @ PALS
Sunday October 27, 2019, 12:30-3:00PM
Join us in costume! Halloween dance, DJ music, costume contest, Halloween crafts, balloons, trick or treat, prizes for best costumes, raffles, snacks and more! All ages welcome. PALS (Parsippany Athletic League), 33 Baldwin Rd, Parsippany, NJ.
RSVP: njkidsRSVP@gmail.com , or call 973-224-6342 for more information. $12 per family (1-4 people), $15 per family (5+ people).
Bronx Zoo Boo at the Zoo
Weekends, September 28, 2019 - November 3, 2019 (also open Mon Oct 14th)
Spooky fun time at Boo at the Zoo. Come dressed in costume, enjoy magic shows, watch pumpkin carving demos, find your way out of a corn maze, mind reading with a mentalist, Bronx Zoo Quests with educational activities, candy trail, Skeletons and Bones, Halloween Crafts, Extinct Animal Graveyard and more! 2300 Southern Blvd, Bronx, NY, 718.220.5100
Sahara Sams 2019 Halloween Horror
Fridays & Saturdays, September 28, 2019 - October 26, 2019, 5PM-7PM
Get into the Halloween spirit at Sahara Sams indoor waterpark with spooky family fun. Kids activities, Halloween jams with DJ entertainment, games, enjoy pumpkin picking and pumpkin decorating. October Fridays enjoy Monster Splash Party. 535 North Route 73, West Berlin, NJ, 856.767.7580
iPlay America Halloween Happenings 2019
September 30, 2019 through October 31, 2019
Halloween fun at iPlay America. Featuring live Magic Show and kids entertainment every weekend, a trick-or-treat trail, spooktacular décor, photo opportunities, Halloween themed activities, 3D Theater. Also happening: Trick or Treat Around the Park on October 25th, 5PM-8PM, costume contest, raffles, prizes. Come to iPlay on Halloween October 31st, we're offering free kid's meal with purchase of adult meal. Read Halloween 2019 iPlay America full press release. 110 Schanck Rd, Freehold, NJ, 732.577.8200
Storybook Land Trick-or-Treat Weekend
Friday-Sunday, October 25-27, 2019, 11AM-5PM
Enjoy the park & rides at Storybook Land. No fright Trick or Treat weekend for kids. Wear your costume and get treats at over 20 stations. Kids get a FREE Trick-or-Treat bag. 6415 Black Horse Pike, Egg Harbor Township, NJ, 609.646.0103
Dept 56. Halloween Display at the Physick House Museum
Daily, October 2019
FREE. See dozens of skeletons, ghosts and spooky characters in this colorful and spectacular display of Halloween-themed Dept. 56 collectibles, inside the front porch of the Physick House Museum. 1048 Washington Street, Cape May
Scarecrow Building Workshop at the Frelinghuysen Arboretum
Saturday, October 12, 2019, 2PM-3:30PM
For kids 5 & up, make a scarecrow for this year's Scarecrows in the Garden show. 353 East Hanover Ave, Morris Township, 973.326.7601
Haunted Seaport at Tuckerton Seaport
Thursday-Sunday, October 17-20, 2019, 6PM-9PM
Get ready for a night of Hallow fun as you stroll through Tuckerton Seaport. Encounter long lost pirates and sea captains. Check out a Haunted boardwalk & graveyard. Climb aboard a hayride through the Haunted Woods. Kids friendly area with crafts, stories, and games. 120 W Main Street, Tuckerton, 609.296.8868
Haunted Hayrides at Historic Village at Allaire
Fridays & Saturdays, October 18-19 & 25-26, 2019, 6-9PM
Be on the lookout for ghosts, ghouls, and monsters. Featuring 20 different scenes as you ride through the woods, then into Historic Village at Allaire for a spooky visit. 4263 Atlantic Ave, Wall Township, NJ.
Spooky Pumpkin Nights at New York Botanical Gardens
Saturdays & Sundays October 18-19 & 25-26, 2019
Trick-or-Treat trail in the Adventure Garden on Spooky Pumpkin Nights. Discover creatures of the night and skeletons. Come dress in a costume and collect goodies & treats. 2900 Southern Blvd, Bronx, NY.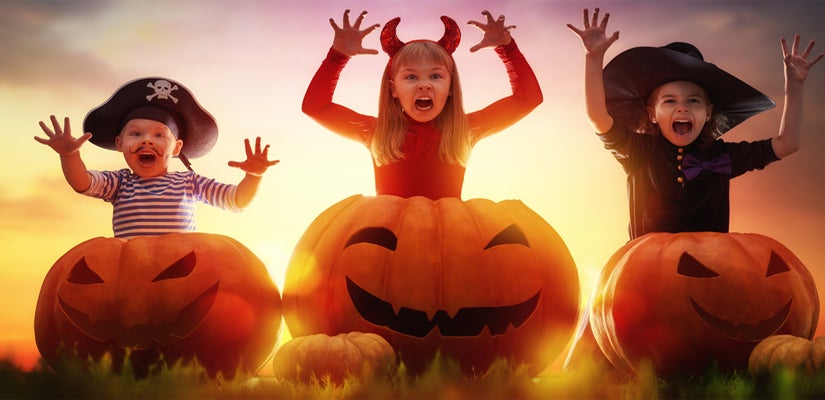 Pumpkin Painting Party at Essex Environmental Center
Saturday, October 19, 2019, 11AM
Spend some time decorating and painting a pumpkin to get into the spirit of the season. 621-B Eagle Rock Avenue, Roseland, 973.228.8776
Boo at The Boardwalk (Jenkinson's Boardwalk)
Saturdays & Sundays, October 19-20 & 26-27, 2019,12PM-4PM
Good family fun at Jenkinsons Boardwalk. Trick-or-Treating, Crafts, Games, Pumpkin Path, Beach Maze, Underwater Pumpkin Carving, Perky's Pumpkin Derby and more! Put on your best Halloween costume and join in the fun. 300 Ocean Ave, Point Pleasant Beach, NJ.
Phantoms Of The Physick Estate: Victorian Spiritualism House Tour
Saturdays, October 19 & 26, 2019; November 2, 2019
Visit the "haunted" Physick Estate and learn about Victorian spiritualism. Hear an electronic voice phenomenon (EVP) that 21st century technology has captured within these walls, and understand why they host more than the living. Appropriate for all ages. 1048 Washington St, Cape May, NJ.
Halloween Express Whippany Railroad
Sunday, October 20, 2019, 1PM-4PM (hourly trains)
Ride aboard a 10-mile, 45-minute round trip, spooky fun "Halloween Express". Come dressed in Halloween costumes for a kid-friendly spooky sight. Tricks or treats given out. $ Tickets. 1 Railroad Plaza, Whippany, NJ.
Downtown Wildwood Halloween Movie & Treats
Friday, October 25, 2019, 5:30PM
FREE. Enjoy the Halloween movie Hotel Transylvania. Children 12 & under will receive free treat bags. Bring chairs and blankets. Byrne Plaza, 3400 Pacific Avenue in Downtown Wildwood, NJ.
Boo at the Zoo! Cape May
Saturday, October 26, 2019, 10AM-2PM
FREE. Visitors of all ages are invited to wear a costume to Boo at the Zoo Cape May, a fun family event. Activities for kids, games, candy, entertainment, animals, pirate ship, costume contest and more. 707 Route 9 North, Cape May, NJ.
Seaport Spooktacular at Independence Seaport Museum
Saturday & Sunday, October 26-27, 2019, 1PM-4PM
Celebrate Halloween at Seaport Spooktacular! Wear your costume and trick-or-treat on the decks of Cruiser Olympia. Make a spooky fish skeleton craft at our Fisharium. Build a pirate scarecrow; take part in museum scavenger hunt. 211 S. Columbus Blvd. Philadelphia, PA
Historic Smithville's Witches Day Out
Sunday, October 27, 2019
Fun family outing with your fellow witches. Wear your witch's hat & stroll around town. Scavenger hunt throughout village shoppes. Contests for best junior witch costume, witch hat, witch shoes and more. 1 North New York Rd, Smithville, NJ.
Spooky Pumpkin Garden at New York Botanical Gardens
Through October 31, 2019, 10AM-6PM
Plenty of family fun! NYBG gets a Halloween makeover. Walk through eye-popping sea of gourds, pumpkins, and silly scarecrows. Fun kids activities, pumpkin carving, visits from creepy creatures, monstrous pumpkins and more! 2900 Southern Blvd, Bronx, NY.
Along Sixth Ave, New York City
Thursday, October 31, 2019, 7PM
A family bucket list item. Go see the New York City Village Halloween parade with giant puppets, 35 bands, dancers, artists, and people in creative costumes. The public (in costume only) can march in the parade from 6:30PM-8:30PM. Parade starts at 6th Ave & Canal Street, and heads up along 6th Ave. Watch anywhere on 6th Ave, from Spring Street to 16th Street.
Count's Halloween Spooktacular at Sesame Place
September 20, 2019 - November 3, 2019
Sesame Place Park is transformed into a family friendly Halloween haven. Come in costume, hop on rides, see special Halloween shows, and check out a new maze. Don't miss the Neighborhood Street Party Halloween Parade with 10 decked out floats. 100 Sesame Rd, Langhorne, PA.
Philadelphia Phantoms of the River Cruise
September 27, 2019 - October 30, 2019
Hop aboard a 1.5 hours cruise and hear about Delaware River legends of pirate ghosts, the Jersey Devil and other "Phantoms of the River." Sights include Penn's Landing, Ben Franklin Bridge, Blackbeard's Cove, Petty's Island, and Phildelphia waterfront. More info at Patriot Harbor Lines.