Firework Displays for the Fourth of July Celebrations
Celebrate our country's independence by enjoying time with family and friends, whether it is under the stars at one of hundreds of summer concerts, marching along a beach parade, wandering through the festivals or watching some awesome firework extravaganza. Below is a list of activities that will be taking place at or near NJ's popular destinations. You'll be sure to find entertainment for all. Enjoy your time with the family.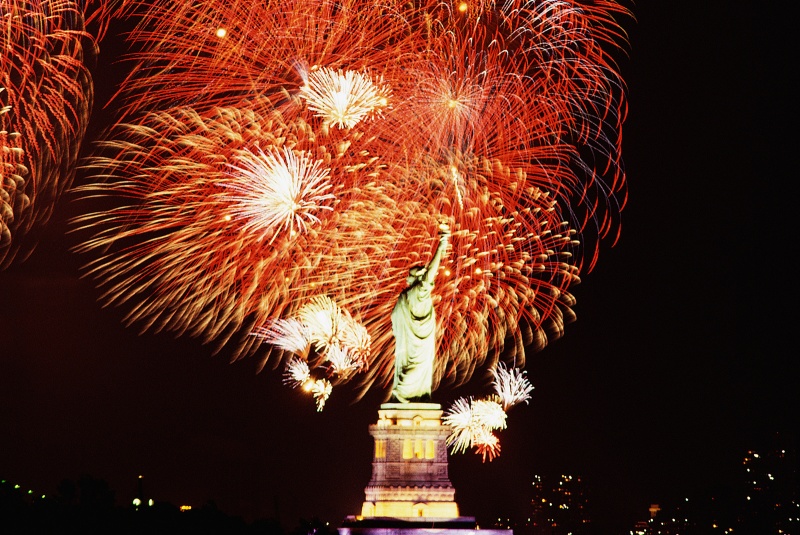 Asbury Park July 4
On the beach - Heralded as the best Fireworks display on the Jersey Shore, the Asbury Park Independence Day Fireworks is fun for patriots young and old.
Atlantic City 4th of July Fireworks – July 6 starts at dusk
Over the Ocean off Atlantic City Beaches Atlantic City, NJ
Fourth of July weekend kicks off with one of the top five fireworks displays in the country. This free show is so big that it takes two ocean barges and one marina platform to fill the island's entire sky. More than 250,000 people take up their favorite viewing positions along the World Famous Boardwalk, at one of the many beach bar parties or viewing events, on the Steel Pier, or at the luxury casino resorts.
Atlantic Highlands Independance Day Fireworks – July 4 9:45 PM
At municipal harbor Simon Lake Drive Also join them for the Fireman's fair, running from July 1st to July 5th
Barnegat Township – July 4
At Barnegat Dock 427 E Bay Ave Rain date July 5
Beach Haven – July 4 & July 5
Bay Village Fireworks will be held Friday & Saturday night in Beach Haven
Beachwood Borough 4th of July Fireworks – July 4
The Borough of Beachwood's 74th Annual Fireworks is a spectacular display seen from the Beachwood Beach along the Toms River, rain date: July 5.
Bradley Beach - July 5 9 PM
Brinley Avenue beach, Bradley Beach
The Borough of Bradley Beach will present its annual display of fireworks on the beach on Saturday, July 5th at 9PM. Rain date Saturday July 12th.
Brant Beach Fireworks – July 5 starts at dusk
Brick Township – July 3rd 6:30 PM
Windward Beach Park, Princeton Ave, Brick Township
Summerfest concert featuring the Bronx Wanderers with fireworks to follow at 9 pm.
Freedom Fest 2014 at Long Beach Island
445 E Bay Ave, Ship Bottom, NJ 08008
On Friday July 4th and Saturday July 5th there will be entertainment including live music, DJ, food vendors, beer & wine, craft & merchant vendors and kids activities!
Freehold Independence Day Concert & Fireworks – July 4
The Independence Day Concert & Fireworks will be held on Friday, July 4th, 2014 with a rain date of Sunday, July 6th Freehold Raceway Gates open at 5:30 pm
Concert featuring: The Rock & Roll Chorus • 6:00 pm - 6:40 pm & 7:15 pm - 7-45 pm
Turnstyles • 8:15 pm - 8:55 pm & 9:35 pm - 10:30 pm featuring songs of Bruce Springsteen, Billy Joel, John Mellancamp, Steely Dan & more!
Hazlet – July 5
Veterans Memorial Park rain date is July 6
Holmdel Longstreet Farm Independence Day Celebration - Friday, July 4 from 12-3 pm
Independence Day was a festive time in the 1890s. Patriotism was celebrated with music, games and good picnic food. Join the staff at Longstreet Farm as they celebrate the holiday with games and contests.
Jackson – July 4th at Six Flags, July 4 thru July 6
July 4 thru July 6 Six Flags is the premiere destination to celebrate our country, enjoy the summer, and share great times with friends. It wouldn't be July 4th without fireworks! You'll be dazzled by brilliant fireworks displays, nightly throughout Six Flags' July 4th weekend celebration. By day, stroll the park snacking on scrumptious treats like churros, ice cream sundaes, and funnel cakes, then gaze at the eye-popping fireworks shows and dance to live music under the warm summer skies. It's a recipe for a great American party!
Keansburg Amusement Park – Fireworks July 3 & 4
275 Beachway Ave, Keansburg
Lacey – July 3
Lacey Township High School 73 Haines St Lanoka Harbor
Lakewood – Friday night fireworks including July 4 after every Blueclaws game
First Energy Park 2 Stadium Way, Lakewood
Lavallette - Sun, July 6
At the Centennial Gardens and Gazebo
Concert Begins at 8pm Fireworks at 9pm
Matawan – July 5 on Lefferts Lake Raindate July 6
Ocean City Fireworks Display – presented by The Ocean City, NJ Boardwalk Merchants Association - Fireworks 10:30pm off a barge at 9th Street beach will be on Wednesday July 16th.
OceanFest in Long Branch – Fri, July 4 starts at 10 AM
Oceanfront Promenade, Long Branch 732-923-2044
Vendors, Bands, exhibits, food, and fireworks
Ocean Grove 4th of July Parade – Fri, July 4 10:30 AM
Goes thru Main Avenue in Ocean Grove
Point Pleasant Beach - Fireworks at Dark Thurs July 3 - 9:00PM to 10:00PM
Jenkinson's annual fireworks spectacular - every Thursday at nightfall throughout the summer.
Sea Isle City Fireworks - Fri, July 4 - 9:00 PM
50th Street Beach, Sea Isle City 609-263-0050
Celebrate our nation's birth! The "rocket's red glare" will be launched from an ocean barge anchored near the 50th Street Beach, which will make Sea Isle's Promenade and other beach-front areas ideal viewing locations. Rain Date: July 5
Seaside Heights Fourth of July Fireworks Extravaganza - Friday, July 4th, 9:30pm
Location: Bay Boulevard and Grant Avenue.
A spectacular fireworks display on the oceanfront. Fireworks are viewable from anywhere on the Seaside Heights Boardwalk and are sponsored by Coca-Cola. Free admission for spectators! Plus…an extreme Food Truck Showdown…come hungry and leave satisfied!
Toms River Independence Day Celebration at Mathis - Fri, July 4
Mathis Veterans Memorial Park, Rt. 166, South Toms River Borough
Enjoy music overlooking the Toms River, with free attractions for kids, vendor booths, crafts, food, and merchandise
Tuckerton Seaport 4th of July Celebration
120 W. Main Street, Tuckerton, NJ 08087
Parade followed by children's activities, baby parade, entertainment. Fireworks over the lake at dusk. Free.
Wildwood 4th of July Events - Friday, Saturday & Sunday July 4, 5 & 6,
The Wildwoods have a full 3 days scheduled to celebrate the 4th. There's a Patriotic Boardwalk Run, a parade, a Jimmy Buffett Tribute concert, a patriotic concert, a boardwalk craft show, a Patriotic Pooch Parade, a farmers market, beach yoga, a collectibles show, concerts, talent showcases and a sidewalk chalk competition. The Friday night fireworks are the biggest of the season but there's a fireworks show here all summer long on Friday night. The fireworks start at 10:00 p.m. They are staged on the beach at 10th Avenue.
Ridgewood July 4th - July 4
Flag ceremony and parade in the morning. Live concert at 6pm . Skydivers at 8pm. Fireworks at 9pm.
Florham Park NJ Fireworks & 4th of July Celebrations
Flag ceremony at 9am, parade, family picnic. Fun kids activities. Firework at 9pm.
112th Annual Day-Long July 4th Celebration
5K run. Kids bikes rade and parade. Contests, Family circus, live entertainment. Family activities throughout the day. Fireworks at 9pm. Memorial Park, Oakview Ave, Maplewood.
Morristown Revolutionary Times Celebration & Fireworks - July 4th
Declaration of Independence to be read during NJ's 350th Anniversary Year. Festivities and patriotic music. Free tours of the Presbyterian Church
Montclair's July 4th Celebrations - July 4th
Montclair Celebrates and the Township of Montclair will celebrate Independence Day with a terrific line-up of festivities. Montclair's 64th annual Independence Day Parade promises a host of spectacular performances and live entertainment. The parade is followed a fun Family Picnic in Edgemont Park and a spectacular fireworks display in the evening at Yogi Berra Stadium on the campus of Montclair State University.
Randolph Freedom Festival, July 3-5
Featuring the best fireworks show in the county plus a parade, games, food, bands, rides, attractions, arts & crafts and much, much more! County College of Morris, Center Grove Road off Route 10, Randolph
Independence Day Celebration & Fireworks at Washington Township
Concert at 7pm and fireworks at 9pm.
State Fair Meadowlands - July 3-4.
There is plenty of FREE entertainment featuring live performers on two stages and more. With over 150 rides and attractions everyone in your family will have plenty to do. Spectacular Fireworks Show July 3 and 4th.
Please check out calendar for more Independence Day Events, Fireworks and Activities