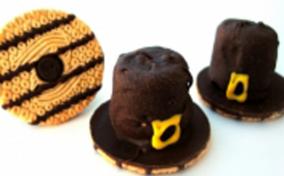 Ingredients:
Marshmallows
Chocolate Chips
Round Chocolate Cookies
Yellow writing frosting
Toothpicks
Melt chips in microwave. Place one toothpick in center of each marshmallow (to use as holder). Dunk marshmallows and cover in chocolate. Place marshmallow on cookie, then put finished hat on a baking sheet covered with wax paper. Repeat with remaining cookies and marshmallows. Place in freezer to harden. When ready, decorate marshmallow 'hat' with yellow buckle and enjoy!
By Jenny Tananbaum. Jenny Tananbaum is a writer, wife and mom to three. suburbanmom@njkidsonline.com