What's for Lunch? Do the kids want to eat something a little different?
Are you running out of lunch menu ideas? Maybe a little creative inspiration is needed to update your current lunch selections while everyone is at home. The following two-weeks' worth of ideas are sure to bring a smile to your kiddos' faces while filling up their hungry tummies.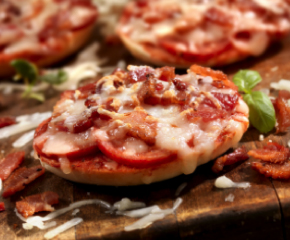 Bagel Pizza Bar

No time to make a full pizza from scratch - no problem. Toast some bagels and have the kiddos lather with marinara sauce , then have an assortment of toppings ready to go so everyone can decorate at will. Place the masterpieces in the oven to broil and watch that cheese melt to perfection when they will be ready to devour!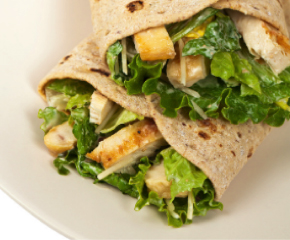 Chicken Caesar Wrap

Love caesar salad, love chicken and tortilla wraps? Why not put them all together to create a yummy, filling, and healthy lunch?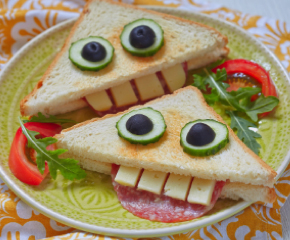 Funny Face Sandwich

Spruce up the old, regular sandwich by creating a funny character with its ingredients. Make eyes out of cucumber and olives, lettuce for hair, teeth out of cheese, and tongues out of lunch meat. Be creative! The funnier the better!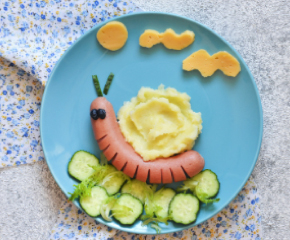 Hot Dog Snail

After cooking your hotdog, make thin slits near the bottom for feet, create a snail shell out of mashed potatoes, twisted spaghetti or a ravioli, then add raisins for eyes, and decorate the scenery with veggies like lettuce and cucumber for the ground. Finally, shape cheese into clouds with a round, ritz cracker as the sun!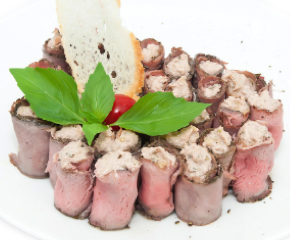 Lunch Meat Rollups

Had enough bread today already? No worries! Take out some lunch meat and layer with cheese and tomatoes, tuna salad, homemade guac, pickles, or whatever else the kids like, then roll them up and cut in half displaying them all on a platter for the little ones to pick and eat their favorites.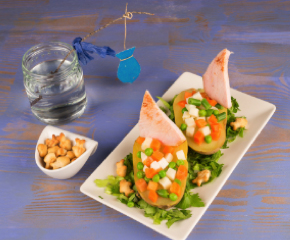 Potato Boats

Bake a potato and cut it in half placing it on a bed of lettuce and veggies to create your ocean. Top the potato with fun ingredients like bacon, peppers, and cheese - broil to melt if desired - then cut ham slices poked by a toothpick into the potato to act as the boat's sail. Bon voyage!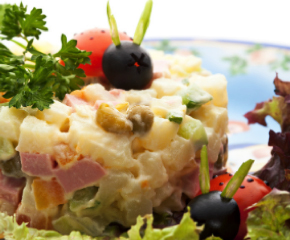 Potato Salad Garden

Make your famous potato salad and shape as you wish atop a field of greens and decorate with little ladybugs made of halved grape tomatoes for their bodies, halved olives for their heads, and cucumber slivers as antennae. Use carrots and parsley for trees and bushes and create a fun, yummy garden - good enough to eat.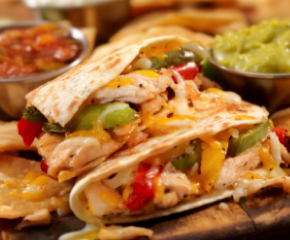 Quesadillas

A quick and easy lunch to make, I'm sure we've all served this to the kiddos a few times. Now, let's spruce them up by adding chicken and tomatoes or chicken, BBQ and pineapple - incredibly delicious!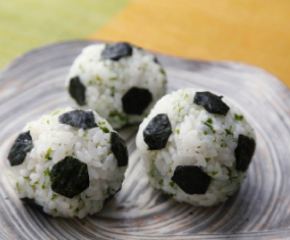 Rice Balls
Decorate rice balls with seaweed paper according to your kiddo's preferences (ie: soccer balls, minion characters, a snowman, or penguin etc.) and serve with soup or salad as you wish. Don't know how to make a great rice ball?
Check out this recipe:
https://www.wandercooks.com/simple-onigiri-recipe/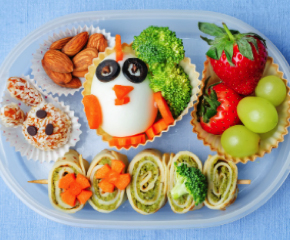 Rock % Roll Lunch

Roll your child's favorite ingredients in a tortilla wrap and cut in smaller portions. Hard-boil an egg and decorate with carrot slices for wings and feet, and olive slices for eyes. Accompany with a healthy portion of fruit and nuts placing them in a little scene like the one in the picture where the chicken is walking on a path toward the garden. Have fun - make up your own story or have your kiddo create one.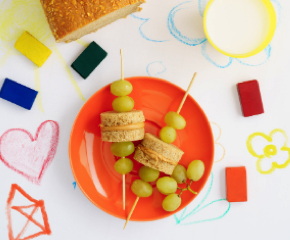 Skewers

Who said sandwiches needed to be square and placed directly on a plate? Cut your PB&J, turkey & cheese, or whatever your day's selection is, into circles or any other fun shape, and spike them with a skewer along with other fun veggies or fruits. Everyone loves sandwich-kabobs!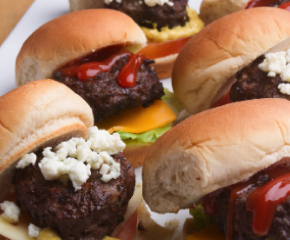 Sliders

Hamburgers are delicious but usually they are so big and overly filling. If you have a few dinner rolls in the kitchen, why not make some sliders (or mini-burgers) for lunch. Have the kids add their favorite toppings and serve with salad. You can even do a meatball and marinara slider with melted cheese. Yum!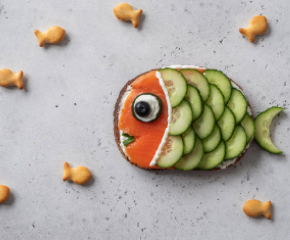 Swimming Salmon

Bring your salmon toast to life by shaping and transforming it into a swimming fish in the sea. Cut your bread into an oval shape, cover with cream cheese or avocado spread and smoked salmon; then decorate with half cucumber slices as the fishy's scales and tail. Finish the masterpiece with a cucumber and olive or caper for the eye then surround with goldfish crackers.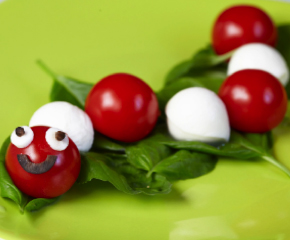 Tomato-pillar

On a bed of greens alternate cherry tomatoes and little balls of mozzarella cheese - as many as you'd like to create your adorable caterpillar. Decorate with cheese and olives for a face and drizzle with extra-virgin olive oil, and very light salt and pepper.
There you have it! Two-weeks' worth of fun, new lunches for the household to enjoy! Have a great time creating delicious, new food with the kids and send us pictures of your best lunch masterpieces any time - we will proudly display them on our social media for all to see!
Enjoy your lunches!