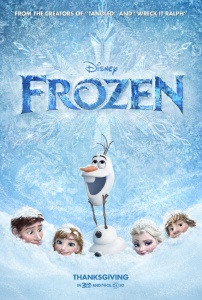 SYNOPSIS: Kristen Bell voices fearless optimist Anna, who teams up with mountain man Kristoff in an epic journey. The duo encounters Everest-like conditions and a hilarious snowman named Olaf in a race to find Anna's sister Elsa, whose icy powers have trapped the kingdom in eternal winter.
Reel Rating: 5 out of 5 Reels
MPAA Rating: PG for some action and mild rude humor
Released in Theaters: Nov. 27, 2013 (2D, 3D)
Genre: Animation, Adventure, Comedy, Family, Fantasy, Musical
Runtime: 108 minutes
Directed by: Chris Buck, Jennifer Lee
Cast: Kristen Bell, Idina Menzel, Jonathan Groff, Josh Gad, Santino Fontana, Alan Tudyk, Ciaran Hinds
Official Site: Frozen
Sex/Nudity: After just a few hours of flirting, Anna thinks she's fallen in love with Prince Hans and accepts his marriage proposal. Later, she falls in love - for real - with Kristoff. There are a couple of kisses at the end of the movie, and Queen Elsa wears a skin-tight sparkly dress with a high slit.
Violence/Gore: As kids, Elsa accidentally hits Anna with her freezing magic and nearly kills her. Elsa and Anna's parents die in a shipwreck, though the movie doesn't linger on it. Queen Elsa unleashes her magic on the kingdom, plunging it into eternal winter. Vicious wolves chase Anna and Kristoff on a sleigh. Elsa creates a menacing snow bodyguard and accidentally hurts Anna again. Men armed with guns and bow-and-arrows chase Elsa. The Queen is imprisoned and sentenced to be executed. Anna's heart begins to freeze, and it seems likely her whole body will turn to ice.
Profanity: The trolls call Kristoff "smelly" and a "fixer upper." Visiting dignitaries call Queen Elsa a "monster," "evil sorceress," "traitor" and "murderer."
Drugs/Alcohol: Champagne is served at a royal reception.
Which Kids Will Like It? Kids 5 and older who like animated Disney movies.
Will Parents Like It? "Frozen" is really a beautiful film, though my one caveat is the Disney tradition in which parents die - both of them, in this case. But the deaths are early in the film and not the focus.
REVIEW: Remember back in the day when Disney was a virtual powerhouse of animated musicals? During the 1980s and 90s, movies like "Pocahontas" and "Beauty and the Beast" not only did well at the box office, but their tunes dominated the Billboard charts, too. If you were a parent during that era, your kids probably tormented you by playing the soundtrack to "The Little Mermaid" and "The Lion King" over and over. And over.
That Disney we know and love is back with "Frozen," a gorgeously animated tale featuring a beautiful story of love, strong characters and wonderful music. It's a film that appeals to all ages, and anyone who sees this movie will leave the theater with a lighter heart.
Loosely inspired by "The Snow Queen" by Hans Christian Andersen, "Frozen" follows two sisters, Elsa (Idina Menzel) and Anna (Kristen Bell), who are princesses in the Nordic region of Arendelle. But Elsa has a secret power: She can fill a room with snow and ice with a few gestures of her hand, but she hasn't yet mastered her abilities. One day, she accidentally injures the younger Anna with a shot of ice to the head. After that, Elsa mostly hides in her room for fear of hurting people, and the girls become estranged.
On Elsa's coronation day - years after the sisters' parents perish in a shipwreck (Disney can retire the "parents dying" plot point any time now), the new queen becomes frightened and accidentally freezes the fjord around the castle, sending Arendelle into an eternal winter. Meanwhile, Anna falls for visiting Prince Hans (Santino Fontana) who immediately proposes (but the romance doesn't turn out to be quite as swoon-worthy as Anna imagines).
Amid accusations of witchcraft, Elsa flees the kingdom and seeks solace in an icy castle in the wilderness. But Anna still loves her sister and refuses to give up on her. She sets out to find the queen, bring her home and figure out how to defrost the kingdom. Helping her along the way are the burly ice salesman Kristoff (Jonathan Groff), his pet reindeer, Sven, and one of Elsa's creations, a talking snowman named Olaf (voiced by the very comical theater vet Josh Gad, who was nominated for a 2011 Tony Award for "The Book of Mormon" and won a Grammy for the original Broadway recording of the same).
When I saw Kristen Bell at the Traverse City Film Festival a few years ago, she said playing a Disney princess has been a lifelong dream of hers. She also loved the fact that Anna isn't a graceful princess like Ariel of "The Little Mermaid." Princess Anna is clumsy and awkward and a bit of a dork. But neither is she a damsel in distress. She's resourceful and never gives up hope, even when things seem dire. I basically want to be Anna when I grow up.
Bell, who famously shot to super-stardom as the spunky teenage detective in "Veronica Mars" (the movie hits theaters March 14, 2014) is the perfect person to voice the role of Anna, and she can sing, too, as we learned in 2010's "Burlesque." Broadway star Idina Menzel, who voices Elsa, is also perfect casting, and she has no trouble hitting the high notes on the transcendent songs.
In addition to wonderful tunes like "For the First Time in Forever," "Let It Go," "In Summer," and "Fixer Upper" -- composed by couple Kristen Anderson-Lopez and Robert Lopez -- the sweet themes of sisterhood and self-identity make for a delightfully funny tale with good role models for young girls.
"Frozen" is dazzling to look at and features a poignant and surprising non-stereotypical ending. Aside from the parents dying, "Frozen" is perfect in every way. With musical theater stars Menzel, Groff, Fontana, and Gad paving the way, it wouldn't surprise me if "Frozen" was already headed for Broadway.
JANE'S REEL RATING SYSTEM:
One Reel – Even the Force can't save it.
Two Reels – Coulda been a contender
Three Reels – Something to talk about.
Four Reels – You want the truth? Great flick!
Five Reels – Wow! The stuff dreams are made of.
By Jane Boursaw. Jane Boursaw is a family entertainment writer specializing in movies and TV. Visit her at http://www.reellifewithjane.com