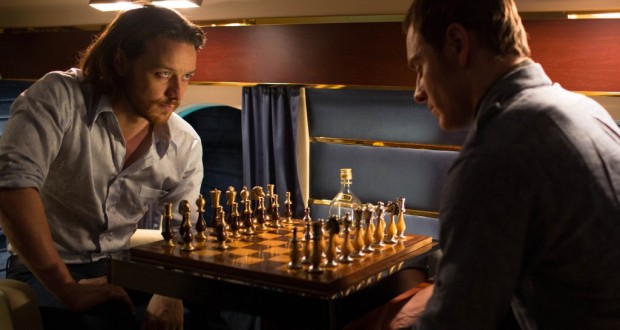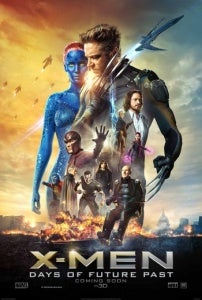 SYNOPSIS: The X-Men send Wolverine into the past in a desperate effort to change history and prevent an event that results in doom for both humans and mutants.
Reel Rating: 4 out of 5 Reels
MPAA Rating: PG-13 for sequences of intense sci-fi violence and action, some suggestive material, nudity and language
Released in Theaters: May 23, 2014 (2D, 3D)
Genre: Action, Adventure
Runtime: 130 minutes
Directed by: Bryan Singer
Studio: 20th Century Fox Film Corp..
Cast: Patrick Stewart, Ian McKellan, James McAvoy, Hugh Jackman, Michael Fassbender, Ellen Page
Official Site: X-Men: Days of Future Past
REVIEW: Wait, what?! Mutants were involved with the assassination of JFK!? Yes, you'll learn that little historical tidbit and much more in this fun installment of the "X-Men" franchise. The story begins in the future, where mutants are in dire peril after a long battle with both humans and giant robotic warriors called Sentinels, designed to fight mutants by the wonderfully named Boliver Trask (Peter Dinklage).
This particular future harks back to 1973, when Raven/Mystique (Jennifer Lawrence), took it upon herself to shoot Trask in order to stop the growing threat against mutants. It's clear that plan has backfired, so Professor Xavier (Patrick Stewart) and Magneto (Ian McKellen) decide that the only solution is to send Wolverine (Hugh Jackman) back to 1973 to prevent Mystique from pulling the trigger. Wolverine is chosen because he can withstand the trauma of that long trip through time, which is engineered by Kitty Pryde (Ellen Page) .
But things are very dicey back there. The professor and Magneto's younger selves (James McAvoy and Michael Fassbender) are as estranged as two friends can get, and Mystique is filled with super angry.
"X-Men: Days of Future Past" is a thrilling combination of good storytelling, amazing special effects, and an impressive cast, which also includes Halle Berry, Nicholas Hoult, Anna Paquin, Omar Sy, Evan Peters and Shawn Ashmore. Ok, so sometimes the screen seems a tad bit crowded, but somehow it all works, especially if you were around during the 1970s and feel a twinge of nostalgia over lava lamps, water beds, big cars, Jim Croce and Roberta Flack.
It's all very entertaining, not just for diehard "X-Men" fans, but for anyone who loves a great blockbuster. As with other Marvel movies, stay through the end credits — ALL the way — for a little Easter egg of what's to come.
THE DETAILS:
Sex/Nudity: A man's naked backside is shown after he gets out of bed, with a woman lying next to him. Characters flirt. One blue mutant appears to be nude, though it looks more like all-over body armor.
Violence/Gore: Lots of action, destruction and wreckage. People are thrown, stabbed, and shot. A few scenes show corpses and skeletal remains.
Profanity: A few uses of "s–t," "a–hole," "hell," and "bloody," and one "f–k."
Drugs/Alcohol: The younger Professor X shoots up with a serum that dulls his powers and helps him walk, and seems to have the effects of heroin (we get a close-up view of the needle entering his vein). A character drinks a lot and has liquor bottles lying around. Some social drinking.
Which Kids Will Like It? Kids 13 and older who like the X-Men movies, comics or characters.
Will Parents Like It? "X-Men: Days of Future Past" is a great installment to the franchise. I especially love seeing BFFs Patrick Stewart and Ian Mckellan in a movie together. They just make me happy.
JANE'S REEL RATING SYSTEM:
One Reel – Even the Force can't save it.
Two Reels – Coulda been a contender
Three Reels – Something to talk about.
Four Reels – You want the truth? Great flick!
Five Reels – Wow! The stuff dreams are made of.
Jane Louise Boursaw. Jane Boursaw is a family entertainment writer specializing in movies and TV. Visit her at http://www.reellifewithjane.com, email jboursaw, or Google+