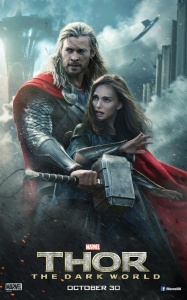 SYNOPSIS: This sequel to 2011's "Thor" finds Chris Hemsworth reprising his role as the handsome caped hero with the super-powered hammer. Faced with an enemy that even Odin and Asgard cannot withstand, Thor must embark on his most perilous journey yet, one that will reunite him with Jane Foster and force him to sacrifice everything to save all.
Reel Rating: 4 out of 5 Reels
MPAA Rating: PG-13 for sequences of intense sci-fi action and violence, and some suggestive content
Released in Theaters: Nov. 8, 2013 (2D, 3D)
Genre: Action, Adventure, Fantasy, Superhero
Runtime: 112 minutes
Directed by: Alan Taylor
Cast: Chris Hemsworth, Natalie Portman, Tom Hiddleston, Anthony Hopkins, Christopher Eccleston, Jaimie Alexander, Zachary Levi, Ray Stevenson, Idris Elba, Rene Russo
Official Site: Thor: The Dark World
Sex/Nudity: A TV newscast shows a man running around naked, but his privates are blurred out. Some kissing and flirting.
Violence/Gore: Lots of explosions, knife fights, and gun fights, though not much blood is shown. A woman slaps two men in anger. Entire landscapes are destroyed during intense battle scenes. Characters are shot, stabbed and killed. A main character dies.
Profanity: Includes "shut up," "hell," and one "holy sh*t."
Drugs/Alcohol: Some drinking among adults.
Which Kids Will Like It? Kids 12 and older who like Marvel movies or characters.
Will Parents Like It? This sequel is much better and more interesting and action-packed than the first movie. There's lots of action, but the PG-13 rating is on target.
REVIEW: The first "Thor" movie was released in 2011, but I barely remember anything about it. I'm guessing this sequel will fare better in my brain, as the characters and relationships -- which I always find interesting -- play heavily into the storyline.
It begins on the eve of the Convergence, with the Nine Realms about to align. Thor (Chris Hemsworth) has been away from astrophysicist Jane Foster (Natalie Portman) for two years - much to her chagrin - but he's had other things to deal with. Namely, instability across the Nine Realms.
As Thor returns to Asgard, Jane happens across an anomaly that brings back the Aether, a mysterious force that once threatened Asgard and has awakened its long-time enemies, the Dark Elves.
Meanwhile, Loki (Tom Hiddleston) is languishing in prison, reading books and twiddling his thumbs until an opportunity arises to reclaim his power -- which he so craves.
So, do you have to know something about the Marvel universe to enjoy "Thor: The Dark World"? No, because they do a good job of giving us enough backstory to explain what's what. But they do it in a way that doesn't bog down the story. We get a good understanding of the situation: the Dark Elves have been awakened and are causing havoc for Thor and his dad, Odin (Anthony Hopkins - wasn't he supposed to retire a while back?), threatening to destroy everything Thor and his ancestors have worked so hard to achieve.
I'm sure the fanboys won't agree with me, but my favorite part of this movie is the relationships. Jane is understandably ticked off that Thor's been gone so long, but once they reconnect, she has no problem being whisked off to help save his world. One quibble is that she's relegated to more of a damsel-in-distress role than the previous movie, but I still love her.
Jane's mentor, Dr. Erik Selvig (Stellan Saarsgard), gets the comic relief role. Our first glimpse of him is on a newscast, running around naked warning people of impending doom just before the guys in white coats haul him off.
We also get a bit more depth to the relationship between Thor and his bad-boy brother Loki. Just when you think things are one way, they throw a few curveballs - or maybe hammers - into the mix, which takes the story in a different direction.
The special effects are also great, with gripping battle scenes, interesting computer-generated creatures and some intriguing mind-twisters. All in all, "Thor: The Dark World" is a good installment for folks of all demographics. It's a great date movie, but also a worthy installment in the Marvel franchise for teens and grownups.
JANE'S REEL RATING SYSTEM:
One Reel – Even the Force can't save it.
Two Reels – Coulda been a contender
Three Reels – Something to talk about.
Four Reels – You want the truth? Great flick!
Five Reels – Wow! The stuff dreams are made of.
by Jane Louise Boursaw. Jane Boursaw is a family entertainment writer specializing in movies and TV. Visit her at http://www.reellifewithjane.com or email jboursaw@charter.net.