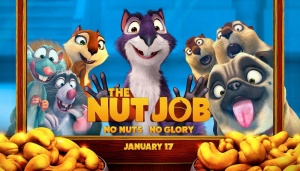 SYNOPSIS: When loner squirrel Surly is banished from his park, he stumbles on the one thing that may be able to save his life and help the rest of the park community survive the winter -- Maury's Nut Store. Unfortunately, his plans are foiled by a group of thugs intent on robbing a bank.
Reel Rating: 4.5 out of 5 Reels
MPAA Rating: PG for mild action and rude humor
Released in Theaters: Jan. 17, 2014
Genre: Animation, Adventure, Comedy, Family
Runtime: 85 minutes
Directed by: Peter Lepeniotis
Cast: Will Arnett, Brendan Fraser, Liam Neeson, Katherine Heigl, Stephen Lang, Maya Rudolph, Jeff Dunham
Official Site: The Nut Job
REVIEW: It's very rare that you come across a kids' movie these days that actually has some substance to it. Most have predictable storylines with run-of-the-mill characters and uninspired dialogue. Not so with "The Nut Job."
This movie has everything -- fantastic animation that pops off the screen at you; a great soundtrack by musicians like Sixx John, The LA Outfit, Leo Soul, Harry Bluestone and Alana D; fleshed-out, multi-dimensional characters; perfect voice casting; shifting alliances; a standoff on a bridge; and a plotline with lots of moving parts, including a parallel storyline between a group of park animals and some thugs looking to rob a bank. Whew!
Also, the slapstick action reminds me a lot of old-timey cartoons like Elmer Fudd and Bugs Bunny, Wile E. Coyote and the Roadrunner, and Tweety and Sylvester. Yes, there are fart jokes, but they actually sort of work in this movie (and that's a line I never thought I'd say about a kids' movie). Kids love fart jokes, so you might as well do them with some style.
The story follows a loner squirrel named Surly (voiced by Will Arnett), who selfishly foils the other animals' plan to swipe some nuts from a nut cart. Thus, the park leader, Raccoon (Liam Neeson), banishes Surly to the city.
Exiled from the park, Surly and his best pal, a rat named Buddy, endure a frightening day in the city, and then hit the jackpot when they land right in front of a nut shop. Unbeknownst to Surly and Buddy, the owner of the nut shop is a fresh-out-of-prison gangster named King (Stephen Lang). He and his thugs are planning to rob the bank across the street by digging a tunnel between the buildings. Meanwhile, Surly and a team from the park, led by determined female squirrel Andie (Katherine Heigl), plan their own heist -- of the nuts in the shop.
My one complaint is that the thugs use guns to shoot at each other and the animals. But there's no denying that they're thugs, and that's what thugs do. Still, "The Nut Job" is silly and fun, and I can almost guarantee there will be a "The Nut Job 2" on the horizon
Look for a brief cameo by an animated Psy, who dances "Gangnam Style" through the end credits with the other characters. While I never really understood the whole Psy phenomenon -- and I'm not sure how he ended up in this movie -- for some reason, I like it.
PARENT DETAILS:
Sex/Nudity: Grayson flirts with Andie and insists she go on a date with him, but she's not interested. Surly develops a crush on Andie, and they share a couple of hugs. King's love interest is the buxom blonde Lana, and they hug and kiss briefly.
Violence/Gore: A few jump-out-of-your-seat moments might frighten little ones, like when a dog pops up in front of Surly, or a scary gang of rats attacks Surly and Buddy. The humans are old-school gangsters who use guns to shoot at each other and the animals. Cars blow up and go over bridges, and an important park tree burns down. A cardinal starts to peck at characters and acts in an evil manner (though he's still sort of cute). Characters who appear to die actually survive.
Profanity: Includes "stupid," "moron," "lousy," "bums," "no-good," "vermin," "ugly," and of course "nut job." Lots of burp and fart jokes.
Drugs/Alcohol: None.
Which Kids Will Like It? Kids 6 and older who like silly talking-animal movies with lots of action.
Will Parents Like It? "The Nut Job" is fun for both kids and adults, and don't be surprised if you laugh out loud a few times.
JANE'S REEL RATING SYSTEM:
One Reel – Even the Force can't save it.
Two Reels – Coulda been a contender
Three Reels – Something to talk about.
Four Reels – You want the truth? Great flick!
Five Reels – Wow! The stuff dreams are made of.
By Jane Louise Boursaw. Jane Boursaw is a family entertainment writer specializing in movies and TV. Visit her at http://www.reellifewithjane.com, email jboursaw, or Google+