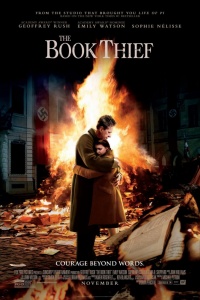 SYNOPSIS: While subjected to the horrors of World War II Germany, young Liesel finds solace by stealing books and sharing them with others. Under the stairs in her home, a Jewish refugee is being sheltered by her adoptive parents.
Reel Rating: 5 out of 5 Reels
MPAA Rating: PG-13 for some violence and intense depiction of thematic material
Released in Theaters: Nov. 27, 2013
Genre: Drama, War, Based on a Book
Runtime: 131 minutes
Directed by: Brian Percival
Cast: Sophie Nelisse, Geoffrey Rush, Emily Watson, Nico Liersch, Kirsten Block, Heike Makatsch, Roger Allam
Official Site: The Book Thief
Sex/Nudity: Young Rudy keeps asking Liesel for a kiss, and as they get older, it's clear they have feelings for each other. One kiss.
Violence/Gore: Nazis terrorize Jews in their homes, businesses and neighborhoods. A Nazi officer strikes Liesel and then Hans. During bombing raids, the entire town seeks refuge in a bunker, where they're anxious and afraid. Major characters die throughout the film. One sad scene in a graveyard, and another on the street after the town is bombed. A few scenes of schoolyard bullying and fights.
Profanity: Insults like "good for nothing," "stupid" and "idiot" throughout the film, sometimes as terms of endearment from a wife to her husband. Insults are often in German, like "Saumensch," "Saukerl" ("dirty swine") and "Arschloch" ("a**hole").
Drugs/Alcohol: Adults smoke cigarettes (appropriate for the era).
Which Kids Will Like It? Kids 13 and older who've read the book or like movies about World War II.
Will Parents Like It? "The Book Thief" is an excellent film with a thoughtful storyline, great performances, and vintage locations. Despite sad scenes and deaths throughout, the PG-13 rating is on target.
REVIEW: I haven't read Markus Zusak's book upon which this movie is based, but now I want to. I love this movie. It's one of those rare films you can call a "quality film" and actually mean it. And not only is the PG-13 rating on target, but it's a good film for teens to see -- to learn more about World War II from the perspective of a German kid, and also learn about a time when books were burned in big heaps in the village square. It's the sort of thing that seems almost unthinkable to American kids, but there it was.
Like the book, the film is narrated by Death (Roger Allam), who explains that he rarely cares about the stories of the living, with the exception of young Liesel Meminger (Sophie Nelisse). In 1938, Liesel is riding on a train with her frightened mother (Heike Makatsch), who's rumored to be a Communist, and her sick little brother (Julian Lehmann), who dies before they reach their destination.
During an impromptu funeral in a desolate graveyard along the way, Liesel steals The Gravedigger's Handbook as a memento. And thus begins her noble life of crime. She's soon delivered to her childless foster parents, a gentle painter named Hans (Geoffrey Rush) and his curmudgeonly wife Rosa (Emily Watson).
Hans discovers Liesel's book and teaches her how to read, using not only the book, but the walls of the basement, where she writes word after word. Liesel befriends her neighbor, a tow-headed boy named Rudy Steiner (Nico Liersch) who runs fast, idolizes Olympic idol Jesse Owens, and fends off schoolyard bullies.
When Hans and Rosa agree to hide a young Jewish man, Max (Ben Schnetzer), in their basement, Liesel forms a friendship with him, reads to him when he's sick, and helps her adoptive parents hide him when the Nazis come around. As the war progresses, Max -- who teaches Liesel to resist hate, even as the regimen closes in -- realizes that he's putting all of them in danger.
"The Book Thief" is at turns heartbreaking and joyful, and acting vets Rush and Watson are wonderful as a bickering married couple who clearly love each other. Nelisse is spot-on as the feisty, optimistic Liesel, who manages to overcome the worst circumstances a young child could endure. Her heart remains open, even as the people she loves disappear from her life.
"The Book Thief" is a story of hope, perseverance and love, both for the people in our lives and the books on our shelves.
JANE'S REEL RATING SYSTEM:
One Reel – Even the Force can't save it.
Two Reels – Coulda been a contender
Three Reels – Something to talk about.
Four Reels – You want the truth? Great flick!
Five Reels – Wow! The stuff dreams are made of.
By Jane Boursaw. Jane Boursaw is a family entertainment writer specializing in movies and TV. Visit her at http://www.reellifewithjane.com or email jboursaw@charter.net.