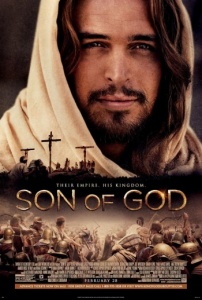 SYNOPSIS: Diogo Morgado takes on the role of Jesus Christ in this story which follows his life from birth through his teachings, crucifixion and resurrection.
Reel Rating: 3 out of 5 Reels
MPAA Rating: PG-13 for intense and bloody depiction of the crucifixion, and for some sequences of violence
Released in Theaters: Feb. 28, 2014
Genre: Drama, Based on a Book
Runtime: 138 minutes
Directed by: Christopher Spencer
Cast: Diogo Morgado, Roma Downey, Sebastian Knapp
Official Site: Son of God
REVIEW: I'll just say right off the bat that "Son of God" is kind of brutal for a PG-13 movie. If you know the Biblical story of Jesus, you know what's coming. Whatever happens in the beginning and middle of the film, you know that eventually he's going to be beaten and nailed to that cross, where he dies a slow agonizing death. It's one thing to read it in the Bible, but quite another to see it on the big screen.
And yet, that IS the Biblical story, so you can't really make a movie about his life without telling that part of it. In one way, it's good to see it on the big screen. If you're a believer, it brings home the story in a real way. And yet, this movie is rated PG-13 or, really, almost R, in my view. But an R rating would have taken a whole segment of moviegoers out of the picture, so I get the filmmakers' thinking: make it brutal, but not brutal enough to land an R rating.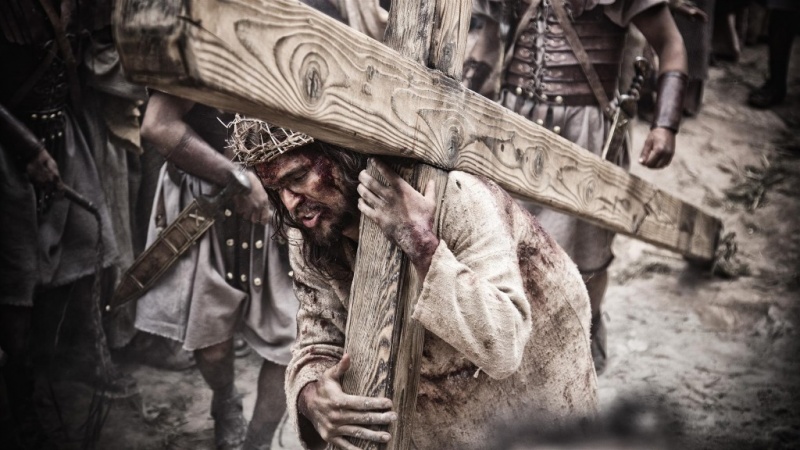 Just be forewarned that it's pretty intense, with scenes of Jesus' flogging, the crown of thorns turning his head into a bloody mess, nails driven agonizingly through his hands, and then the final raising of the cross, where he cries out in pain over and over again. Parents should think carefully about whether their kids can handle it.
I guess you could say that "Son of God" is a repackaging of husband-and-wife film producers (and devout Catholics) Mark Burnett and actress Roma Downey's miniseries "The Bible," which aired on the History Channel in 2013. The film isn't exactly like the four episodes that chronicles Jesus' life, but rather it begins with his birth, then skips over his childhood and baptism and picks up at the point where he finds his disciples.
Narrated by disciple John the Evangelist (Sebastian Knapp), the movie depicts how Jesus (Diogo Morgado) performed miracles, preached on love and forgiveness, and was persecuted by the high priests and Pontius Pilate before being crucified on the cross, then resurrected.
"Son of God" is a good retelling of the story, despite some odd close-ups and computer-generated depictions of ancient landscapes. Standouts among the cast include English actors Darwin Shaw as the hotheaded disciple Peter, Greg Hicks as Roman prefect Pontius Pilate, and Knapp as the cherished disciple John.
If there's a weak spot in this movie, it would have to be Portuguese actor Diogo Morgado, who besides being distractingly handsome as Jesus, speaks with an odd accent and sometimes appears to be in a daze. Then again, he had a big mission in front of him, so there's that. But he had God on his side, so … there's that. If I had to compare him with Jim Caviezel in "The Passion of the Christ," I'd say Caviezel wins.
Hans Zimmer's swelling score is sometimes TOO swelling and, yeah, a little cheesy, but I think "Son of God" will play well among churches and youth groups. Even those who don't believe in the miracles of Jesus, it's a fascinating look at this person who challenged the establishment, cared for outcasts and sinners, and whose ultimate mission was to change the world.
PARENT DETAILS:
Sex/Nudity: None.
Violence/Gore: "Son of God" is quite violent for a PG-13 rated movie. Jesus is flogged with 40 lashes, forced to carry his own cross, wounded with a crown of thorns, and crucified on a cross. Several close-ups show his bloody body and bruised face. Pontius Pilate's guards push over a merchant's cart, which crushes his son, who is shown dead in his mother's arms. Crowds of people are stabbed and slaughtered, and some scenes show animals being sacrificed. Judas hangs himself, and Jesus is told that his friend John the Baptist was beheaded.
Profanity: Jesus is taunted with insults like "peasant" and "false prophet."
Drugs/Alcohol: Jesus and his disciples drink wine.
Which Kids Will Like It? Kids 13 and older interested in Biblical history.
Will Parents Like It? "Son of God" is a brutal look at the life of Jesus Christ. Only parents can decide whether their kids are ready to see some of the more disturbing and bloody scenes in this movie.
JANE'S REEL RATING SYSTEM:
One Reel – Even the Force can't save it.
Two Reels – Coulda been a contender
Three Reels – Something to talk about.
Four Reels – You want the truth? Great flick!
Five Reels – Wow! The stuff dreams are made of.
By Jane Louise Boursaw. Jane Boursaw is a family entertainment writer specializing in movies and TV. Visit her at http://www.reellifewithjane.com, email jboursaw, or Google+