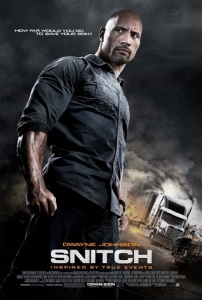 SYNOPSIS: Dwayne Johnson plays a father who goes undercover for the DEA in order to free his imprisoned teenage son, who's been set up in a drug deal.
Reel Rating: 4 out of 5 Reels
MPAA Rating: PG-13 for drug content and sequences of violence
Released in Theaters: Feb. 22, 2013
Genre: Drama, Action, Thriller
Runtime: 112 minutes
Directed by: Ric Roman Waugh
Cast: Dwayne Johnson, Barry Pepper, Jon Bernthal, Susan Sarandon, Michael K. Williams, Melina Kanakaredes, Rafi Gavron, Benjamin Bratt
Official Site: http://www.snitch-movie.com/
Sex/Nudity: A few kisses between loving couples.
Violence/Gore: Includes gunfire with pistols, semi-automatics and rifles, sometimes at close range and while driving; hand to hand combat; and a character strangling someone. A high-speed car chase includes vehicles veering off highways, crashing into others and/or exploding. A semi-truck crash is particularly thrilling. References to drug dealers being killed once they're no longer useful. Families and kids are threatened. A teenage character is sent to prison, where he's beaten and bruised. It's also implied that he's raped in prison.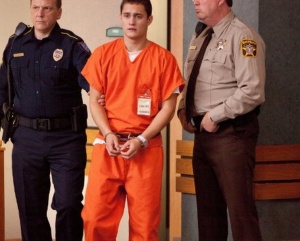 Profanity: Includes "sh*t," "goddammit," "p*ssy," "bitch," "hell," "ass," "damn," "crap," and "oh my God."
Drugs/Alcohol: The movie centers on the shipment, sale, and use of the drug Ecstasy (including teens); marijuana and cocaine are also seen or referenced. In one scene, a main character is forced to inhale cocaine to test whether it's real. Teens talk about popping pills. A drug dealer smokes, characters drink socially, and a main character drinks to cope during a rough time.
Which Kids Will Like It? Kids 14 and older who like Dwayne Johnson movies or action thrillers. "Snitch" has a "scared straight" vibe to it.
Will Parents Like It? It's a really well done film, and even with the edgy drug theme, the PG-13 rating is on target.
REVIEW: I had no idea that "Snitch" would be a family movie. Ok, it's not your typical family movie with the adults acting stupidly, the kids being know-it-alls, and lots of crazy pratfalls where no one actually gets hurt.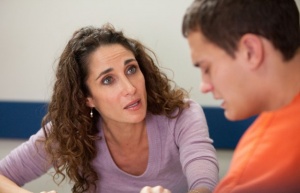 No, "Snitch" is what you'd call an edgy family movie featuring a dad who'd do anything, even risk being killed, to get his teenage son out of prison after being set up in a drug deal. It made me think about what I'd do for my kids. Yeah, I'd totally run drugs to Mexico undercover for the DEA in order to get my son released from prison. If that was the only option, sign me up.
It also made me think that "Snitch" is a great "scared straight" movie. In other words, hopefully teenagers who see this will think twice about doing something stupid that could affect the rest of their lives.
The story begins with high school senior Jason Collins (Rafi Gavron) getting arrested in a major narcotics bust. He's a good kid who agrees to accept a delivery of the drug Ecstasy for a friend. Little does he know there's a tracer inside the box, and all of a sudden, cops swarm the house and drag him off to prison.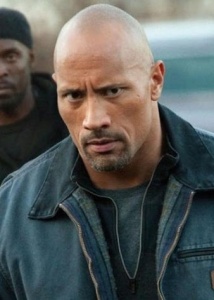 The feds, led by prosecutor Joanne Keeghan (Susan Sarandon), expect Jason to "snitch" -- give up someone up the drug chain as part of a plea deal. Jason won't talk on principle, and besides that, he doesn't know anyone other than the friend who set him up.
Here's where Jason's dad, John Matthews (Dwayne Johnson), comes in. He's the hard-working owner of a large construction business who offers himself up as a bargaining chip to limit Jason's sentence. He'll go undercover and become the bait to lure in the bigger drug dealers, including Malik, played by Michael K. Williams. I was so excited to see "Omar Little" from HBO's "The Wire," I got completely distracted for a couple minutes.
Anyway, John convinces his new employee Daniel James (Jon Bernthal) to introduce him to the drug world, but things get complicated and dangerous when a Mexican drug lord known as El Topo (Benjamin Bratt) intercedes.
I was surprised at how much I loved this movie. It's brutal, but still manages to keep within a PG-13 rating, while, as mentioned, hopefully scaring any teens who see it straight. Seriously, this dangerous world is not something to mess around with, even peripherally. "Snitch" doesn't glorify the drug business one bit -- and that's a good thing.
John Bernthal turns in a great performance as an ex-con who's reluctant to get pulled back into the drug business, but also desperate to give his family a better life with the money offered by John.
"Snitch" is riveting and moves along at a nice clip, blending family issues (Jason and his dad are somewhat estranged) with scary drug dealers. It features a lovely score by Antonio Pinto, and there's also a message or two. For one thing, the drug sentencing laws for first time offenders are hugely unfair. Learn more about that at TakePart.com/Snitch.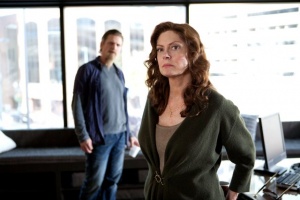 The second message is for parents: Don't be like John Matthews and spend all your time working, lest your kids grow away from you. Stay involved in your kids' lives. And that, my friends, is the public service message from Dwayne Johnson, who is officially one of my favorite movie stars.
JANE'S REEL RATING SYSTEM:
One Reel – Even the Force can't save it.
Two Reels – Coulda been a contender
Three Reels – Something to talk about.
Four Reels – You want the truth? Great flick!
Five Reels – Wow! The stuff dreams are made of.
by Jane Louise Boursaw. Jane Boursaw is a family entertainment writer specializing in movies and TV. Visit her at http://www.reellifewithjane.com or email jboursaw@charter.net.