SYNOPSIS: During a world tour, the Muppets find themselves snarled up in a European jewel-heist caper headed by a Kermit doppelganger and his dastardly sidekick.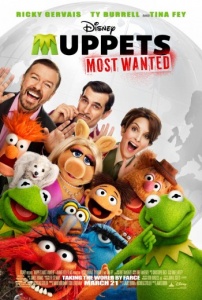 Reel Rating: 5 out of 5 Reels
MPAA Rating: PG for some mild action
Released in Theaters: March 21, 2014
Genre: Family, Sequel, Adventure
Runtime: 112 minutes
Directed by: James Bobin
Cast: Ty Burrell, Tina Fey, Ricky Gervais
Official Site: Muppets Most Wanted
REVIEW: Thank goodness the Muppets' film career hasn't ruined their legacy. It's always a dicey situation when you take beloved characters and put them on the big screen (I'm a little worried about the upcoming Peanuts movie). But the Muppets movies have always honored their past, and "Muppets Most Wanted" is no exception.
The story picks up where the last Muppets movie left off. Walter is now an official part of the team, led by Kermit the Frog (voiced by Steve Whitmire). The only problem is, they have no idea what to do next. That's where Dominic Badguy (Ricky Gervais, more understated than his usual zany self) comes in. The slick talent agent convinces the Muppets to take their variety show abroad, starting with Berlin, Germany.
But with a name like Badguy, you know his motives are questionable. Turns out he's in cahoots with an evil frog who looks just like Kermit, except for a mole on his little green face. In Berlin, Constantine, the world's most notorious villain, manages to escape from prison and switch identities with Kermit.
Thus, our sweet and innocent Kermit is hauled off to the Siberian Gulag, and Constantine slides easily into the role of the Muppets' leader. No matter that "Kermit" is suddenly in love with Miss Piggy and has a questionable Russian accent.
On each leg of the European tour, Constantine and Badguy use the Muppets' performances to carry off heists and steal some of the world's most valuable items. Meanwhile, an Interpol agent (Ty Burrell) and CIA Agent Sam Eagle (Eric Jacobson) form an uneasy alliance to solve the high-profile robberies.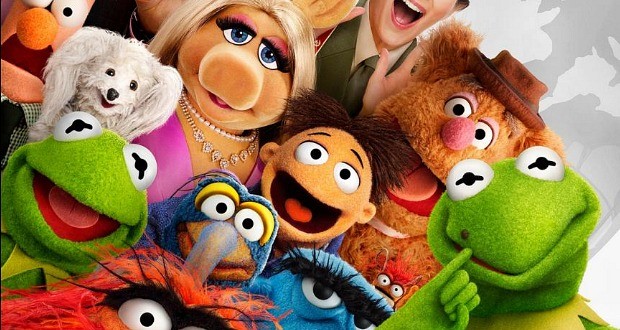 The last Muppet movie with Jason Segel and Amy Adams was SO good, I figured it would be hard to top it. But I think they succeeded. This is a classic madcap Muppet caper — a variety show, a European tour, a heist storyline, and plenty of original song-and-dance numbers from Oscar-winning Kiwi Bret McKenzie, whose new tunes are fun, silly, charming and guaranteed to keep even kid-viewers happy.
I love that "Muppets Most Wanted" pays homage to all of the Muppets' rich history, working in bits about the opening of "The Muppet Show" TV series, the old guys in the balcony, the classic "Rainbow Connection," and the noir feel of the story. And yet, they add freshness with modern tunes like Maroon 5′s "Moves Like Jagger," "I Hope I Get It" from "A Chorus Line," and a sweet duet with Miss Piggy and her fairy godmother, Celine Dion.
And then there's the whole parallel storyline taking place in the Gulag prison. Russian warden Nadya (Tina Fey) recruits Kermit to help the inmates "put on a show!" It is amazingly fun to see Hollywood's best bad guys like Danny Trejo and Ray Liotta (and non-bad guys Jemaine Clement and Josh Groban) singing and dancing in their prison garb.
As with other Muppet movies, the parade of celebrities is nothing short of impressive. Tony Bennett, Hugh Bonneville, Sean Combs, Lady Gaga, Zach Galifianakis, Salma Hayek, Tom Hiddleston, James McAvoy, Usher and Christoph Waltz are just a few A-list stars who scored cameos in this movie.
But of course, the real stars are the Muppets themselves, who continue to make us laugh, cry and everything in between. Kudos to director James Bobin for another excellent Muppets movie that's perfect for kids, parents and grandparents of all ages.
PARENT DETAILS:
Sex/Nudity: A grown woman has a crush on Kermit and kisses a photo of him. Kermit and Miss Piggy kiss, and part of the story revolves around whether they'll get married or not (including a flash-forward of them with a home and family).
Violence/Gore: A case of mistaken identity lands Kermit in a Siberian prison, where conditions are rough. Of course, he makes the best of it.
Profanity: Bits of "swine humor" are directed at Miss Piggy. Insults include "stupid," "idiot" and "stupid."
Drugs/Alcohol: None.
Which Kids Will Like It? Kids 5 and older who like the Muppets and/or "Sesame Street." (As a side note, the character of Kermit is actually owned by The Walt Disney Company, which has given Sesame Workshop permission to use him in various segments on "Sesame Street.")
Will Parents Like It? "Muppets Most Wanted" is a great movie for all ages. The writing is excellent and the characters offer wonderful messages about teamwork, selflessness, friendship and family.
JANE'S REEL RATING SYSTEM:
One Reel – Even the Force can't save it.
Two Reels – Coulda been a contender
Three Reels – Something to talk about.
Four Reels – You want the truth? Great flick!
Five Reels – Wow! The stuff dreams are made of.
By Jane Louise Boursaw. Jane Boursaw is a family entertainment writer specializing in movies and TV. Visit her at http://www.reellifewithjane.com, email jboursaw, or Google+