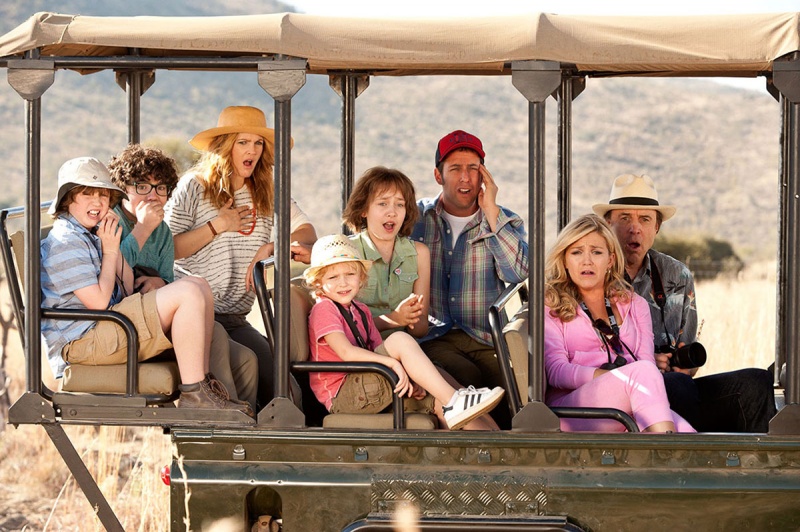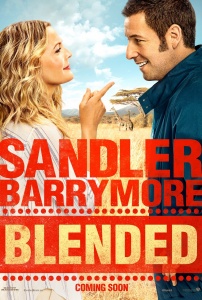 SYNOPSIS: After a blind date goes horribly wrong, single parents Jim and Lauren agree to never see each other again. All that changes when they find themselves stuck in the same suite at an African resort with their kids.
Reel Rating: 3 out of 5 Reels
MPAA Rating: PG-13 for crude and sexual content, and language
Released in Theaters: May 23, 2014
Genre: Comedy
Runtime: 117 minutes
Directed by: Frank Coraci
Studio: Warner Bros.
Cast: Adam Sandler, Drew Barrymore, Bella Thorne, Wendi McLendon-Covey, Terry Crews, Kevin Nealon
Official Site: Blended
REVIEW: For some reason, I kept thinking "Blended" was rated PG, and with the kooky way movies are rated these days, it wouldn't have surprised me. But turns out it's PG-13, which makes more sense given the usual Adam Sandler crude factor.
I can usually handle an Adam Sandler movie if it includes 1) kids; and 2) Drew Barrymore. Fortunately, both are in this movie, which makes it bearable. "Bedtime Stories" (kids), "50 First Dates" (Drew Barrymore) and "The Wedding Singer" (ditto) are three of my favorite Sandler movies. I can't handle the crude comedy unless there's a sweet aspect to the story, which there is with "Blended."
"Blended" begins with single mom Lauren (Barrymore) and widower dad Jim (Sandler) on a disastrous blind date at Hooters. When the date is over, they never expect to see each other again.
As (bad) luck would have it, Lauren's best friend, Jen (Wendi McLendon-Covey), has just broken up with Jim's boss, Dick, who's the owner of Dick's Sporting Goods (no, he's not the real Dick; the character is played by Dan Patrick). Because of the breakup, there's an all-inclusive spring break vacation to South Africa up for grabs, and both Lauren and Jim end up going on the trip with their kids, without knowing the other will be there.
At the resort, Jim and Lauren realize they're on a vacation geared for "blended" families. As the trip progresses, the two mismatched single parents realize they have more in common than they once thought.
Adam Sandler just keeps cranking out these comedies rife with slapstick jokes, crude humor and the requisite amount of sexual innuendoes. I don't really know anyone who absolutely loves Sandler movies, but he must have a huge fanbase who show their appreciation at the box office, otherwise these movies would never get made.
Longtime friends Sandler and Barrymore clearly enjoy working together and have great chemistry (though not as much chemistry as "The Wedding Singer" or "50 First Dates"), but the supporting characters have some funny bits, as well. Muscle man Terry Crews plays the resort's colorfully dressed singer, complete with male backup singers who show up here, there and everywhere.
Kevin Nealon and trophy wife Jessica Lowe are mildly amusing as newlyweds who can't keep their hands off each other, and all the kids are funny and/or likeable. Bella Thorne plays a gorgeous teen hiding beneath a Little Lord Fauntleroy haircut, and some of the sweetest scenes are when Lauren helps her break out of her shell with a cute haircut and wardrobe makeover.
"Blended" is a cute and sometimes-crude comedy that moviegoers probably won't remember a few weeks from now. But if you're a fan of Sandler's particular brand of comedy, or a fan of Barrymore or Thorne (she has a huge fanbase), this movie is worth checking out. Just go in with low expectations.
THE DETAILS:
Sex/Nudity: A married couple kiss all the time and talk about having sex. A woman shows off her cleavage in tight tops. A 14-year-old boy has a porn magazine under his bed, with the babysitter's face taped to it. A woman tells her boyfriend on the phone, "I'm so sore." Teens flirt, dance and kiss. A man urinates (loudly) outside of a tent on safari. Two rhinos have sex near a vacation resort.
Violence/Gore: The usual Sandler slapstick violence. A man and boy fall off an ostrich, a woman falls on a man, lions eat their prey off camera.
Profanity: A few uses of "s–t," "a–hole," "d–k," and "crap," and insults like "butt hole," "idiot," "loser," "ass," "stupid," and "deadbeat."
Drugs/Alcohol: Adults drink at meals and on vacation. An adult seems slightly drunk after drinking champagne.
Which Kids Will Like It? Kids 13 and older who like Adam Sandler movies.
Will Parents Like It? "Blended" has the usual Adam Sandler slapstick and crude jokes, but it also has moments of sweetness and understanding.
JANE'S REEL RATING SYSTEM:
One Reel – Even the Force can't save it.
Two Reels – Coulda been a contender
Three Reels – Something to talk about.
Four Reels – You want the truth? Great flick!
Five Reels – Wow! The stuff dreams are made of.
Jane Louise Boursaw. Jane Boursaw is a family entertainment writer specializing in movies and TV. Visit her at http://www.reellifewithjane.com, email jboursaw, or Google+