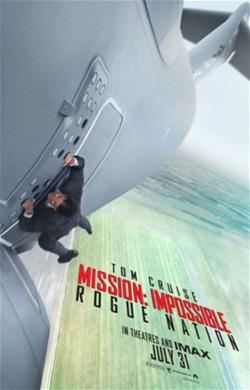 SYNOPSIS: Ethan Hunt and his team are back, taking on their most impossible mission yet, eradicating The Syndicate, an International rogue organization as highly skilled as they are, committed to destroying the IMF.
Reel Rating: 4.5 out of 5 Reels
MPAA Rating: PG-13 for sequences of action and violence, and brief partial nudity
Released in Theaters: July 31, 2015 (2D, IMAX)
Best for Ages: 13+
Genre: Action, Adventure, Sequel
Runtime: 131 minutes
Directed by: Christopher McQuarrie
Studio: Paramount Pictures
Cast: Tom Cruise, Rebecca Ferguson, Simon Pegg, Jeremy Renner, Alec Baldwin
Official Site: Mission Impossible: Rogue Nation
REVIEW: I love "Mission Impossible" movies because you know you're in for a great ride. The stunts are magnificent (with Tom Cruise doing many of his own stunts, much to the chagrin, I'm sure, of the film's insurance people), the story always has some twists and turns, and the filmmakers stay true to the original TV franchise, using the same theme music and pop culture references we all know and love. In this case, Ethan gets his assignment via an old-fashioned record player, which, of course, self-destructs.
And this installment of the franchise has everything we've come to expect: exotic locales (including an opera house in Vienna), complicated missions, high-speed chases, underwater shenanigans, ridiculous stunts, beautiful women, handsome men, betrayals, double crosses, and of course, Tom Cruise running!
The story begins with the IMF losing its standing after the head of the CIA (Alec Baldwin) proclaims that the covert group is outdated, too expensive, and out of control. Thus, Ethan Hunt (Tom Cruise) – who's in the midst of searching for The Syndicate, a rogue group of former spies now working as terrorists – is left isolated from the rest of his team (Jeremy Renner, Simon Pegg and Ving Rhames).
But no worries. Hunt is resourceful and will stop at nothing to find the leader of the rogue group. Along the way, he encounters a mysterious British spy, Ilsa Faust (Rebecca Ferguson), and it's unclear whether she's working for The Syndicate, the good guys, or herself.
The minute you hear that familiar theme music at the beginning of "Mission Impossible: Rogue Nation" and watch Tom Cruise's first crazy stunt – hanging off the side of a plane as it takes off – you're drawn right back into the excellent web of the classic "Mission Impossible" franchise, which began with the 1966 TV show starring Peter Graves and Greg Morris, among others.
Spies and covert operations, it seems, never go out of style, and we can see the evolution with more modern titles like "The Americans" and "Homeland," among hundreds of others.
Sure, some might say that "Rogue Nation" is predictable, but that's exactly why it's going on my "Best Movies of 2015" list. It's thrilling, charming, undeniably entertaining, and stays true to its roots.
THE DETAILS (May Contain Spoilers):
Sex/Nudity: Some flirting. A female character wears form-fitting clothes, including a bikini and fancy gown. Tom Cruise is shirtless in a few scenes.
Violence/Gore: Lots of action throughout the film, though not much blood is shown. Includes gunfights, explosions, hand-to-hand fighting, car and motorcycle chases and crashes, bombs exploding, sniper shootings, a drowning and resuscitation, and many dangerous stunts, including Tom Cruise hanging off the side of a plane as it takes off.
Profanity: Mild language includes "sh-t" and "hell."
Drugs/Alcohol: Adults drink socially at events.
Which Kids Will Like It? Kids aged 13 and older who like fast-paced action movies or the "Mission Impossible" franchise.
Will Grownups Like It? "Mission Impossible: Rogue Nation" is a fun popcorn flick with great stunts and action.
JANE'S REEL RATING SYSTEM:
One Reel – Even the Force can't save it.
Two Reels – Coulda been a contender.
Three Reels – Something to talk about.
Four Reels – You want the truth? Great flick!
Five Reels – Wow! The stuff dreams are made of.