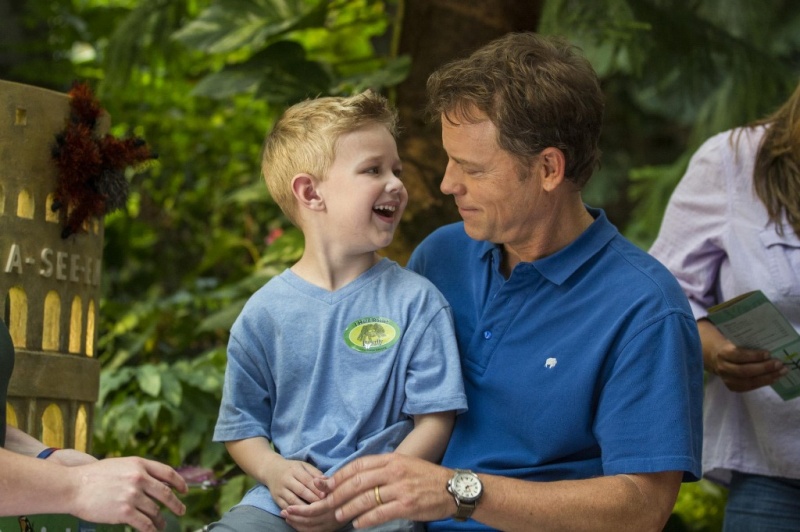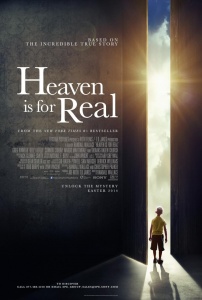 SYNOPSIS: "Heaven is For Real" is a faith-based family drama inspired by Nebraska pastor Todd Burpo's best-selling memoir about his son Colton's experiences in Heaven when he was four years old.
Reel Rating: 3.5 out of 5 Reels
MPAA Rating: PG for thematic material including some medical situations
Released in Theaters: April 16, 2014
Genre: Family, Drama, Christian
Runtime: 100 minutes
Directed by: Randall Wallace
Studio: Sony Pictures
Cast: Greg Kinnear, Connor Corum, Kelly Reilly, Margo Martindale, Thomas Haden Church
Official Site: Heaven is For Real
REVIEW: Faith-based movies have a tendency to be a bit schmaltzy, but "Heaven is For Real" avoids that, for the most part. Yes, there are still a few cheesy, overly dramatic moments, but when you're dealing with a kid who spent time in Heaven, that sort of comes with the territory.
The real-life story, based on Todd Burpo's best-selling memoir, follows the Nebraska pastor whose son claims to have spent time in Heaven during a medical crisis. Burpo, played by Greg Kinnear, is the ultimate multi-tasker. He's the head pastor at an evangelical church, a high school wrestling coach, a fire department volunteer, and the owner of a garage door company.
When several injuries — including a leg fracture and a bout with kidney stones — force Todd into taking a sabbatical, he and his wife Sonja (Kelly Reilly, who stars in the ABC series, "Black Box") take their two kids on a mini vacation, despite the fact that they're having financial difficulties.
On the way home, four-year-old Colton (Connor Corum) gets sick and ends up in emergency surgery after suffering acute appendicitis. As he recuperates, Colton tells his parents that during the operation, he visited Heaven.
Todd and Sonja first attribute their son's stories to a wild imagination, but then it gets very real. Colton tells of meeting dead relatives he never knew, including a baby sister who died before she was born, as well as Todd's grandfather. He also recalls specific details about Jesus and angels. The Burpos believe him, but the rest of the town is skeptical.
As I was watching the movie, I kept thinking that if this happened in my church, there would be no question that Colton was telling the truth. But even the most committed Christians have moments of doubt, so in that way, the movie is probably realistic. It is, after all, based on a true story, and even Todd struggles with how to reconcile Colton's stories and tell his congregation.
"Heaven is For Real" is well made, and the actors deliver believable performances. Kinnear has that everyman quality that people can relate to, and as his wife, Reilly is supportive and sweet. Thomas Haden Church provides comic relief as Todd's friend, and Margo Martindale plays a church trustee who's initially skeptical about Colton's experience, but has her own reasons for doubt, having lost a beloved family member years earlier.
Much of the film rests on Connor Corum's tiny shoulders, and he manages to be both cute and believable with the reverent subject matter. His mom even has a Twitter account for him, @realconnorcorum.
Your feelings about "Heaven is For Real" will likely depend on your own religious beliefs, but as a movie, it's a wonderful story about faith and family.
THE DETAILS:
Sex/Nudity: A married couple kiss and embrace several times. The wife whispers something suggestive in her husband's ear about what she'll do if he agrees to an impromptu vacation.
Violence/Gore: During a softball game, Todd suffers a painful leg fracture and later deals with debilitating kidney stones that cause him to collapse and scream in pain. A boy has emergency surgery after a near-fatal case of acute appendicitis. A girl punches two boys who make fun of her brother, and her dad later says he'll teach her to hit without hurting her hands.
Profanity: A few uses of "Lord" and "God" as exclamatory phrases.
Drugs/Alcohol: None.
Which Kids Will Like It? Kids 9 and older who like family dramas or movies centering on faith and religion.
Will Parents Like It? "Heaven is For Real" is a well-acted drama with a central theme of faith and family. Even if viewers aren't Christians, it encourages people to think about their own beliefs.
JANE'S REEL RATING SYSTEM:
One Reel – Even the Force can't save it.
Two Reels – Coulda been a contender
Three Reels – Something to talk about.
Four Reels – You want the truth? Great flick!
Five Reels – Wow! The stuff dreams are made of.
By Jane Louise Boursaw. Jane Boursaw is a family entertainment writer specializing in movies and TV. Visit her at http://www.reellifewithjane.com, email jboursaw, or Google+