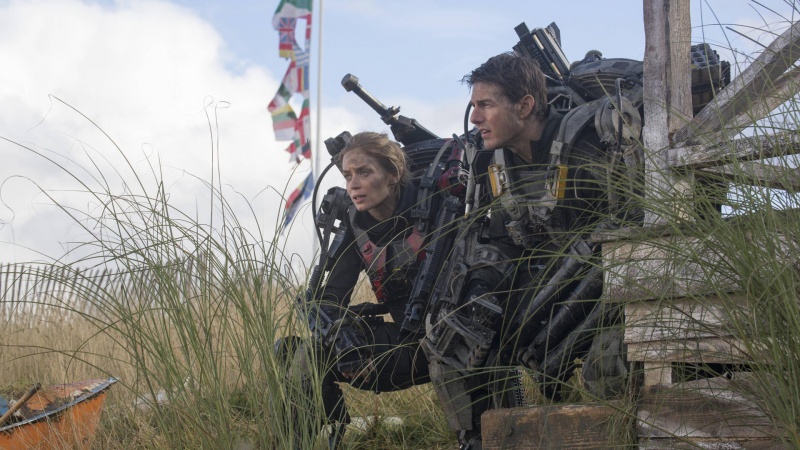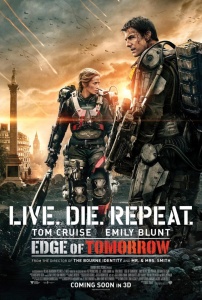 SYNOPSIS: Tom Cruise plays an officer who finds himself caught in a time loop in a war with an alien race. His skills increase as he faces the same brutal combat scenarios, and his union with a Special Forces warrior (Emily Blunt) edges him closer to defeating the enemy.
Reel Rating: 4 out of 5 Reels
MPAA Rating: PG-13 for intense sequences of sci-fi action and violence, language and brief suggestive material
Released in Theaters: June 6, 2014 (2D, 3D, IMAX)
Genre: Sci-Fi, Action, Adventure, Based on a Book
Runtime: 113 minutes
Directed by: Doug Liman
Studio: Warner Bros.
Cast: Tom Cruise, Emily Blunt, Bill Paxton, Brendan Gleeson
Official Site: Edge of Tomorrow
REVIEW: You pretty much know what you're going to get with a Tom Cruise movie, because he plays virtually the same character in every movie. Sure, the circumstances, co-stars, and stories change, but rarely do you go to a Tom Cruise movie and come out shocked at his character. Ok, there's a few exceptions, notably his over-the-top Les Grossman in "Tropic Thunder and wild rocker Stacee Jaxx in "Rock of Ages," but the rest? "Mission Impossible," "Knight and Day," "War of the Worlds," Oblivion" … all various shades of Cruise.
And I'm ok with that, because there's something about Tom Cruise that's very appealing. He never loses that boyish charm he had in "Risky Business" and "All the Right Moves," even in edgier movies like "Minority Report," "Jack Reacher" and now, "Edge of Tomorrow."
Based on Hiroshi Sakurazaka's 2004 novel "All You Need Is Kill," "Edge of Tomorrow" stars Cruise as Major William Cage, a public relations genius who's never seen battle and now serves as the official talking head for the U.S. Army's efforts to fight against the Mimics, spider-like aliens who've invaded Earth. His one and only job is to sell the war.
But things take a turn for the worse when a British general (Brendan Gleeson) sends him into battle, an order for which Cage is massively unprepared. And then things get even crazier. When he finally does see combat — outfitted in a suit of armor that looks like it'd be impossible to move in, never mind run — he dies quickly, only to wake up and relive the same day over and over.
He manages to figure out that his one shot at getting past this very long day is a special forces warrior named Rita Vrataski (Emily Blunt). She's the Army's best soldier, and she has an intimate knowledge of what's happening with Cage, because it happened to her too. Yes, it's "Groundhog Day" all over again, only this time with scary aliens instead of Punxsutawney Phil.
First things first. Blunt is an awesomely fierce soldier, and it made me giddy to see her not only battle it out with the aliens, but also try to teach Cruise's soft marshmallow character how to fight. Thank you, Warner Bros., for putting a female character in a position of power.
Cruise and Blunt have good chemistry too. They have to figure out how to save the world with this whole time warp thing going on, but you can tell there's a little something building in the romance department.
One of the reasons I love "Edge of Tomorrow" so much is that Cruise — while still being Cruise — finds himself in a role that's vulnerable, afraid and, well, weak. In most of his movies, you'll find him suspended mid-air while disabling a deadly trap ("Mission Impossible") or wildly riding a motorcycle while shooting at the bad guys ("Knight and Day"). He is not that guy here. Rita has to teach him how to be that guy.
But there are plenty of other reasons to love "Edge of Tomorrow." With its mind-boggling plot, impressive visual effects (you never once think those aliens aren't real), and all the things mentioned above, this is pure, unadulterated entertainment. And even with its dark themes, the PG-13 rating is (mostly) on target.
THE DETAILS:
Sex/Nudity: A man's naked backside is shown in one scene, but it's non-sexual and played for laughs. Two characters share a brief kiss.
Violence/Gore: Loud, intense battle scenes feature carnage and chaos, with a high body count, though not much blood is shown. The main character dies repeatedly, quite often via a gun to the head (though we never actually see a bullet hit his head). A helicopter crash results in a death. Characters are killed by bullets, bombs, aliens, explosions, and hand to hand combat.
Profanity: A fair amount of swearing, including "s–t," "a–hole," "hell," and one "f–k." A female character is nicknamed "Full Metal Bitch," which is shown on billboards.
Drugs/Alcohol: One scene shows adults drinking in a bar.
Which Kids Will Like It? Kids 13 and older who like sci-fi action thrillers or Tom Cruise movies.
Will Parents Like It? "Edge of Tomorrow" is a great escape movie with a creative story, great special effects, and good chemistry between Cruise and Blunt.
JANE'S REEL RATING SYSTEM:
One Reel – Even the Force can't save it.
Two Reels – Coulda been a contender
Three Reels – Something to talk about.
Four Reels – You want the truth? Great flick!
Five Reels – Wow! The stuff dreams are made of.
Jane Louise Boursaw. Jane Boursaw is a family entertainment writer specializing in movies and TV. Visit her at http://www.reellifewithjane.com, email jboursaw, or Google+