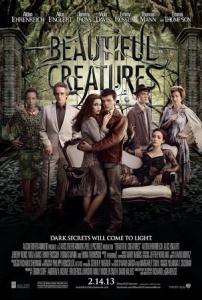 SYNOPSIS: This romantic supernatural thriller stars Alden Ehrenreich as Ethan Wate, a teen who longs to escape the confines of his small Southern town. When he meets a mysterious new classmate named Lena, they uncover dark secrets about their respective families, their history and their town.
Reel Rating: 4 out of 5 Reels
MPAA Rating: PG-13 for violence, scary images and some sexual material
Released in Theaters: Feb. 14, 2013
Genre: Drama, Fantasy, Romance
Runtime: 124 minutes
Directed by: Richard LaGravenese
Cast: Alden Ehrenreich, Alice Englert, Jeremy Irons, Viola Davis, Emmy Rossum, Thomas Mann, Emma Thompson, Eileen Atkins, Margo Martindale
Official Site: http://beautifulcreatures.warnerbros.com/
Sex/Nudity: Several passionate kisses, including one in a bedroom (no nudity, though) and one that actually starts a fire. A female character wears provocative clothes and has the ability to seduce men into doing whatever she wants. A couple of references to oral sex and the ability to "make things grow."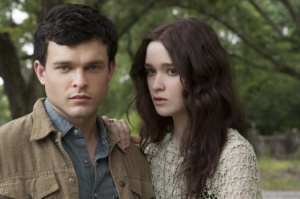 Violence/Gore: Lena's uncontrollable powers lead her to shatter a set of windows at school; a few classmates are mildly injured. While under a spell, a young man shoots someone with a rifle. A magical battle leads to a character's destruction. A woman brings a man back to life, only to kill him again. A standoff between witches causes a dining room table to spin wildly. A young female witch waits to see whether her powers will be "light" or "dark."
Profanity: Includes "chickensh*t," "bullsh*t," "ass," "suckass," "kickass," "badass," "b*tch," "damn," "hell," and "goddamn."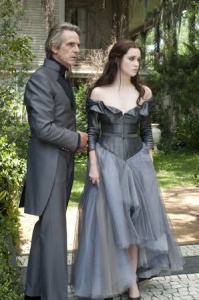 Drugs/Alcohol: Adults drink what appears to be alcohol at dinner.
Which Kids Will Like It? Kids 14 and older who like romantic dramas with a supernatural twist.
Will Parents Like It? It's well written, entertaining and features a stellar cast. Also, the PG-13 rating is mostly on target.
REVIEW: First, thank you to Kami Garcia and Margaret Stohl for writing such a compelling story. They're the authors of the book on which this movie is based, and I hope the rest of this series, including "Beautiful Darkness," "Beautiful Chaos," and "Beautiful Redemption" are made into movies, as well. Look, we've been mired in vampires for years, and now it's time for the witches to take over.
The story follows 16-year-old Ethan Wate (Alden Ehrenreich), a 16-year-old boy who lives in the fictional town of Gatlin, South Carolina. He thinks the town is dull as a doornail, and he can't wait to graduate and move away.
On the first day of his junior year, Ethan meets a new classmate named Lena Duchannes (Alice Englert). Lena is ... different. She's a bit dark and mysterious, and she's also the 15-year-old niece of wealthy town recluse Macon Ravenwood (Jeremy Irons).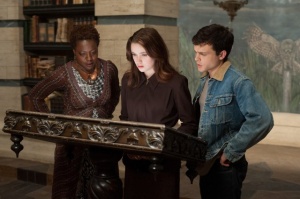 Lena also bears an uncanny resemblance to a girl who's been frequenting Ethan's dreams. As they get to know each other, Ethan begins to realize that Lena and her family are witches, or as they like to be called, "Casters," as in "spell casters." Following the tradition of her family, Lena will learn on her 16th birthday whether she'll be claimed for the "forces of light" or "the forces of darkness." There's some discrepancy whether she gets to have a say in the matter.
The cast of "Beautiful Creatures" is nothing short of amazing. We've got Jeremy Irons chewing up the scenery, Emma Thompson with a drunkenly Southern accent, Viola Davis as the town librarian with a secret, Zoey Deutch as a young Southern belle, Eileen Atkins as a lavender-haired gramma, Margo Martindale as bustling Aunt Del, and Emmy Rossum as a siren who can make men do whatever she wants, including teenager Thomas Mann, who doesn't seem to mind a bit.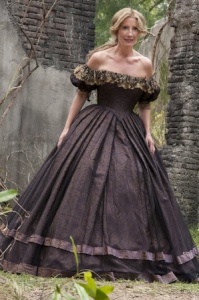 And it's clear that both Ehrenreich, who reminds me of a young James Badge Dale, and Englert, who has an ethereal quality about her, are rising stars able to mine the depth of their souls for these roles. Die-hard fans of "Supernatural" will recognize Ehrenreich from the "Wendigo" episode of season five; he played Ben Collins. Englert, the daughter of filmmakers Jane Campion and Colin Englert, was wonderful in 2012's "Ginger & Rosa."
As with many book adaptations, "Beautiful Creatures" strays from the novel, but it's tough to streamline 600 pages into a two-hour movie. I'm happy with the result because director Richard LaGravenese has retained the overriding themes, characters and tone. The setting includes lush Southern locales, complete with a vine-covered mansion with an iron gate at the driveway and a magnificent interior that's like something out of a Renoir painting.
The movie was filmed in three locations in Louisiana -- Covington, St. Francisville, and New Orleans -- and you can just feel the oppressive heat and even more oppressive attitudes of the residents of Gatlin. It has a bit of a "True Blood" feel to it, only rated PG-13.
And just when you think the ending is a done deal and that's all she wrote, the last few seconds brings hope for a sequel. Please, pretty please?
JANE'S REEL RATING SYSTEM:
One Reel – Even the Force can't save it.
Two Reels – Coulda been a contender
Three Reels – Something to talk about.
Four Reels – You want the truth? Great flick!
Five Reels – Wow! The stuff dreams are made of.
by Jane Louise Boursaw. Jane Boursaw is a family entertainment writer specializing in movies and TV. Visit her at http://www.reellifewithjane.com or email jboursaw@charter.net.