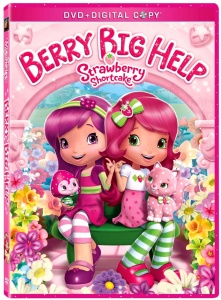 "Strawberry Shortcake: Berry Big Help" includes three episodes from the sweet TV series: "Babysitter Blues," "A Stitch in Time" and "Fish Out of Water."
Reel Rating: 3.5 out of 5 Reels
MPAA Rating: Not rated; Ok for kids 3+
Released on DVD: Feb. 18, 2014
Buy It: Strawberry Shortcake: Berry Big Help
Genre: Preschool, Animated
Runtime: 88 minutes
Cast: Sarah Heinke
Official Site: Strawberry Shortcake
REVIEW: "Strawberry Shortcake" is one of those series that has the potential to drive parents insane with the sugary-sweet stories, happy songs and colorful characters. But it's not about us. It's about the kids. Kids love this series, and it's stood the test of time.
Strawberry Shortcake, which dates back to 1977, is licensed and owned by American Greetings. The franchise was originally used in greeting cards and expanded to include dolls, posters, and other products, including a popular TV show and DVDs. And of course, there are spinoffs of the character's friends and pets.
Strawberry Shortcake started to take off in the 1980s, and while the current version is more modern, glam and colorful, you can still see remnants of the red-haired girl's classic 80s' look, including her iconic green and white-striped tights. She and her friends live in a miniature world beneath a berry patch. In the whimsical land of Berry Bitty City, they run little shops and have fantastic adventures full of humor, fun and friendship.
"Berry Big Help" features three Strawberry Shortcake episodes. In "Babysitter Blues," it's Strawberry (voiced by Sarah Heinke) to the rescue when the princess asks her to look after a very special Baby Berrykin. Yes, I love the adorable little fruit names.
In "A Stitch in Time," Orange and Lemon take on the role of "Fashion Elves" to help Raspberry with her fashion design dreams (dream big, girl). And in "Fish Out of Water," there's no place like home when Orange adopts a bitty fish that turns out to be a homesick tadpole.
All of the Strawberry Shortcake DVDs and TV episodes offer educational and sweet messages to kids about friendship, making good decisions, teamwork and lots of other age-appropriate life lessons. They may be sparkly, but Strawberry and her friends are little girls with big possibilities who share a positive, anything-is-possible attitude for overcoming obstacles.
SPECIAL FEATURES:
"Sunshine Girls" Music Video
Printable Coloring Pages
PARENT DETAILS:
Sex/Nudity: None.
Violence/Gore: None.
Profanity: None.
Drugs/Alcohol: None.
Which Kids Will Like It? Kids 3 and older who like bright, colorful animated stories.
Will Parents Like It? While "Strawberry Shortcake" might drive parents over the edge with all the sugary sweet singing and dancing, kids love these characters, and the messages are positive.
JANE'S REEL RATING SYSTEM:
One Reel – Even the Force can't save it.
Two Reels – Coulda been a contender
Three Reels – Something to talk about.
Four Reels – You want the truth? Great flick!
Five Reels – Wow! The stuff dreams are made of.
By Jane Louise Boursaw. Jane Boursaw is a family entertainment writer specializing in movies and TV. Visit her at http://www.reellifewithjane.com, email jboursaw, or Google+