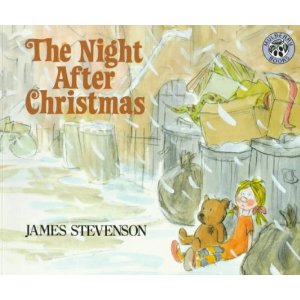 Christmas time is the time of year filled with good friends, family, food… and of course new toys! But when the new toys make an appearance under the tree, old teddy bear and doll find themselves replaced, and thrown in the garbage can on the street. Fortunately, a stray dog in the holiday spirit rescues them and takes them back to his home.
Chauncey, the stray dog, senses the teddy bear and doll are heartbroken from being kicked to the curb. But he knows exactly the place to bring them to put a smile on their face… the nearby elementary school! The once old toys are bombarded by these playful children and welcomed in the arms. The last page shows Teddy and Annie both happily ever after in the hands of their new found owner.
The illustrations are very detailed, although they are completed with very subtle coloring. The dull coloring matches the distressing mood of the story, until the very end!
By James Stevenson
Hardcover, 32 pages.
Ages 4-8
✓ I recommend this