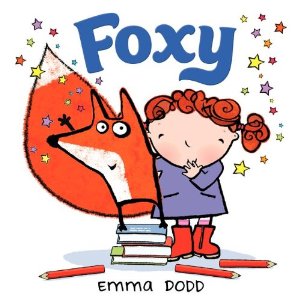 Another wonderfully quirky novel by author and illustrator, Emma Dodd. In this novel alone, she boosts the confidence of children in preparation for their first day of school with her touch of endearing humor in every character.
Young Emily is an anxious mess the night before her first day of school. Worried beyond belief, she sat up in bed until Foxy the fox peeps in the window to help… with his magic tail! Whatever the request, Foxy would shake his magic tail back and forth in hopes of giving Emily the things she needed for class in the morning. Unfortunately, that wasn't always the case.
"'VOILÀ! A pencil!' said Foxy.
'No, silly, that's a penguin!' said Emily."
Foxy's magic didn't always go the way he planned, but fortunately, making friends doesn't involve any magic at all.
With it's glossy finish, this book is a vivid pleasure to read. Every page is bursting with color and Foxy's detailed magic mishaps.
By Emma Dodd
Hardcover, 32 pages.
Ages 4-6
✓ I recommend this
Reviewed by Stephanie Falcone