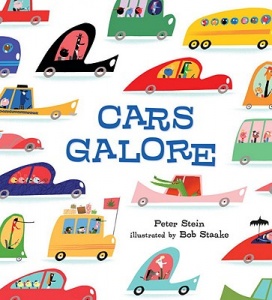 You name it! It's got it! This car packed story brings you on a wild adventure filled with the wildest cars imaginable. From sight to smell, to junk to round, you never know what's next! This is a perfect story to read along with your automobile crazed kids.
Rhyming text on every page; it's hard to look away. Not only is the story unusually fantastic, but the illustrations go right along with it.
Hundred-feet car.
Incomplete car.
Scary shark car.
Noah's Ark car!
The children will be giggling with every turn of the page. The creative cars are just right for their growing imaginations. Gather a group around for a read- aloud, they won't be disappointed.
By Peter Stein
Illustrated by Bob Staake
Hardcover, 32 pages.
Ages 3-6
✓ I recommend this