Residents Urged to Donate Gently Used Plastic Toys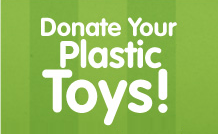 April 1st, 2014—New Jersey—In a partnership between 1-800- GOT-JUNK and Second Chance Toys, a charity that collects, cleans, and redistributes gently used plastic toys to children in need, trucks will be parked throughout the Garden State on April 12th and April 13th so that NJ residents can donate all the gently used plastic toys their children have outgrown during this state-wide collection day.
"What a great incentive to start your spring cleaning with an act of kindness that will not only help disadvantaged children but also protect the environment by keeping these toys out of landfills," said Drew Tautman of 1-800-Got-Junk. "We are thrilled to be part of this initiative and we hope a lot of residents take advantage and donate their toys."
The locations and drop off dates where 1-800-GOT-JUNK trucks will be collecting toys are as follows:
Sat April 12th—10am to 1pm
Annunciation Church- Truck will be parked in school parking lot.
601 West Browning Lane, Bellmar, NJ 08031
Sunday April 13th—10am to 1pm
Cherry Hill Fire Station
1100 Marlkress Road, Cherry Hill, NJ 08003
Park Plaza Shopping Center
590 Park Avenue, Freehold, NJ 08550
Morris Township's Woodland Fire Station
20 Dwyer Lane, Morris Township, NJ 07960
Doc's Furniture Mart
881 Black Horse Pike, Pleasantville, NJ 08232
Teaneck Community Police Station (Truck will be parked in adjacent library parking lot)
900 Teaneck Road, Teaneck, NJ 07666
Sunday April 13th, 2014—12pm to 3pm
Little Rock Hill Volunteer Fire Company – Station 41
4348 Route 27, Princeton, NJ 08540
On these dates families can donate toys at designated locations in their communities and know they will be contributing to another child's learning, growth and happiness. To date over 170K toys have been donated to Second Chance Toys. All donated toys should plastic, in good shape, should have no small or missing parts and come with batteries if needed.
To learn more about Second Chance Toys and how to donate, please visit www.secondchancetoys.com. Every toy that gets donated and everyone who spreads recycled love is helping to changing the life of a child in need.
Second Chance Toys was founded in 2006 by a N.J. high school student to recycle gently used plastic toys for children in need. To date, nearly 150,000 donated toys have helped keep our landfills free of these non-biodegradable plastics while bringing smiles and laughter to many children. This award-winning 501c3 non-profit has been recognized for the waste-need solution it provides to communities throughout the United States and Australia.
1-800-GOT-JUNK is pioneering an industry that is helping residents and businesses remove junk and regain space. Whether it's a pile of household junk in the garage or a warehouse full of office furnishings, 1-800-GOT-JUNK? removes it for you, making the ordinary business of junk removal exceptional. We are passionate about recycling and donating to charity. 1-800-GOT-JUNK? was founded in 1989 and now operates throughout North America and Australia.