Hop from festival to festival and soon you'll find yourself deep into the Jersey culture. There's no other place like this...and there's no chance for boredom as each and every event is unique in it's own. From horse and livestork shows, agriculture, jazz and blues to simple amusement fun, seafood themed fests, and even baby parade, you'll find fabulous family fun for all ages throughout the month of August. Plus these will bring you to many shore destinations and nearby attractions or into new corners of New Jersey that you've never imagined. Summer fun will be over all too soon but there's still the month of August to pack in the fun before school begins!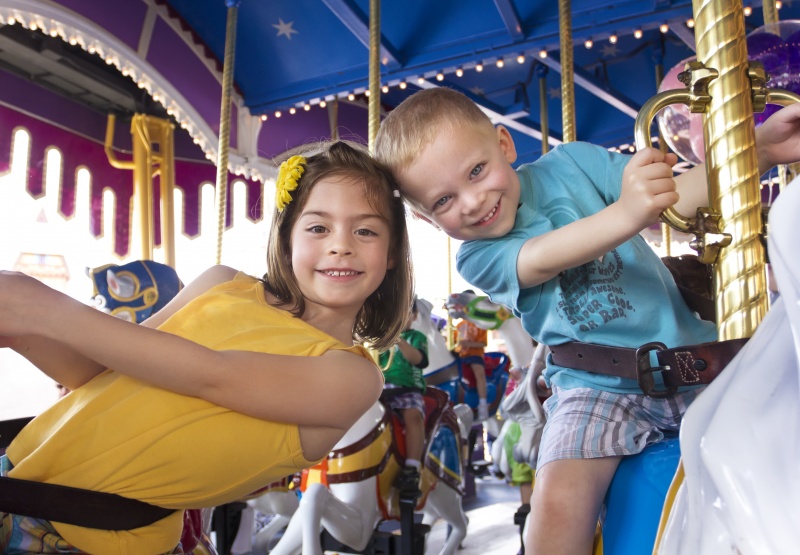 18th Annual Sweet Sounds Downtown Jazz Festival - Tuesday Evenings in July and August, 7-9pm.
Every Tuesday evening in July and August (with Wednesday night rain dates) from 7pm to 9pm, throughout the downtown. We are planning nine nights of Jazz this year. Downtown Westfield.
77th Annual Warren County Farmers Fair, featuring the 14th annual Hot Air Balloon Festival
July 26 – Aug 2
1350 Strykers Rd, Phillipsburg
Where else can you thrill to a hot air balloon ride, eat cotton candy on a carnival midway, watch traditional craftsmen at work, get down-and-dirty in a Mud Bog competition, and cheer your neighbor on in a tractor pull... all in the same place? Yes, the Farmers' Fair, featuring one of New Jerseys' popular Hot Air Balloon Festivals is truly a family affair.
Clamfest in the Highlands – July 31 – Aug 3
Huddy Park 301 Shore Drive, Highlands
Fresh seafood from local restaurants, live entertainment, thrill rides and games.
Beach Ball A-Palooza - Friday, August 1 5:30 - 8:30 pm
Ocean County Park Beachside, 659 Ocean Ave Lakewood
Free Admission, Music by Jimmy & the Parrots, fun games, rides, crafts, dancing, and water sports
New Jersey State Fair – Aug 1 – 10
Sussex County Fairgrounds 37 Plains Road, Augusta
Amusements, horse show, exhibits, food, live entertainment, and monster truck rides
National Night Out Against Crime & Kids Day Celebration- Aug 5 - 6 pm
Windward Beach Park Princeton Ave. Brick Township
Family fun day sponored by Brick Township's Summerfest '14; Free
Middlesex County Fair – Aug 4 – 10
Middlesex County Fairgrounds 655 Cranbury Road
Live animals, rides, food, craft vendors, entertainment, and live music
Somerset County 4-H Fair – Aug 6 – 8 - 10 AM – 10 PM
North Branch Park, 355 Milltown Road, Somerset
Showcase of 4-H projects and activities with dog, horse, livestock shows, food, and entertainment
Festival of the Sea - Aug. 6 - Aug. 10 6 to 10 PM
St. Francis Parish & Center grounds 4700 Long Branch Road, Brant Beach
Bring the whole family for five nights of fun for all ages! Pay one price per person every night to ride the rides all night long! Rides for all ages. Games of Chance! Super Progressive 50/50! Great food! And, much, much more!
Caribbean Heritage Festival - Aug 9, 12-7pm.
Monte Irvin Park, Orange, NJ.
International performaners, Dj's & Steel pan bands. Caribbean food vendors, cultural artists, moko jumbies, health & travel pavillion, free giveaways.
Food and Music Festival - Aug 9, 4-9pm.
Ivy HIll Park, Mt. Vernon Pl. & Seton Hall University, Newark, NJ.
Art exhibits, demonstrations, music, food, and fun for all!
Annual Summer Craft Fair - Aug. 9, 11am-4pm
NJ Botanical Gardens, Ringwood State Park, Morris Road, Ringwood.
Tons of fun for the whole family! Over 40 booths with beautiful crafts, including jewelry, pottery, sculpture, art, kids' stuff, and all kinds of unusual goodies. Lots of great food and drink, too! Free admission to Craft Fair & Garden.
Blue Claw Crab Race, Anything Floats Race, and Blue Claw Craft Show – Aug 16
Sunset Park, W Salem Avenue, Harvey Cedars
Maywood Summertime Street Festival – Aug 17 - 10 AM – 5 PM
West Pleasant Ave from Lincoln to Oak Ave
Family orientated festival, music, and children's activities
Hunterdon County 4-H and Agricultural Fair – Aug 20 – 24
Hunterdon County Fairgrounds Routes 202 and 179 Hunterdon
4-H Member shows, farm animals, tractor pulls, contests, garden exhibits, live music, amusement rides, and food vendors
Long Branch Jazz and Blues Festival - Aug 23
The Great Lawn at the Boardwalk, 28 McKinley Ave., Long Branch, NJ 07740
Join the Jersey Shore Jazz and Blues Foundation live performances by talented jazz and blues musicians, food, crafter and sponsor exhibits, an Alex and Ani Hospitality Tent, activities for the entire family and fireworks. The festival is rain or shine, free to the public, dog friendly and all ages are welcome to attend.
Ocean County Baby Parade – Aug 24 – noon
Grant to Dupont Ave on Boardwalk, Seaside Heights
Dressed up babies stroll along the boardwalk with parents
The Annual New Jersey City Hip Hop Day Festival - Aug 30-31.
1 Exchange Place, Jersey City, NJ
A free festival that pays tribute to the four elements of Hip Hop and New Jersey's Contribution to Hip Hop as a whole. The Festival is held downtown Jersey City at Exchange Place. The four sides of the park are dedicated to the four elements of Hip Hop displaying B-Boy & B-Girl exhibits, Emcee Battles, Turntablism and Graffiti artists.

The weekend will be packed with Live entertainment, workshops, and vendors.
Viking Village Arts and Crafts Festival - Aug 31 - 10 AM
1801 Bayview Ave, Barnegat Light
Arts and Crafts Vendors
Check our calendar for more Festival and Fairs.